Let's discover the best staycation rug designs for the new vacation trend
In recent years, staycations have become a popular trend for those seeking a break from their daily routines without venturing too far from home. As this trend continues to grow, so does the desire for unique and inspiring staycation designs that can transform our homes into luxurious vacation destinations.
At the heart of the staycation trend lies a desire for relaxation, rejuvenation, and escape. By incorporating elements of luxury and indulgence into our homes, we can create a vacation-like atmosphere that nourishes our bodies and souls.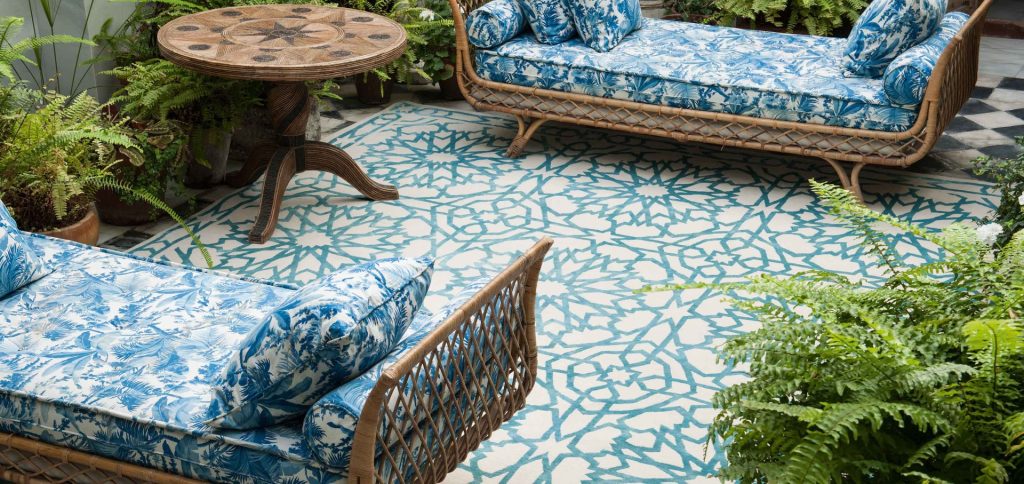 Staycation summer projects can take many forms, depending on an individual's interests and passions. For example, one might undertake a home improvement project, such as painting a room or renovating a backyard space.
Regardless of the specific summer project, the key to a successful staycation is to approach it with enthusiasm, creativity, and a sense of adventure. By embracing the opportunity to step outside of one's comfort zone and try something new, staycations can enrich their lives and create lasting memories
1. Madrid Serene Escape
In a serene escape designed by Belen Ferrandiz, she puts a more cozy feeling to the room using a shelter for books and pastel colors, along with the giant abstract painting in the middle of the room, creating a serene and peaceful atmosphere that invites relaxation and tranquility.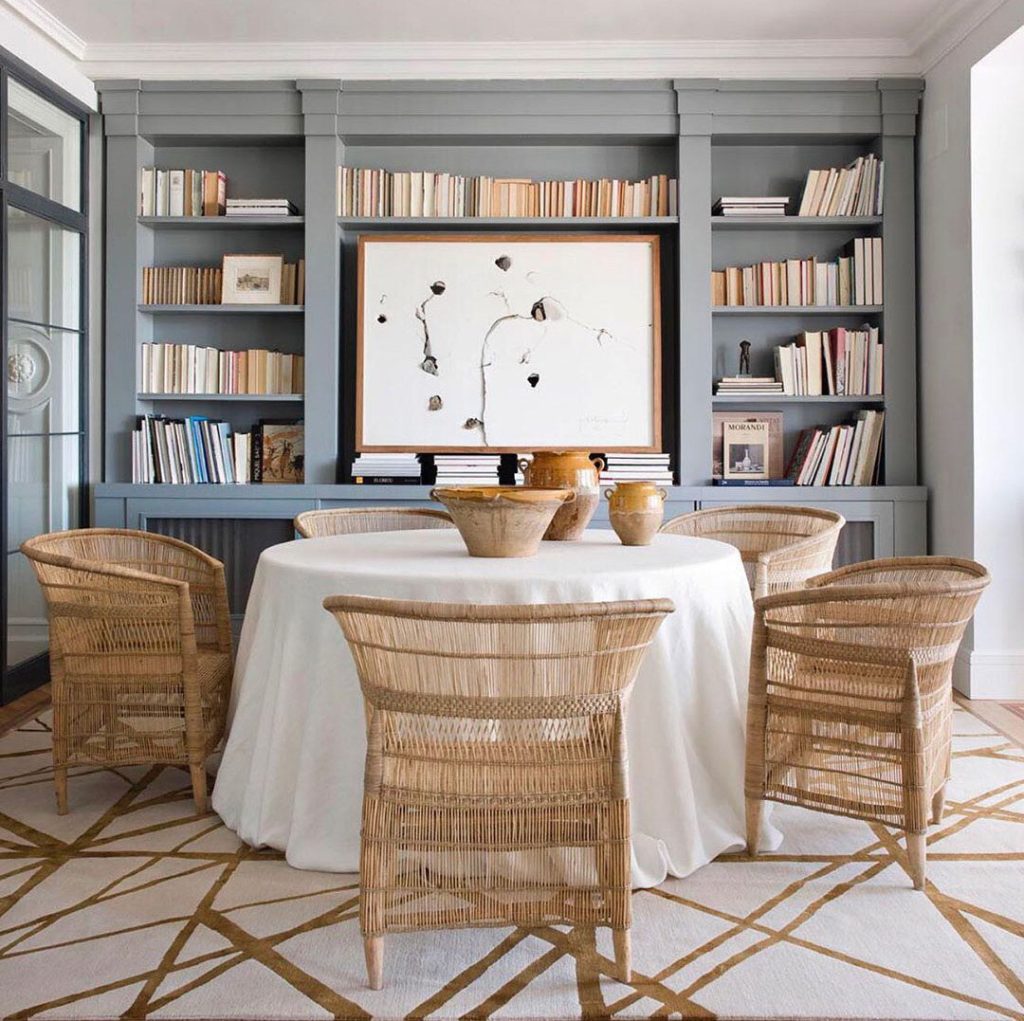 The real magic of this design lies in the thoughtful placement of organic materials and the unique combination of elements around the white round table fabric. The ceramic vase with imperfections and the string chair around the table add a touch of rustic charm and a sense of character to the summer project, while the knowledgeable wall adds a touch of sophistication and elegance.
And let's not forget about the large rug with its bold and geometrical pattern. It not only adds visual interest to the room but also serves as a unifying element that brings all the different design elements together in perfect harmony.
This Staycation invites you to curl up with a good book, sip a warm cup of tea, and relax and unwind in a peaceful and beautiful environment.
2. Calm Sea Summer Project
In this remarkable summer project, the rug takes center stage as the main character in all the designs. It exudes a sense of tranquility and calmness that reflects the image of the light reflecting off the serene surface of the sea.
The large rug effortlessly links all the furniture in the room, from the round white table to the four chairs with wood-tone details and even the shelves with light blue and gold accents.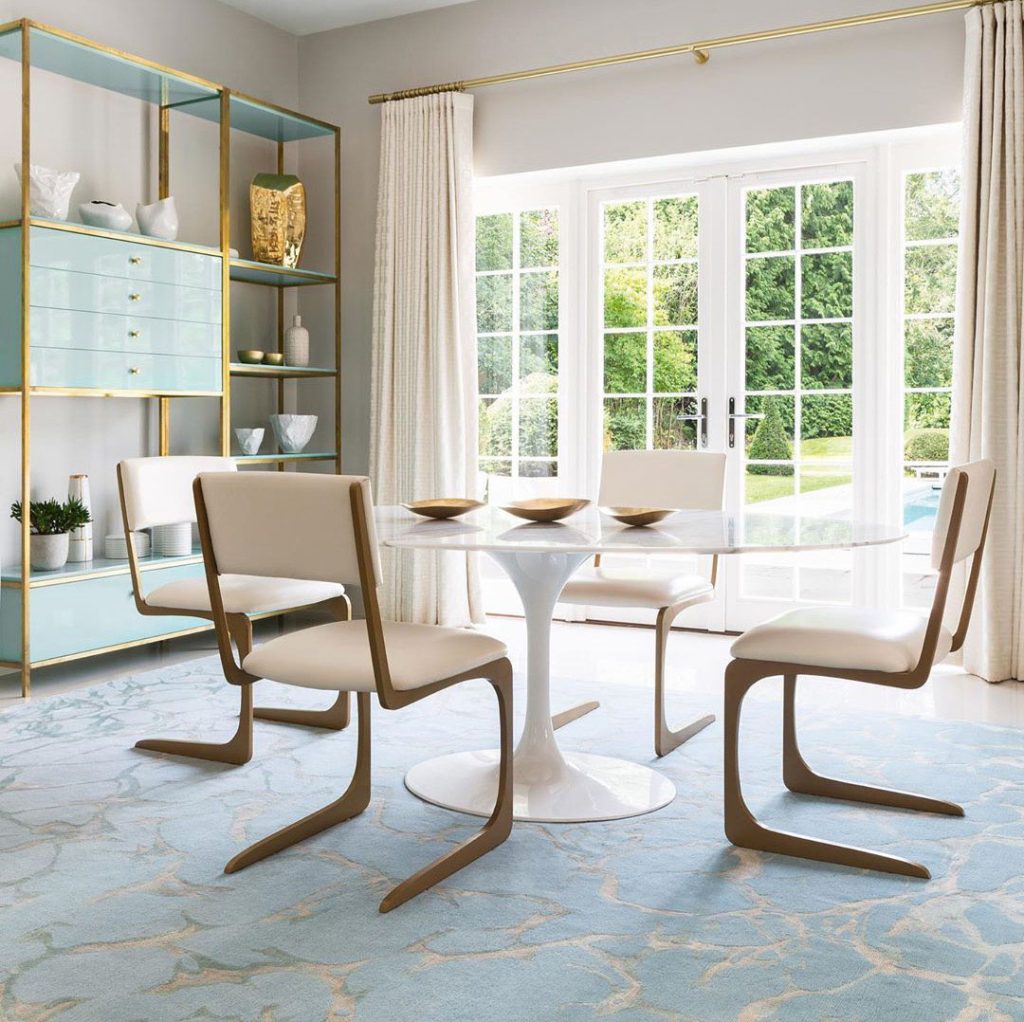 The natural light that floods the staycation room further enhances the feeling of being transported to a seaside escape, creating a serene and peaceful ambiance that invites relaxation and calmness.
How the rug brings all the staycation design elements together is truly remarkable. It is a unifying element that elevates the entire summer project to new heights while adding visual interest and depth to the room. And with its calming colors and textures, it creates a truly inspiring atmosphere that invites you to slow down, unwind, and take a deep breath.
3. Palm Springs Desert
This outdoor design is a beautiful reflection of the simple yet adventurous spirit of the desert. With its cacti and arid outdoor elements, it perfectly captures the essence of the desert landscape. And the choice of the Canyon rug adds a perfect touch of rugged beauty to The Lautner Compound.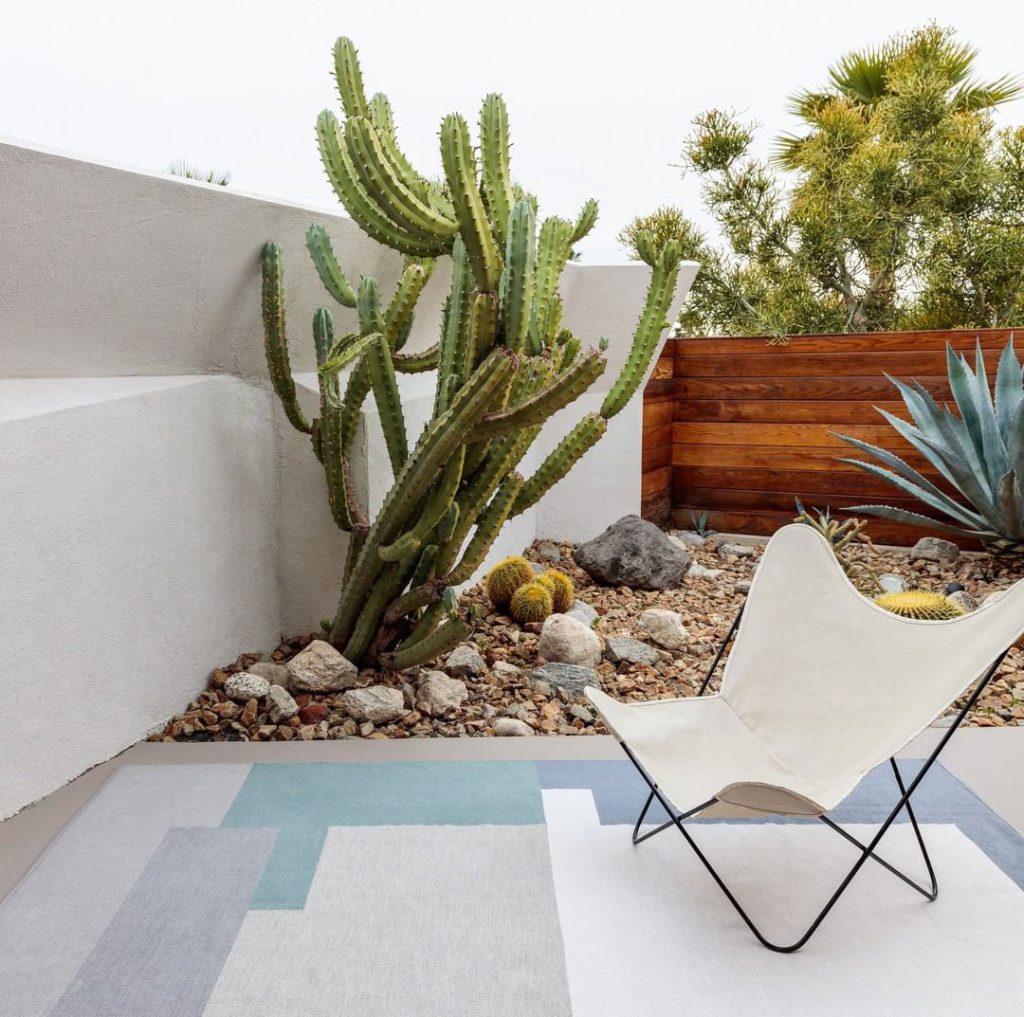 The design's simplicity is genuinely remarkable, yet it manages to evoke a sense of excitement and adventure that is both captivating and inspiring. The use of natural elements such as cacti and arid outdoor designs perfectly captures the essence of the desert, creating an environment that feels both rustic and modern in this staycation.
4. Bonavita in Malta
This design is a stunning reflection of the freshness and vibrancy of the summer project season. Designed by the talented Suzanne Sharp, the room exudes a sense of energy and life that is truly captivating. By adding plants to the space, she brings a touch of nature into the staycation room, infusing it with a sense of vitality and freshness.
The use of dark green plants is particularly inspiring, as they complement the natural tones of the hall bench, creating a beautiful and harmonious contrast that is both eye-catching and soothing.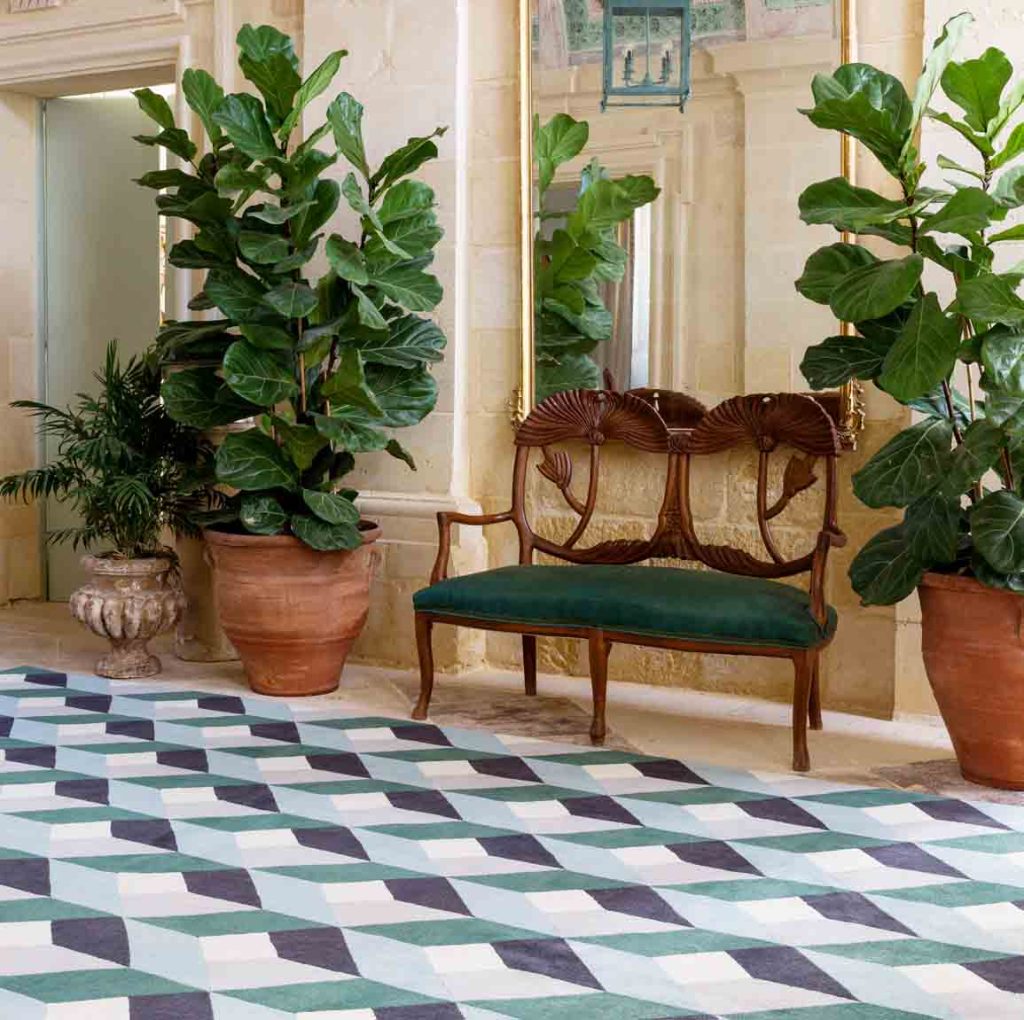 This staycation summer project is a perfect blend of mid-century and modern design, with stone walls adorned with gold-detail mirrors that add depth and visual interest to the space.
The designer's use of blue mosaics on the floor is a particularly inspired choice, as they bring a touch of coolness to the staycation that is perfect for the summer project season. They complement the colors of the ceiling perfectly, creating a sense of harmony and balance that is truly remarkable.
5. Miami residence
This summer project is a true masterpiece of minimalist design. Focusing on simplicity and clean lines creates an atmosphere of peace and tranquility that is truly inspiring. And with its exquisite round window, the staycation offers a stunning view of the pool and tropical environment, transporting us to a world of beauty and relaxation.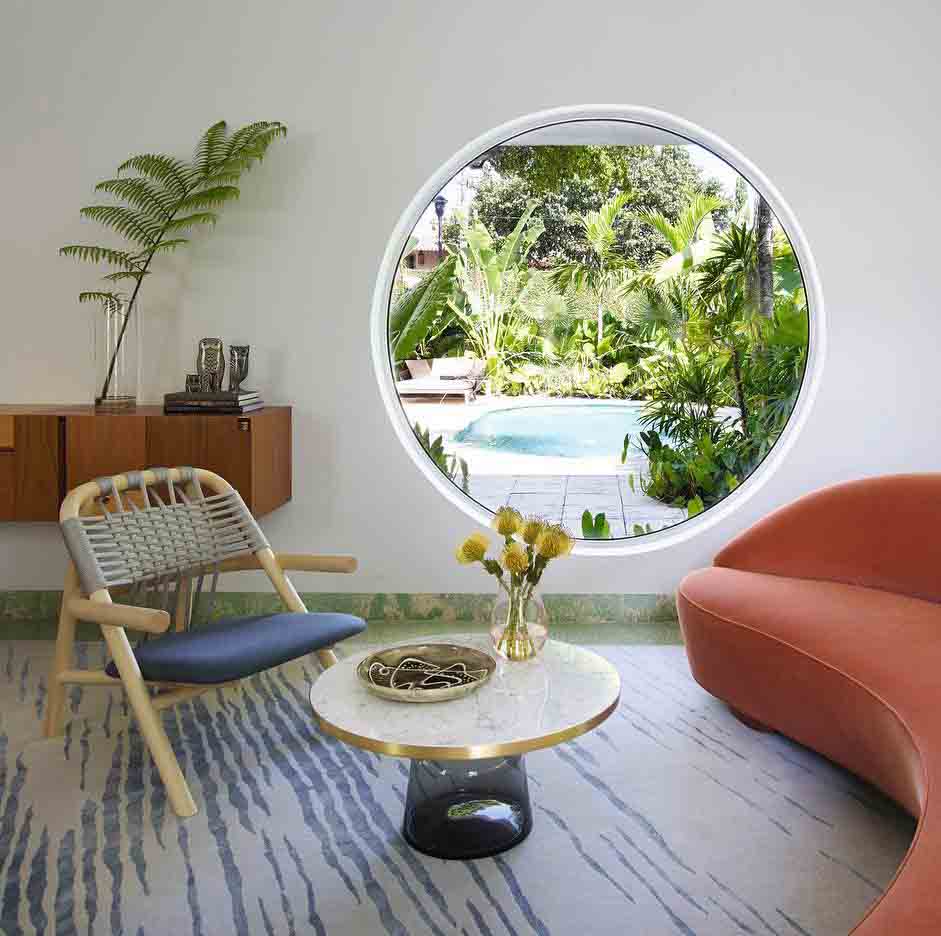 The use of red and deep blue colors is particularly inspiring, as they create a beautiful, harmonious, eye-catching, and soothing contrast. And the addition of gold details on the center table adds a touch of elegance and sophistication that is truly remarkable.
But what sets this summer project design apart is the large rug, which links the red sofa with the blue chair and creates a sense of cohesion and balance throughout the space. Its bright wood tones complement the colors in the staycation room perfectly, while the blue zebra stripes add a touch of visual interest that is both playful and stylish.
6. South Africa
Refraction Bright by Paul Smith is a stunning and vibrant celebration of color and fresh air. In this breathtaking photoshoot for Elle Decoration South Africa, treated to a dazzling array of hues and tones that dance and play together in perfect harmony.
The use of color in this Staycation is genuinely inspired, with bold and vibrant shades that light up the room and fill it with energy and life. Using geometric patterns and shapes creates a sense of structure and order that is playful and elegant while using natural materials and textures adds a touch of warmth and humanity to this summer project.
7. Bay Palm Beach, In-house studio
Lee Robinson has taken staycation summer project design to new depths with his stunning coral stair runner, created by his in-house studio for the Kips Bay Palm Beach showhouse. Inspired by the vibrant and colorful world under the sea, this staycation runner is a breathtaking work of art that brings a sense of wonder and enchantment to any space.
With its intricate details and vivid hues, the coral stair runner is a true masterpiece of summer project design. The delicate shapes and textures of the coral are captured with stunning accuracy, creating a sense of movement and life that draws the eye and captures the imagination.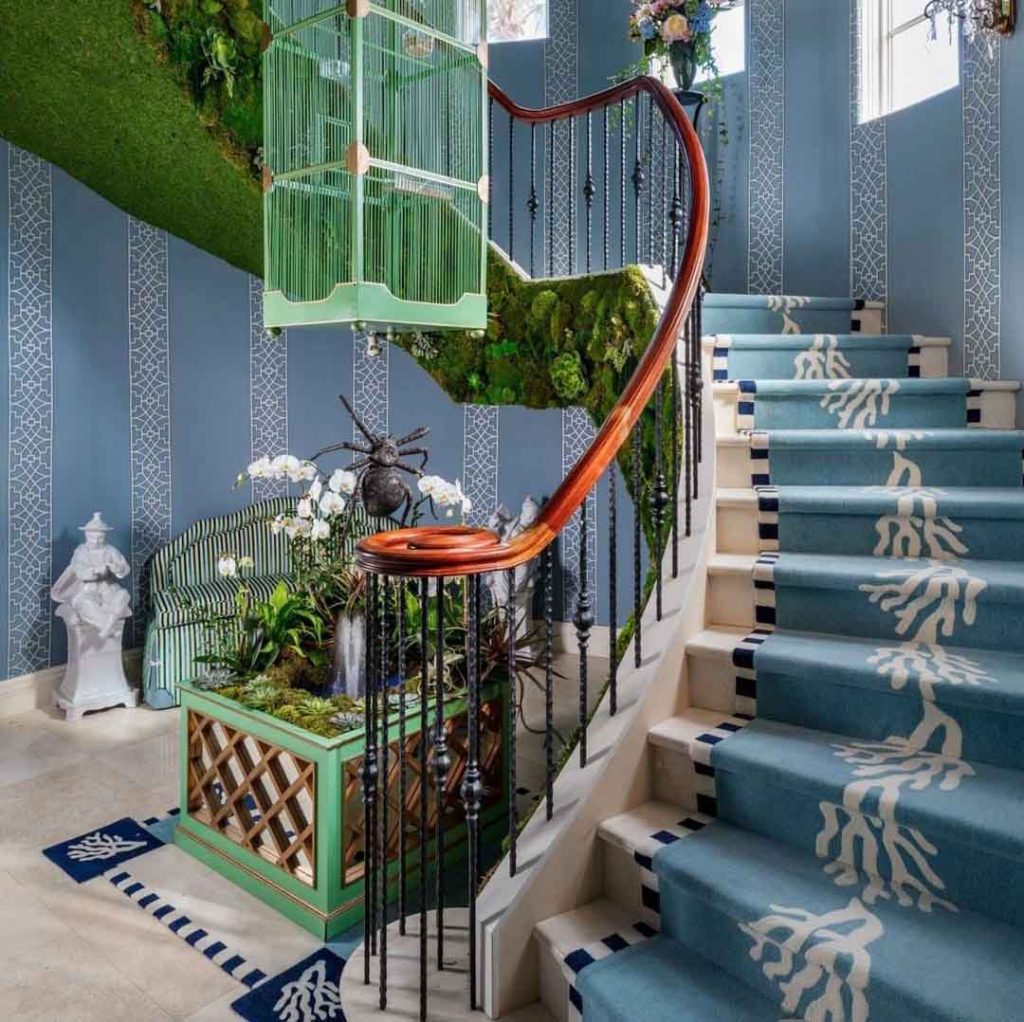 A practical and functional staycation space, providing both beauty and utility in equal measure. Its soft and plush texture is gentle on the feet, making it a joy to walk on, while its durable staycation ensures that it will withstand the test of time and retain its beauty for years to come.
8. Botanical paradise
Suzanne Sharp has created a botanical paradise in the heart of London with her stunning summer project design, which features a traditional Berber rug that takes center stage on the floor. This remarkable rug is a work of art in its own right, with its intricate patterns reflecting the rich cultural heritage.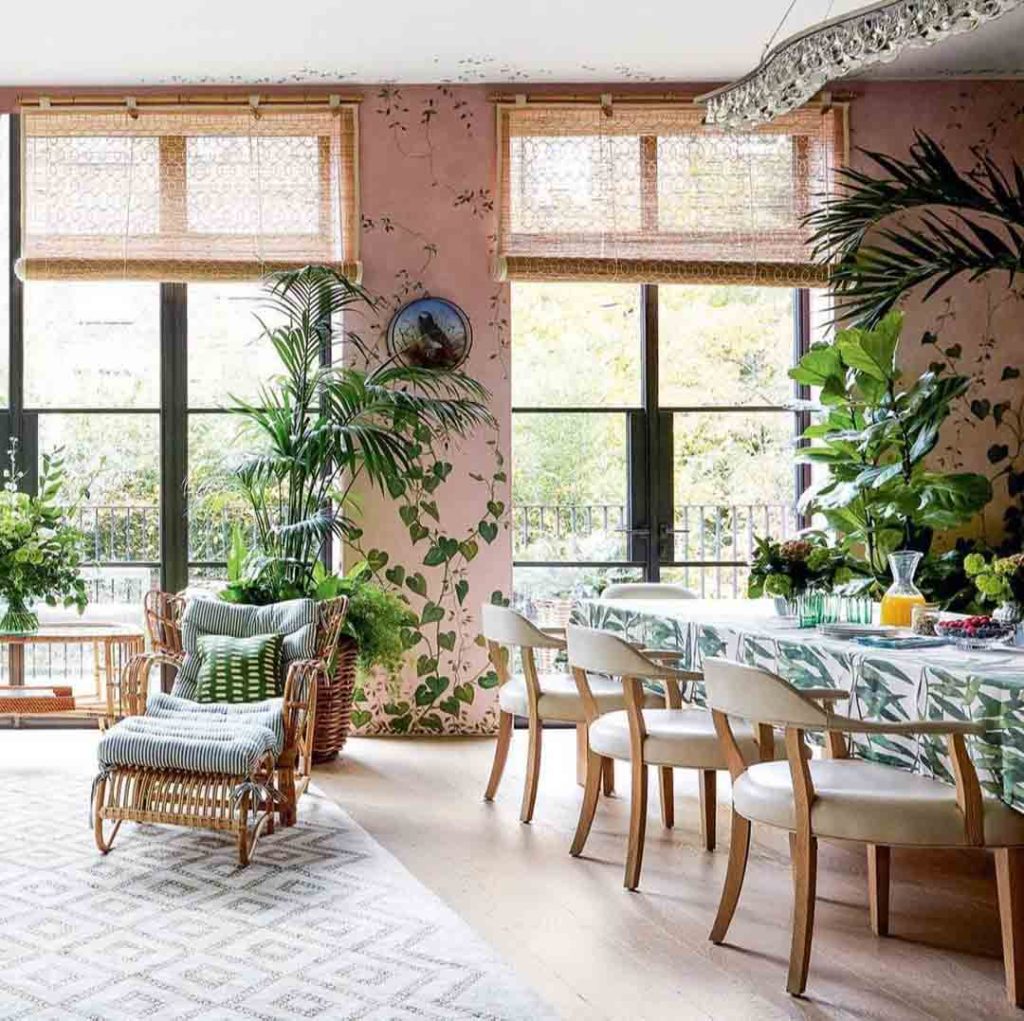 The staycation room is filled with an abundance of plants, each one carefully selected and arranged to create a sense of harmony and balance. From the towering palm trees to the delicate ferns, every plant adds unique texture and color to the space, creating a rich and immersive experience for the senses.
And yet, despite the abundance of natural elements, this staycation summer project room is also imbued with a sense of serenity and calm. The simple yet elegant furnishings, including a sleek white sofa and minimalist coffee table, perfectly counter the lush greenery and intricate rug.
9. London-based townhouse
Kelly Wearstler's Staccato design is a true masterpiece, and this London-based townhouse by Sarah Delaney Design adds a golden touch that takes this staycation room to new heights of luxury and sophistication.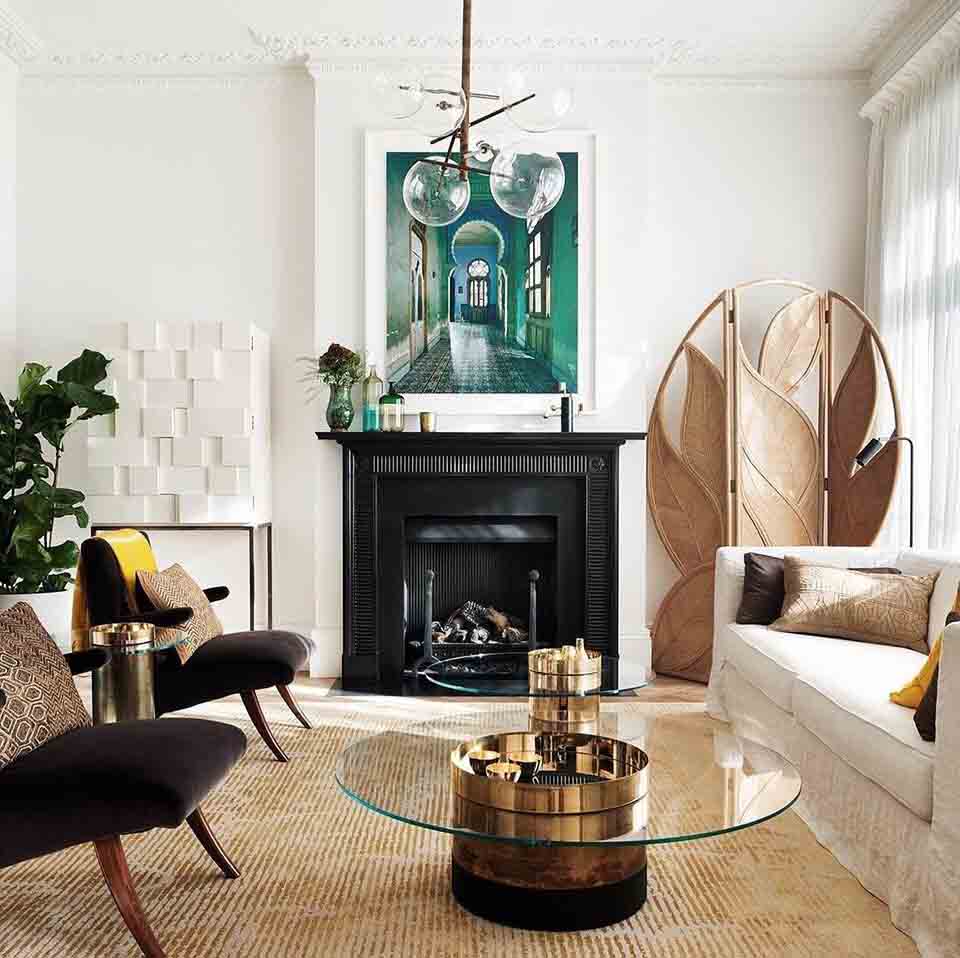 The staycation design is renowned for its bold geometric patterns and luxurious materials; the golden accents genuinely shine in this space. From the gleaming golden pendant lights to the shimmering gold hardware on the cabinets and drawers, every design element exudes a sense of luxury and glamour.
There is a sense of rhythm and movement in the staycation reminiscent of a musical composition, with the various elements coming together perfectly.
10. Tropical Madrid
Fiona Curran's Zap staycation design is an actual explosion of color and pattern. This tropical interior by Marta Carballo in Madrid adds a burst of energy and vibrancy that is truly inspiring.
The staycation design is known for its bold graphic shapes and bright, saturated colors, and in this space, it is the perfect complement to the lush greenery and exotic textures of the tropical environment. The bright orange, yellow, and blue tones of the design pop against the natural wood and leafy foliage, creating an infectious sense of excitement and playfulness.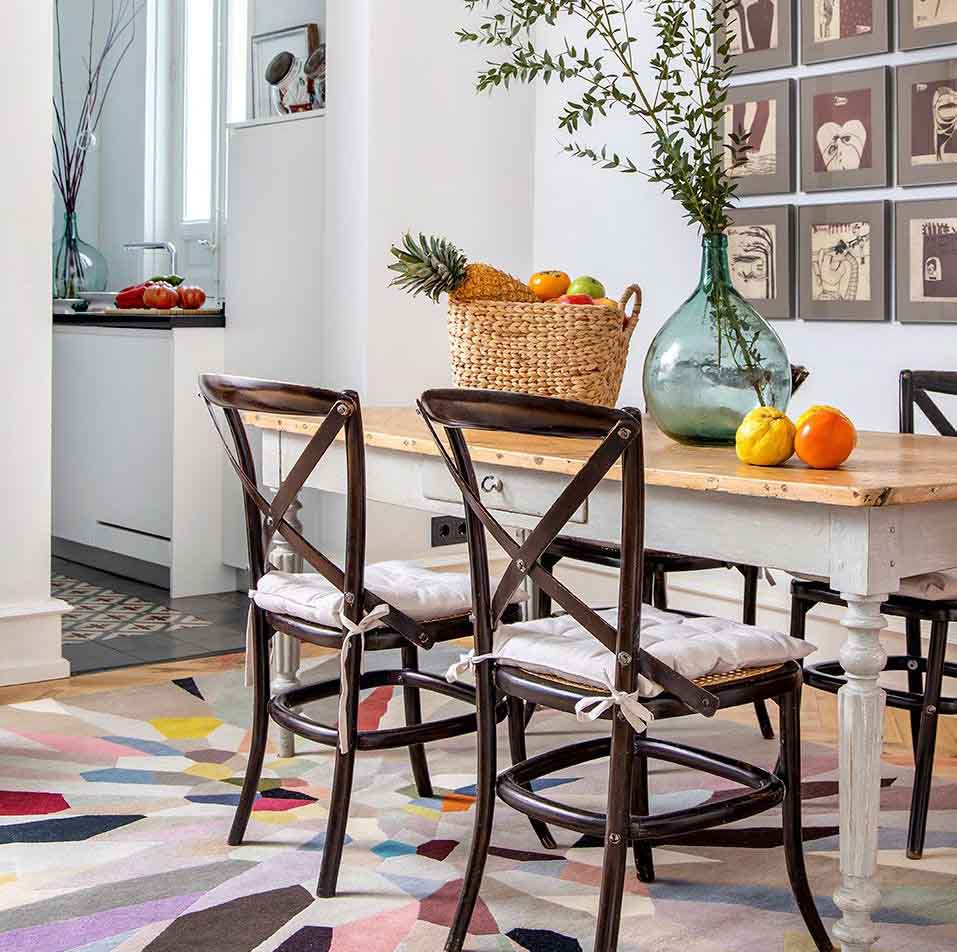 There is a sense of depth and complexity to the design that invites closer inspection, with intricate details and subtle variations that reveal themselves over time. From the playful zigzag motifs to the delicate floral patterns, there is a sense of artistry and craftsmanship to the staycation design that is truly impressive.
For all its complexity and intensity, the space also has a sense of joy and lightness. The bold shapes and bright colors create a sense of movement and flow that is both refreshing and calming, and the overall effect is balanced and harmonious.
Throughout these various interior design projects, we have seen the power of rugs to transform and elevate the staycation summer project. From the simple desert-inspired designs to the bold, colorful patterns of Kelly Wearstler and Fiona Curran, each rug has added a unique and unforgettable touch to the staycation rooms they adorn.
Let these breathtaking designs featuring standout rugs ignite your imagination and inspire you to create a bold and unique interior design project of your own. Embrace the power of a well-chosen rug to transform any space and make a statement that truly reflects your style and personality. And if you're still seeking further inspiration, explore our interior design projects and discover endless possibilities to elevate your home to the next level of beauty and sophistication.