Step inside this supertall skyscraper where a luxurious residence designed by Cárdenas is nestled.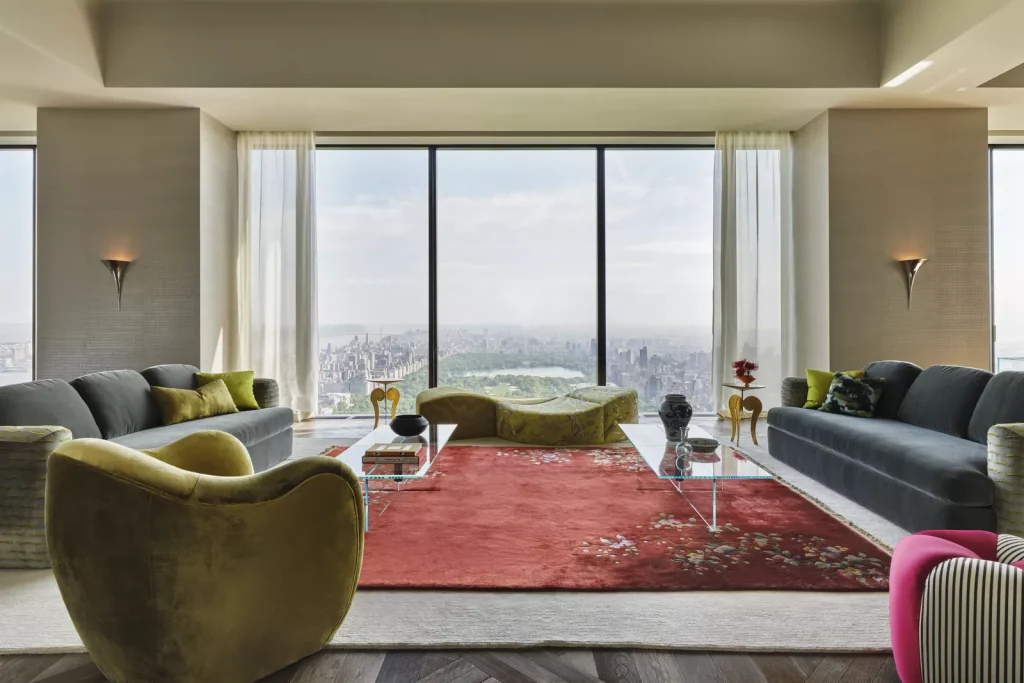 This residence, belonging to the second tallest home in the western hemisphere, was designed by Rafael de Cárdenas, a New York-based, to be more precise, Broadway-based, interior designer, architect, and creative director. Since 2006, his multidisciplinary studio has been working globally, specializing in commercial and residential interiors, art advisory, furniture design, and brand development.
Known for his bold, refined, and geometric designs, Cárdenas started his career in the fashion department, working for Calvin Klein, and only after that he finally started dedicating his time to architecture seventeen years ago. From that time on, he's been highly successful. He has already worked with Nike and Cartier, for example.
Welcome to the skyscraper 111 West 57th Street in Manhattan, New York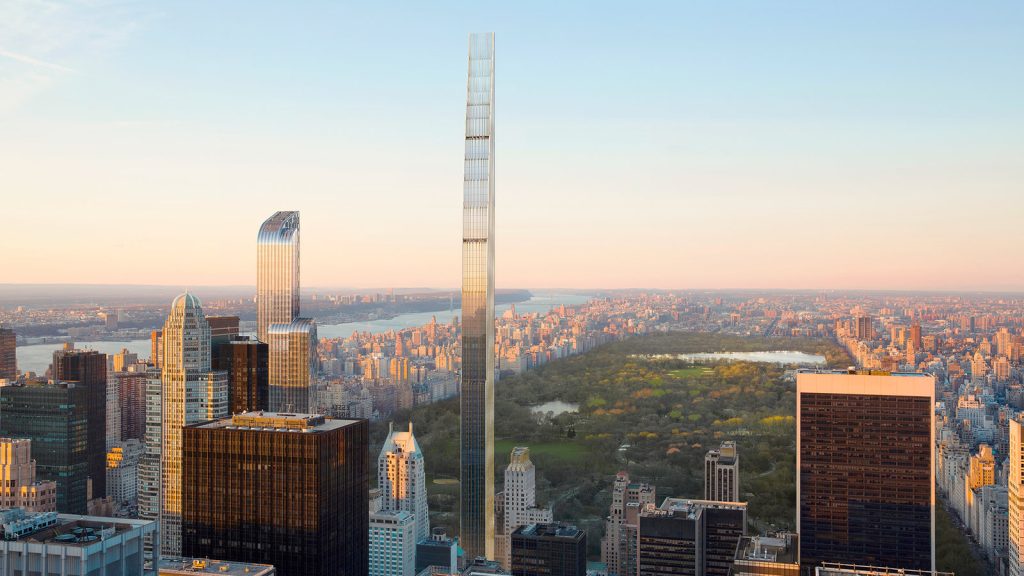 Focused over Central Park, New York, specifically in Midtown Manhattan, 111 West 57th Street, this second-tallest building in the West, and slender in the whole world, exhales luxury and sophistication.
Cárdenas Residence 66 is settled, predictably, on the 66th floor. Thus, it has direct views north of the iconic Central Park and the rest of New York City. As the designer wished to capture and enhance this landscape even more, he chose to work with a greenish color scheme that would allow the natural panorama to flow and continue inside the house. However, he still wanted the color palette to fulfill the project's elegance.
Throughout this skyscraper home, diverse Rafael's personal design characteristics can be seen, such as peculiar shapes and colors merged together.
Now moving into the entryway, it's finally noticeable to observe the contemporary nature of the interior design. This area, using grey macauba stone flooring with matching walls, doors, and even the silver artwork on top of the table and the lighting structures, evokes a sense of serenity and harmony. Still, the center table catches the eye subtly, with its acid green color, just as Cárdenas intended.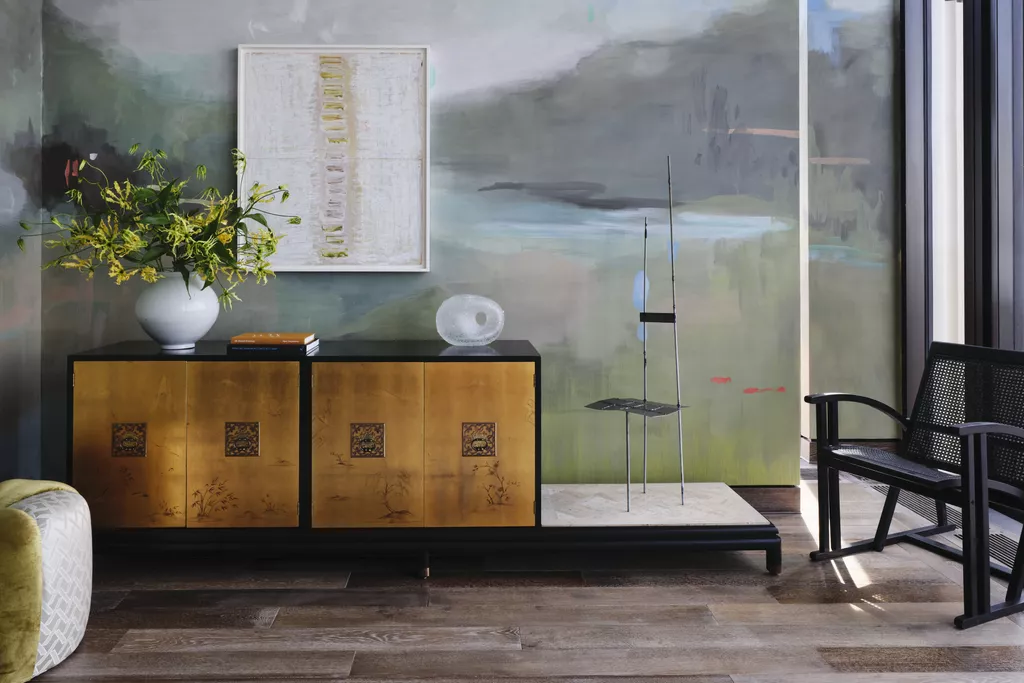 His peculiar design spreads all over this skyscraper residence. In the living room, the mural on the wall exhales that glimpse of green color that he wanted to expand; it also brings the outdoor landscape indoors, as it recalls the sky and nature. He emphasized this area by adding a commode with golden doors and small flower details. He then balanced everything out with a unique neutral-color painting, a light vase with yellow flowers, a goldish and white bench, and some plain black details such as the chair, the limits around the commode, and the borders of the window.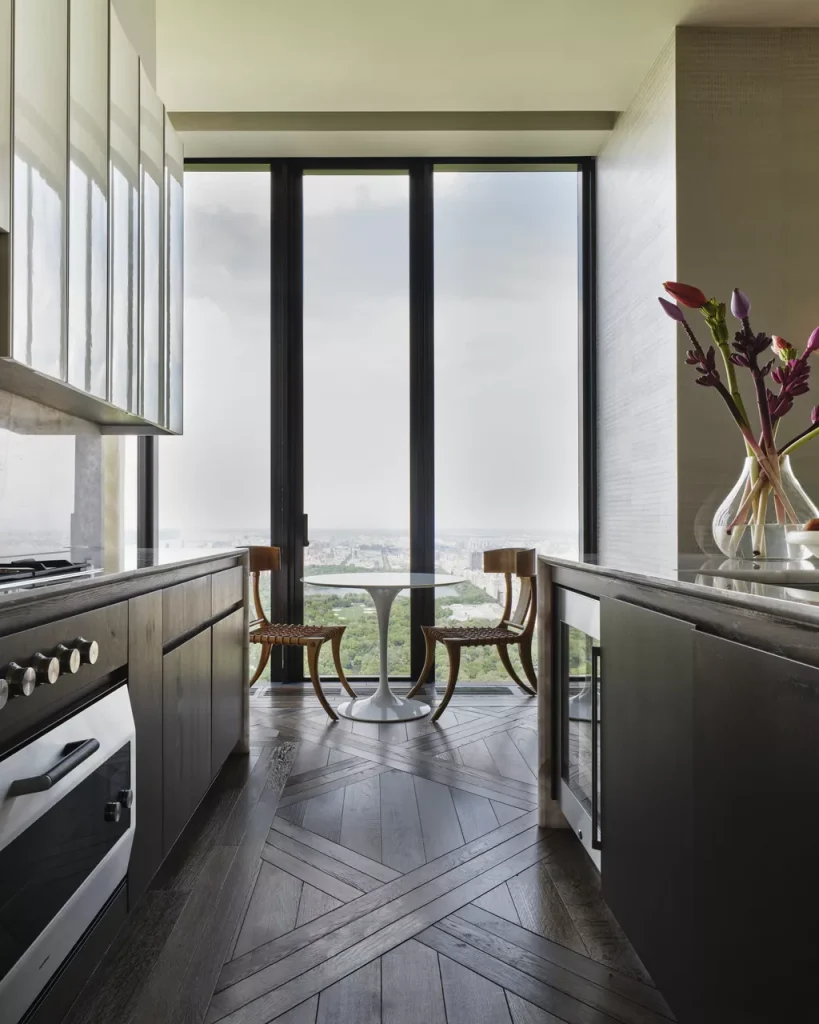 The designer could make this skyscraper interior design extra luxurious and still add color to it. For example, the vibrant velvet red rug and yellowish armchair that is also made out of velvet. This makes the fabric look like it is shining, giving the impression that it is a goldish color, yet more subtly and lavishly. Apart from that, the color green is present again on the couch, this time more gently and discreetly.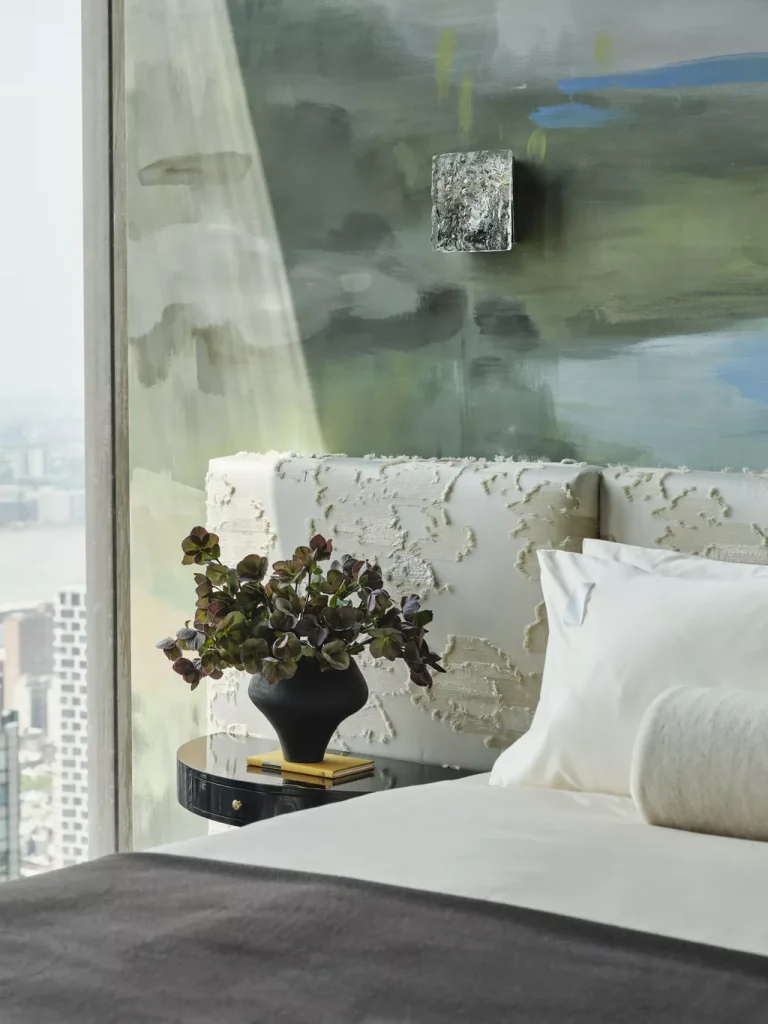 The greenish wall painting that you have already seen is present again in the main bedroom, which, once again, is perfect for connecting the outside view to the inside as it has a ceiling-to-floor window. Another exciting element in this skyscraper area is the headboard with its curious pattern. It provides comfort, sophistication, and more creativity to the room. Besides, it also looks like it's giving continuously to the mural.
Now moving to the bathroom, one of the most lavish spaces in this skyscraper interior, it is possible to admire a combination of a natural yet rich design. This space provides a balanced aura, with both walls and floor covered in a beautiful marble stone that matches the shade used in a goldish, shiny metal bathtub. Aside from the matching walls and floor, another feature that boosts this room's serenity is the fascinating window that perfectly fits the naturally shaped design.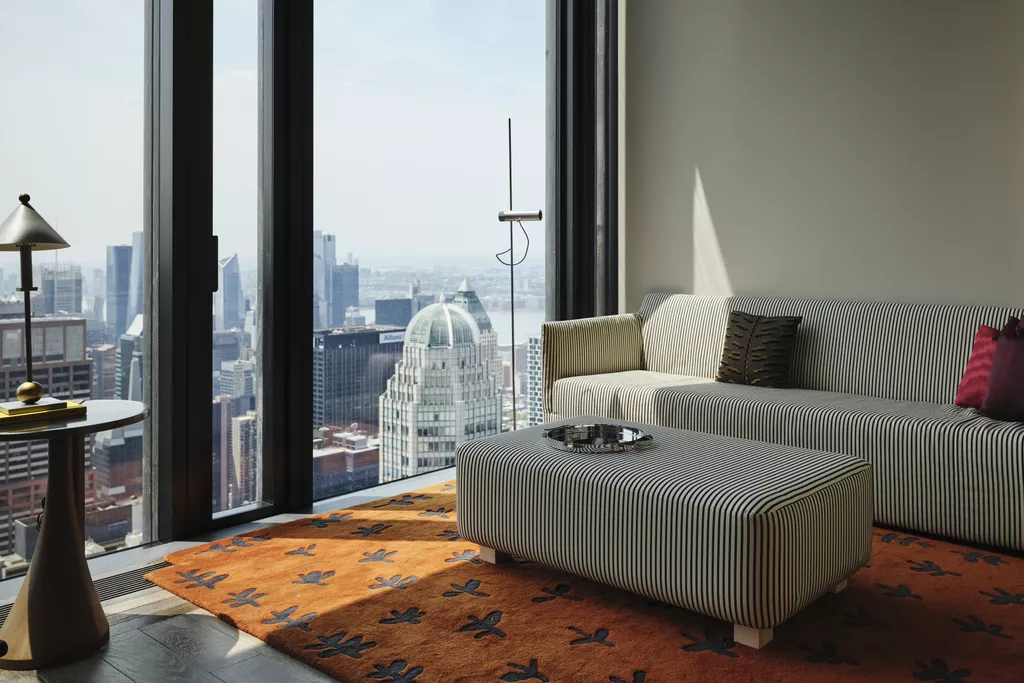 What an amazing tour! Now that this skyscraper interior design inspires you, we invite you to explore the best luxurious rugs by TAPIS Studio that will elevate your design project to another level.