In a digital world like ours, influencers have played a vital role in audiences. As followers, we trust your recommendations and tastes. And who's more likable and trustworthy than our's four legs best friend? Thereby, get to know the most famous pets of Instagram.
In many ways, animals rule the internet. Around the world, dogs, cats, and more – though not too many lions, tigers, and bears – have built up sizable audiences on social media platforms. We created a Top 20 of the best and cutest most famous pets so you know the best pet influencers to follow on social media.
Jiff Pom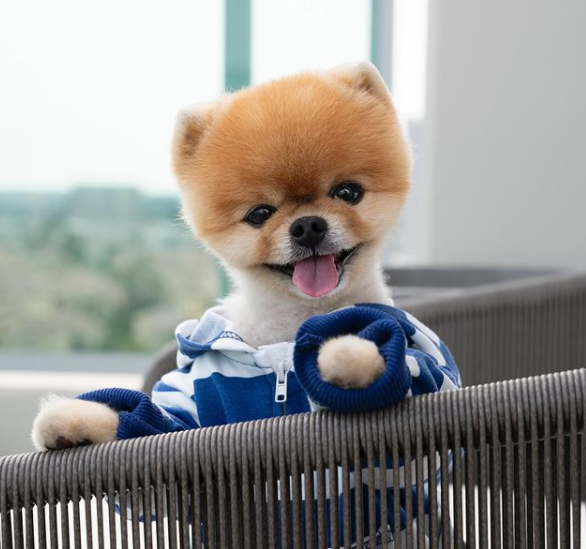 Jiff Pom, a Pomeranian pup, is the most followed dog on all of Instagram, with 10.3M followers. He's reached large-scale commercial success and counts with three Guinness World Records to his name, and friends that include the likes of Shawn Mendes, Ariana Grande.
He is also an animal actor, he was featured in the music video for the 2014 Katty Perry song "Dark Horse," which has been viewed over 2 billion times on YouTube.
.
Doug the Pug
Pug and social media star who has risen 4 million Instagram followers through his hilarious pictures, Doug the Pug is adored all over the world and has a red-carpet line-up of friends such as Ed Sheeran, Justin Bieber and John Legend.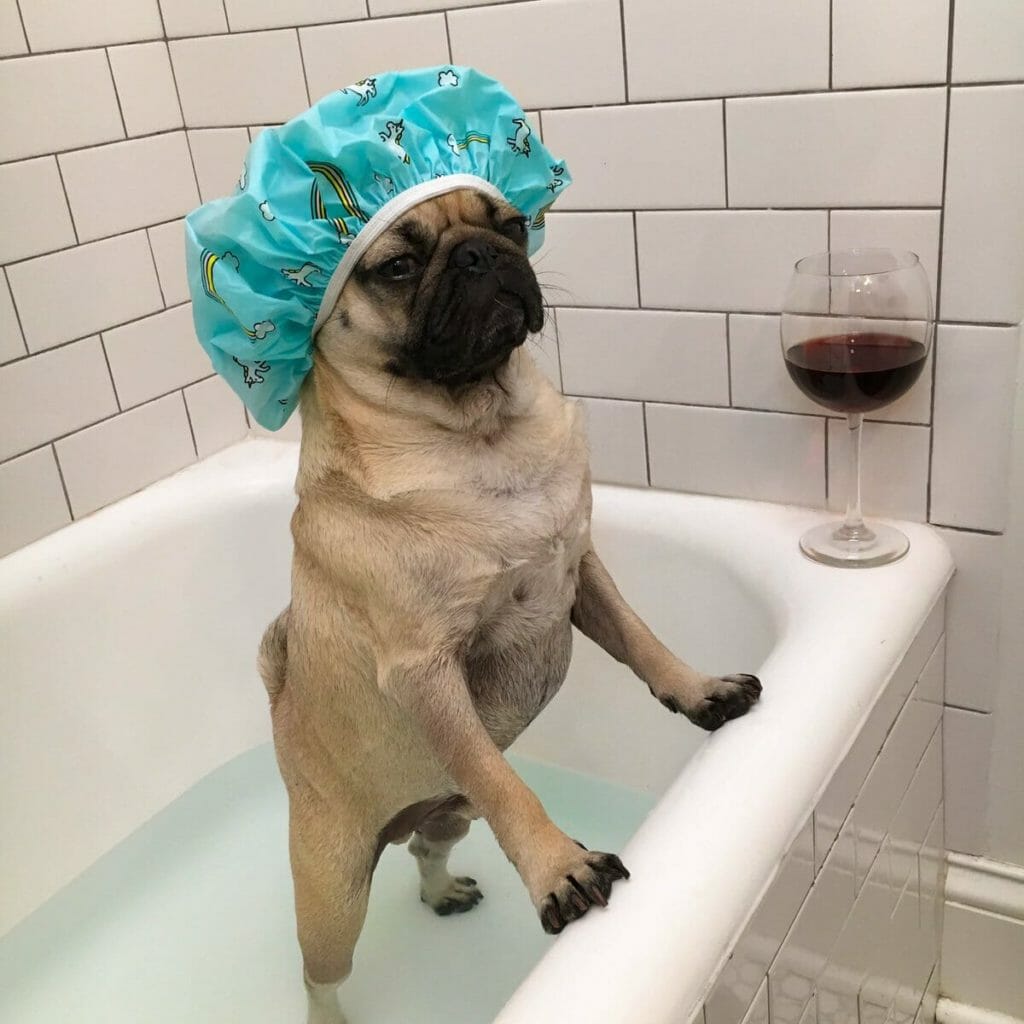 The dog's success on Instagram spawned several calendars, a New York Times bestselling book, and its own merchandise.
.
Juniper – The Happiest Fox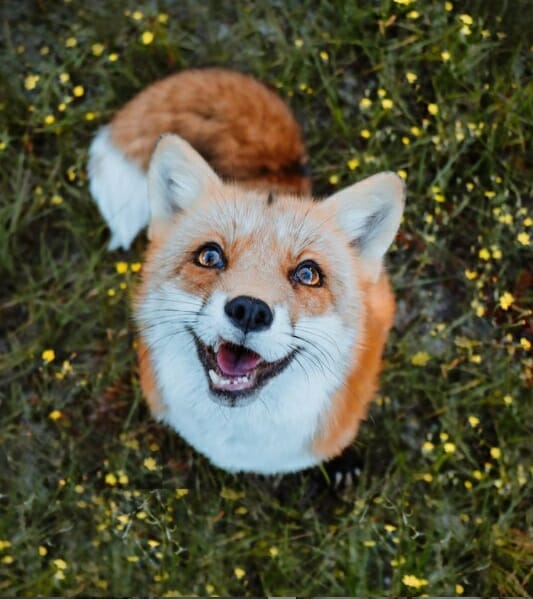 Juniper is a tame North American Red Fox. She was adopted when she was only five weeks old after learning that she needed a home. Rescued from a fur farm, she is a beautiful creature with some unique quirks.
Having captured the hearts of people around the world, Juniper even has her own calendar, an anti-fur range of sweaters, and a book that documents her life from cub to star of Instagram.
Juniper & her fox friends are living out their life in a home full of rescued exotics. They were each born in captivity and are descended from fur-farm foxes. Because of their genetic differences from their wild counterparts they can not be released into the wild, but live happy, full lives with their loving adoptive family and their doggo brothers.
.

Nala Cat
Not just your average cat, Nala is a siamese/tabby mix and an Instagram sensation with 4.3 million followers. Nala even has a Guinness World Record for being The Most Popular Cat on Instagram.
She was adopted by her owner Varisiri Methachittiphan at the Los Angeles animal shelter, in 2010. Her pictures on Instagram feature her rummaging and playing about her house, occasionally featuring her alongside other animals.
.
Loki – The Wolfdog
Loki is a husky/arctic wolf/malamute mix. Kelly Lund, the owner of Loki, decided to enter into his world and started to do everything possible to not leave him behind at the house. They started backcountry snowboarding together when he was four months old, and before his third birthday, he'd seen most of the western U.S.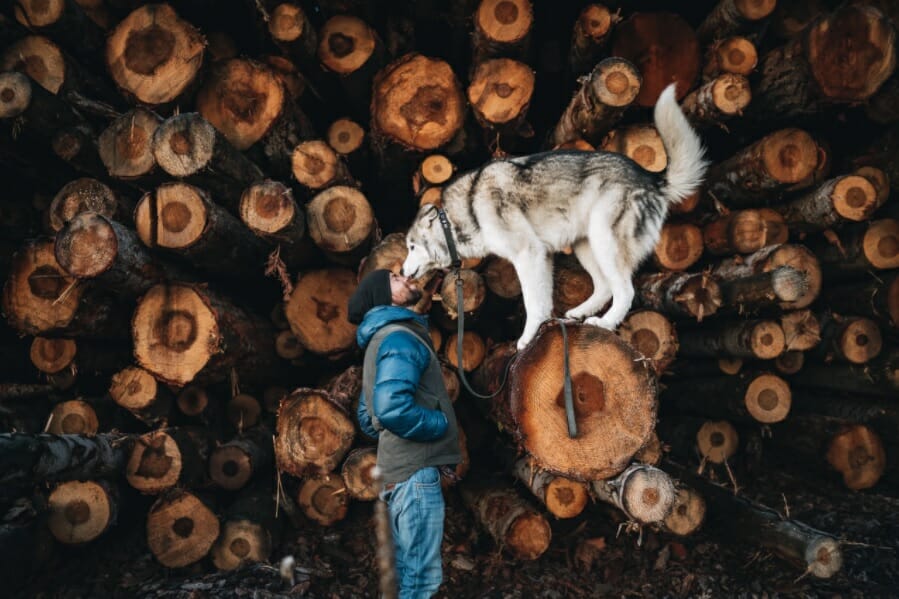 Loki appeals to a niche crowd of outdoor and animal lovers and has partnered with brands among the likes of Toyota, Chaco Footwear, and L.L. Bean. Loki and Kelly Lund hope to inspire others to get out, explore their world, and make memories with their four legs best friend.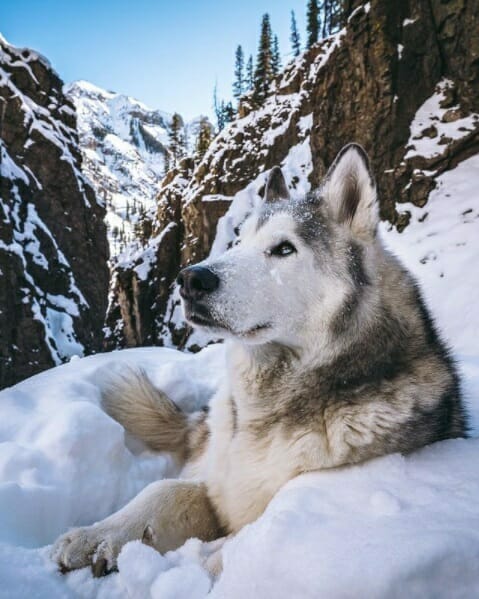 .
Grumpy Cat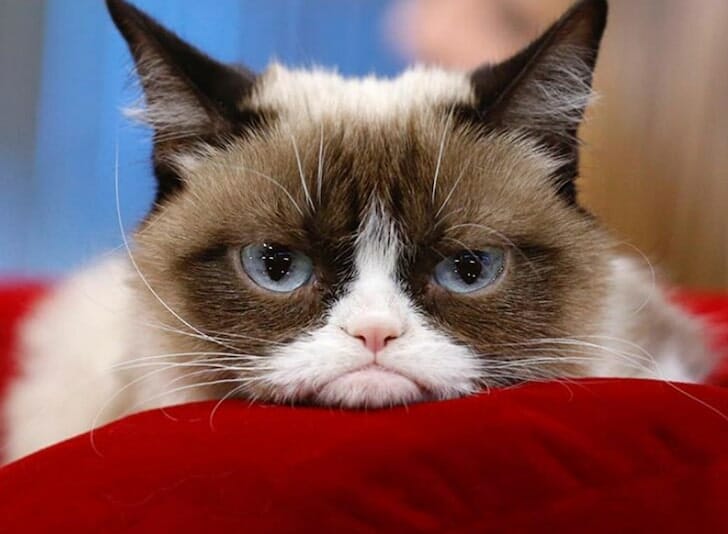 Grumpy Cat is one of the originals. It all started with an innocent post from his owners' brother wanting to show his followers on Instagram the cat's grumpy face, which has now resulted in a spectacular story and global fame.
Grumpy's face broke the internet and he now counts with 2.5 million followers on Instagram. The following was a surge in grumpy cat memes, animations, artwork, clothing, and books.
.
Tucker – The Golden Retriever
Tucker, the gorgeous golden retriever pup, is a social media star. He's got over 2.9 million people who follow him on Instagram, another 3.15 million on YouTube, and another 4 million who follow him on Facebook. He's a good boy, the good-est kind of boys!
A simple visit to your profile is enough to fall in love with your loving muzzle, we almost want to take you with us everywhere. This four-legged public figure has an entire collection of merchandising to keep you looking good, just like him!
.
Marutaro
Marutaro, also known as Maru, is a Shiba Inu hailing from Tokyo. Though her fame started in Japan, Maru is now well-known globally and counts with 2.5 million followers.
His owner Shinjiro Ono originally started his Instagram to cheer people up following the 2011 earthquake and tsunami that devastated the country. Since then, the pair haven't looked back and Maru continues to lift the spirits of millions online. He has been given numerous nicknames on media outlets, most notably "The Smiliest Dog in Japan."
.
Diddy Kong & Yeti Kong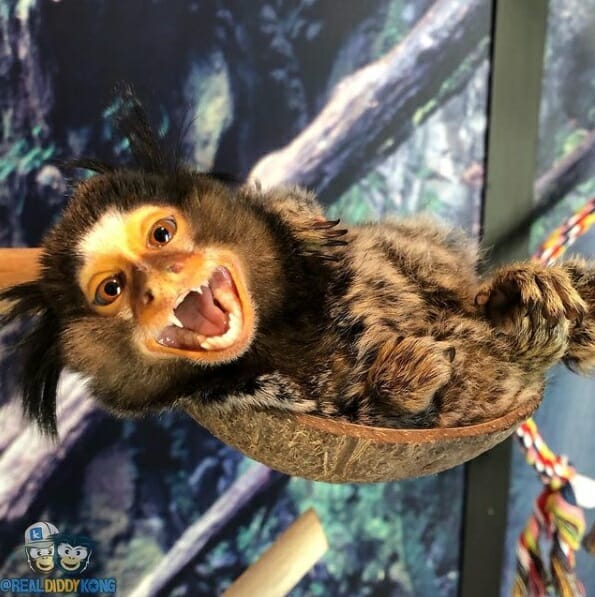 Diddy Kong and Yeti Kong were born in Miami, Florida, and have an incredible story. When Diddy Kong was born, his Mom and siblings died upon birth. Since his adoption, Diddy has been joined by fellow marmoset, Yeti and together the two get up to some hilarious mischief.
The feature of these guys is a huge grin from ear to ear that has made these little monkeys such a sensation. Now, they just want to spend the word about adoption and how important it is for monkeys to have a playmate. Diddy Kong and Yeti Kong are BEST friends and do everything together!
.
Marnie The Dog
Marnie is the most popular rescue dog on Instagram. Best known for her big eyes and signature tongue out expression, Marnie is an elderly Shih Tzu originally adopted in Connecticut.
Marnie has her own book Marnie The Dog I'm a Book and serves to inspire elderly pet adoption. Unfortunately, she passed away in 2020 at the age of 18. Her Instagram, nowadays, is occupied by her sister, a senior rescue named Phyllis.
.
Venus The Two Face Cat
Being called two-faced usually isn't a good thing, but for this tortoiseshell feline, it's just accurate. Venus' look is so unique that National Geographic, among many others, has spent time trying to explain her look, which mesmerizes millions of followers across all of her platforms.
Venus was adopted as a stray in September 2009 by a couple in North Carolina. As of September 2012, she had more than a million views on YouTube; nowadays, has 2 million followers on Instagram.
.
Tuna
Tuna is a 10 year-old Chiweenie with an exaggerated overbite, recessed jaw, and a magnificent wrinkly neck. He was adopted by Courtney Dasher in December of 2010 at a Farmers Market in LA when he was a four-month old puppy. Nowadays, he has over 2.1 million followers on Instagram and over 2.5 million on all of his social channels combined.
He is an ambassador for animal rescue, since he too was once rescued, and it has become a part of Courtney's mission to raise awareness for rescue groups through this platform.
Tuna has traveled on an American tour raising awareness for animal rescue and also stars in his own book. You can even request a camera and find him on a calendar, at his own shop.
.
Pumpkin The Raccoon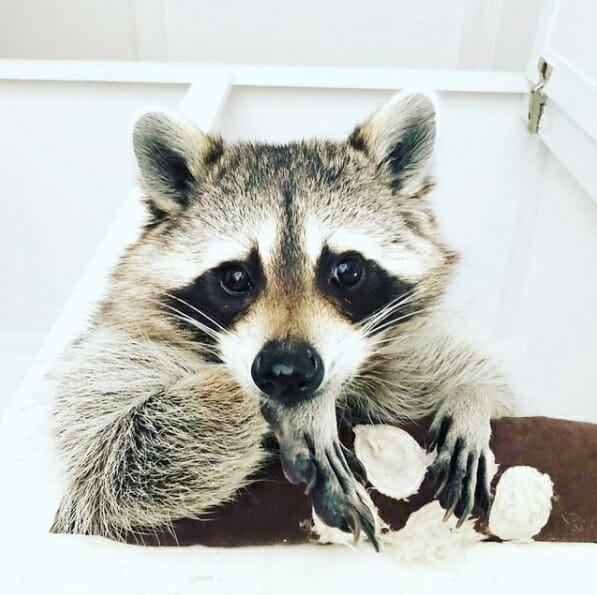 A raccoon is probably not the most common choice for a pet, but Pumpkin has exceeded all expectations. Rescued from the Bahamas, live your best life that you can follow through a very funny feed that has 1.3M followers.
Unfortunately, the beloved Pumpkin has passed away. She is now forever dreaming of avocados, eggs, and sips of my leftover tea. The account will continue, in a different format, because they feel it is important to honor Pumps and use this incredible platform for something good.
.
Harlow and Sage
Harlow, the Weimaraner, and Sage, the Miniature Dachshund, were inseparable duo! From adventures outside to cuddling up at bedtime each night, nothing came between them. They are the original members of the family but sadly Sage passed away in 2013.
Indiana and Reese, both miniature dachshunds, were soon added to the mix and complete the group. Brittni Vega posts photos of the 3 best friends daily and has used their online success to publish a New York Times best-selling book, create Harlow and Sage themed merchandise, and start a dog toy line.
Stay tuned because the family can (and it will) grow even more!
.
Maddie from This Wild Idea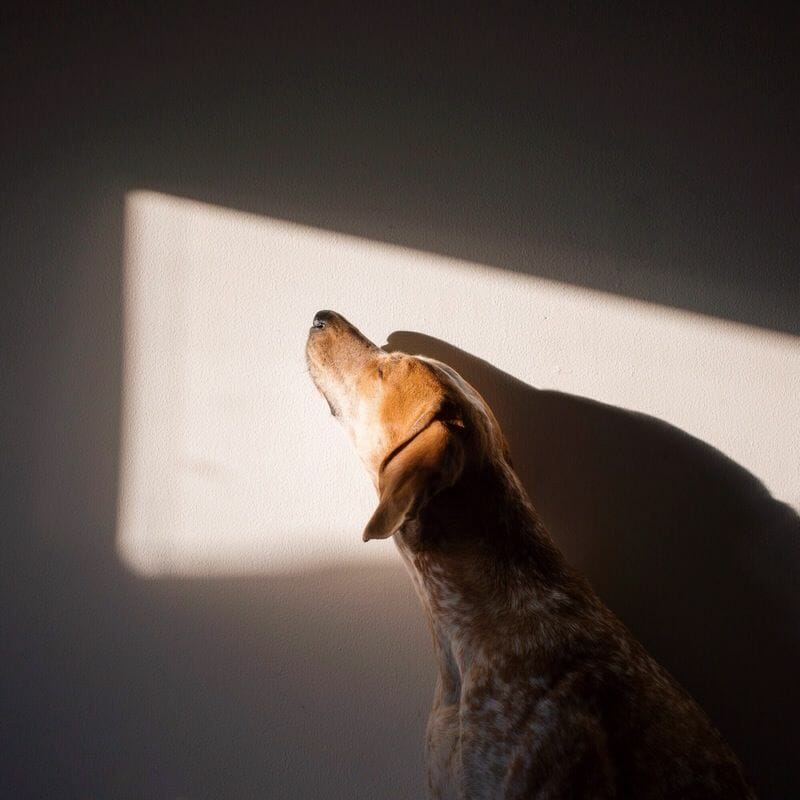 Maddie is a Nashville based Coonhound that stars in her owner Theron Humphrey's Instagram. Humphrey is a photographer that adopted her in Georgia when he was setting out on a photography project across all 50 U.S. states.
He quickly realized that Maddie had a great sense of balance and a knack for holding a pose, and she soon became the center of his photo series. Maddie now has her own photobook and has partnered with Discover Boating, Goose Island, and more.
.
Hamlet – The Piggy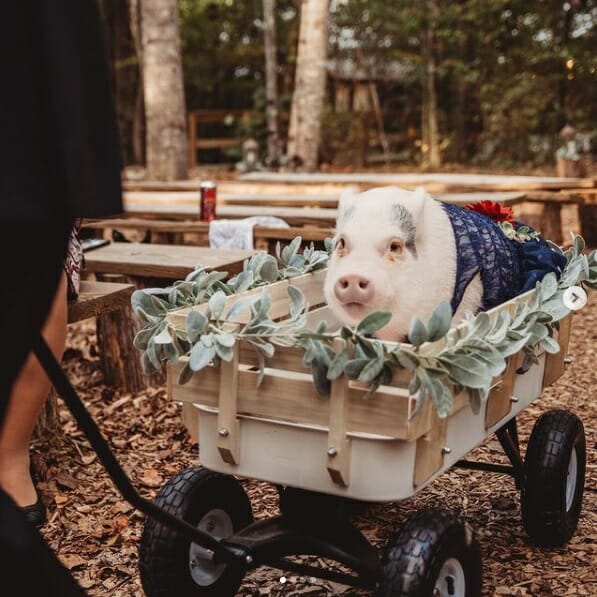 Hamlet the pig lives with loving human parents in Nashville and leads a very colorful life. From a pirate to a ninja turtle, Hamlet's Instagram feed is a must for anyone needing a little cuteness in their lives. Just try not to be jealous of his huge collection of wigs and headdresses.
Behind the hilarious feed is Melanie, who was gifted Hamlet as therapy. Following breakthrough seizures, Melanie suffered from depression and Hamlet brought her some much-needed love and companionship.
.
Manny The Frenchie
Manny the Frenchie is a French bulldog from Chicago, Illinois with an impressive 1.1M Instagram followers. His owners Amber Chavez and Jon Huang initially posted photos of him as a puppy for friends to see, but realized he had far reaching appeal.
Currently, the most followed bulldog online, Manny boasts partnerships with State Farm, Turtle Wax, and more. He is also the face of Martha Stewart's PetSmart line.
.
Ludwik – The Pig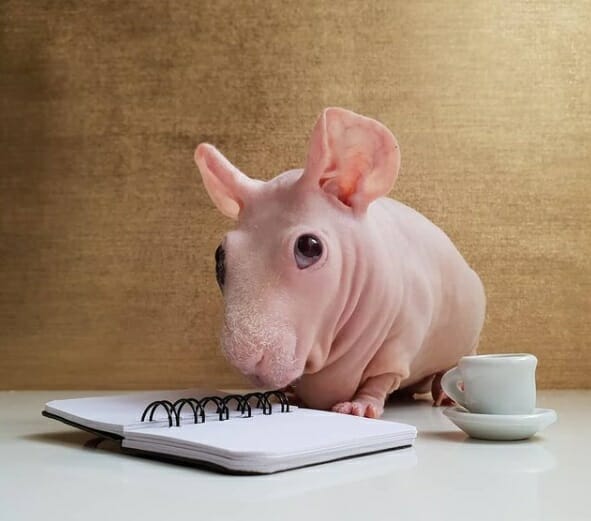 A hairless guinea pig, Ludwik was abandoned before his human adopted him. Now, he has moved onto bigger and brighter things. His owner adores him and has created a feed that is inspirational, cute, and oh so creative.
Ludwik's life is a real "from zero to hero" story. From abandon pet to Instagram celebrity in less than a year. You will either love him or hate him. Nevertheless, you will smile at some of his on-point snaps that include posing with some miniature props.
.
Lionel, The Hog
Lionel is just one ball of prickly cuteness. Perfectly round and full of character his owner has made his feed cheerful, colorful, and really addictive.
Further to being a local fixture on the scene in his hometown of Charleston, South Carolina, Lionel has been known to make an appearance in popular entertainment outlets ranging from People magazine, to Buzzfeed—even making a cameo appearance on America's funniest home videos. He also influenced clothing merchandise and accessories.
.
Madame EyeBrows
Last but not least (and please don't be sad like Luna), we present you an English bulldog from Germany, righteously named Madame Eyebrows. If you've ever tried to imagine a bulldog with eyebrows, you won't be able to look away.
She has splendid grey spots above her eyes which perfectly resemble eyebrows. And it turns out that a bulldog with eyebrow spots is a peculiar combination that makes this puppy look terribly grumpy.
When you look at Madame Eyebrows it seems that this dog feels absolutely no joy in her life. But according to her owner Janina, her dog's appearance is very deceiving. Madame is actually a very happy and goofy dog. "In real life, you have to see her only a few minutes and you see that she is happy".
#EyebrowsOnFleek just got a new meaning, and they are 100% natural. Luna, aka Madame Eyebrows, has the squishiest and poutiest face you have ever seen. Once you lock eyes with this beautiful Bully you won't be able to do anything but follow.
.
Be careful with dear eyes and lovely snouts. These are the most famous pets on Instagram, the true influencers of the animal world.
Are you looking for a way to stylish your home? Discover our brand catalog and find incredible rugs that can elevate any home decor. Click here to download.