Explore The Ever-Evolving Realm Of Interior Design, And Let's Unveil The Most Captivating Rug Trends Of 2024 That Are Shaping The World Of Home Décor.
As we enter 2024, the allure of rug trends beckons, promising a unique blend of style and substance underfoot. Similar to a well-selected rug that unifies a room's features, these trends tell a tale of sophistication, originality, and ageless beauty.
Enjoy a trip through the top five rug trends of 2024, where modernity and contemporary mix.
1. Vintage & Vintage-Inspired Rugs: A Timeless Charm for Any Space
Vintage and vintage-inspired rugs are among the hottest rug trends for home decor in 2024. These rugs create a timeless charm and a sense of history in any space, whether traditional, modern, or eclectic. Vintage rugs feature faded colors, distressed patterns, and worn-out textures that give them a unique character and appeal. They can also have different designs, such as floral, geometric, tribal, or abstract, depending on the culture and region of the rug.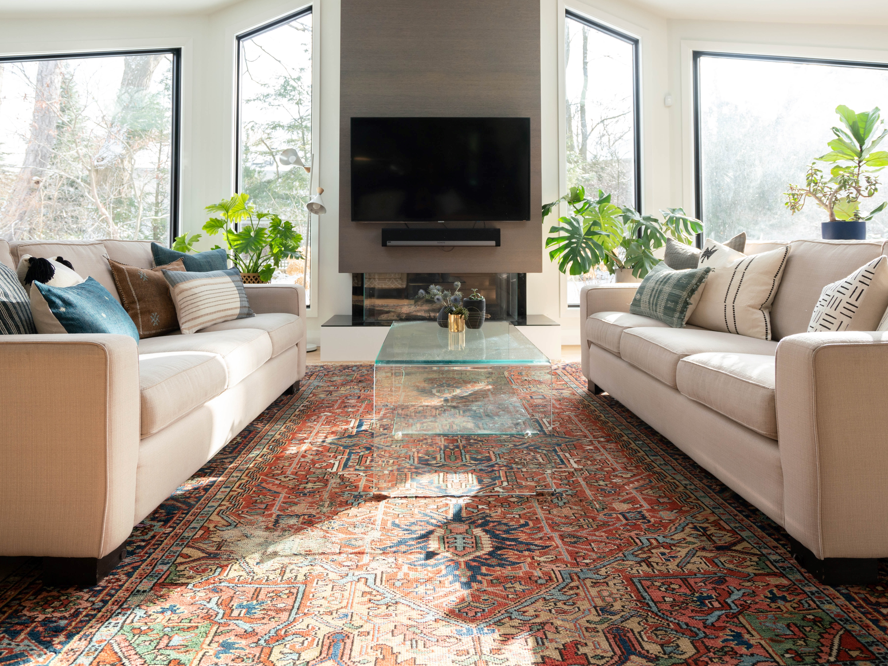 Vintage-inspired rugs can be made from natural materials, such as wool, cotton, silk, or synthetic materials, depending on the age and origin of the rug. They can also be found in different sizes and shapes, from small to large and from rectangular to irregular.
These rugs can add warmth, coziness, and personality to any room, especially in colder months or in minimalist spaces. They can also create a focal point, a contrast, or harmony in the decor, especially in a soft-shaded room with a beige or grey sofa. Vintage rugs are a great way to express creativity and transform the floors into a statement piece.
2. Shaped Wall Rug: A Fun and Creative Way to Add Texture and Personality to Walls
Shaped wall rugs are another interesting rug trends for 2024. Shaped wall rugs have irregular or unconventional shapes, such as circles, stars, hearts, humans, animals, or letters. They can be hung on the wall as a decorative element, adding texture, color, and personality to any space.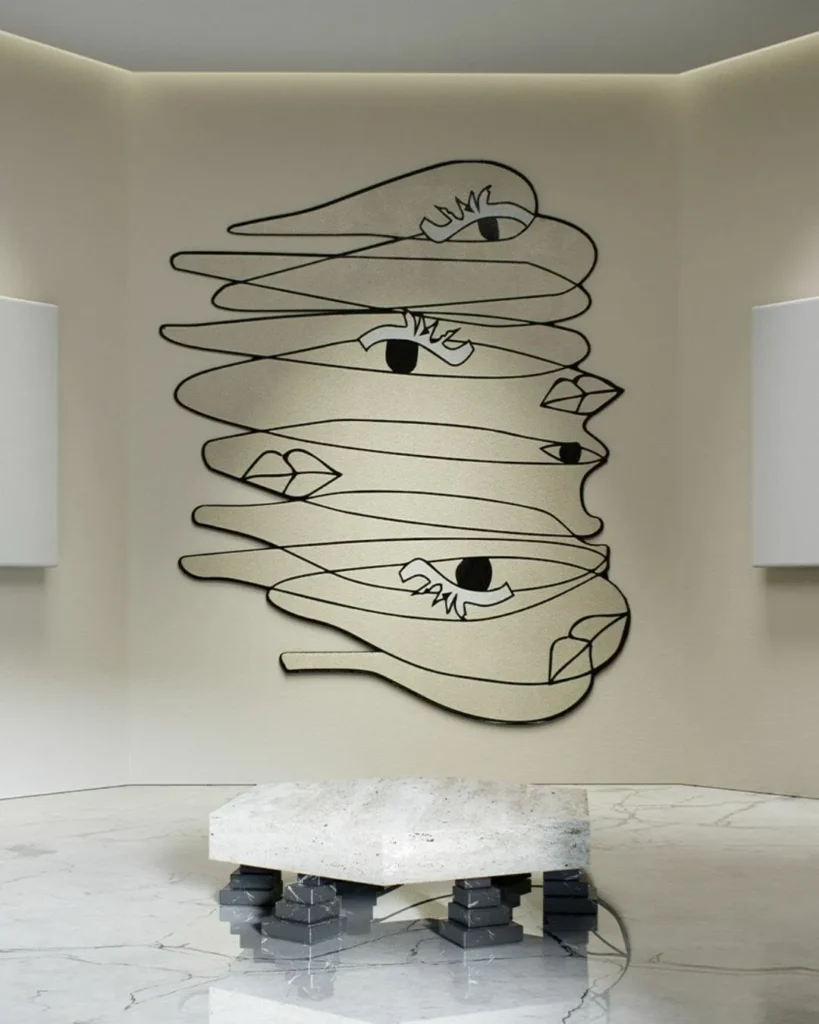 Wall rugs can be used to decorate any wall in the home. One of the most important things to consider is the size and shape of the wall rug and the wall space.
A shaped wall rug, whether in an entryway or a vast space, can create a welcoming and inviting impression, especially if it has a bold and dynamic shape and pattern perfect for an irreverent interior look, from the floor to the walls.
3. Geometric Patterns: A Modern and Dynamic Statement for Your Decor
In interior design, geometric rug layouts have become very popular since they give interior rooms a modern and energetic touch. The latest rug trends include angular shapes like triangles, hexagons, and chevrons, giving rooms a contemporary feel and striking aesthetics.
This long-lasting style effortlessly blends in with the timeless appeal of tactile materials, large-scale high-contrast motifs, and traditional neutral colors. Geometric rugs are renowned for their repeating patterns that give a room a feeling of largeness and their dynamic angles that bring energy into the house. Their versatility allows them to play with space, offering optical illusions that can expand or cozy up a room, adding depth and movement.
They can effortlessly elevate the aesthetic of a room, be it modern, traditional, or eclectic, and these are one the reasons to have them in 2024's rug trends.
4. Neutral Tones & Natural Fibers: A Cozy and Earthy Appeal
As we move into 2024, area rugs with earthy tones will always be appealing as top rug trends. Homes and workplaces alike feel peaceful thanks to the relaxing sandy neutrals, moss green tones, and the cozy embrace of earthenware.
These hues stand out because of their natural capacity to balance and harmonize the energy in interior spaces.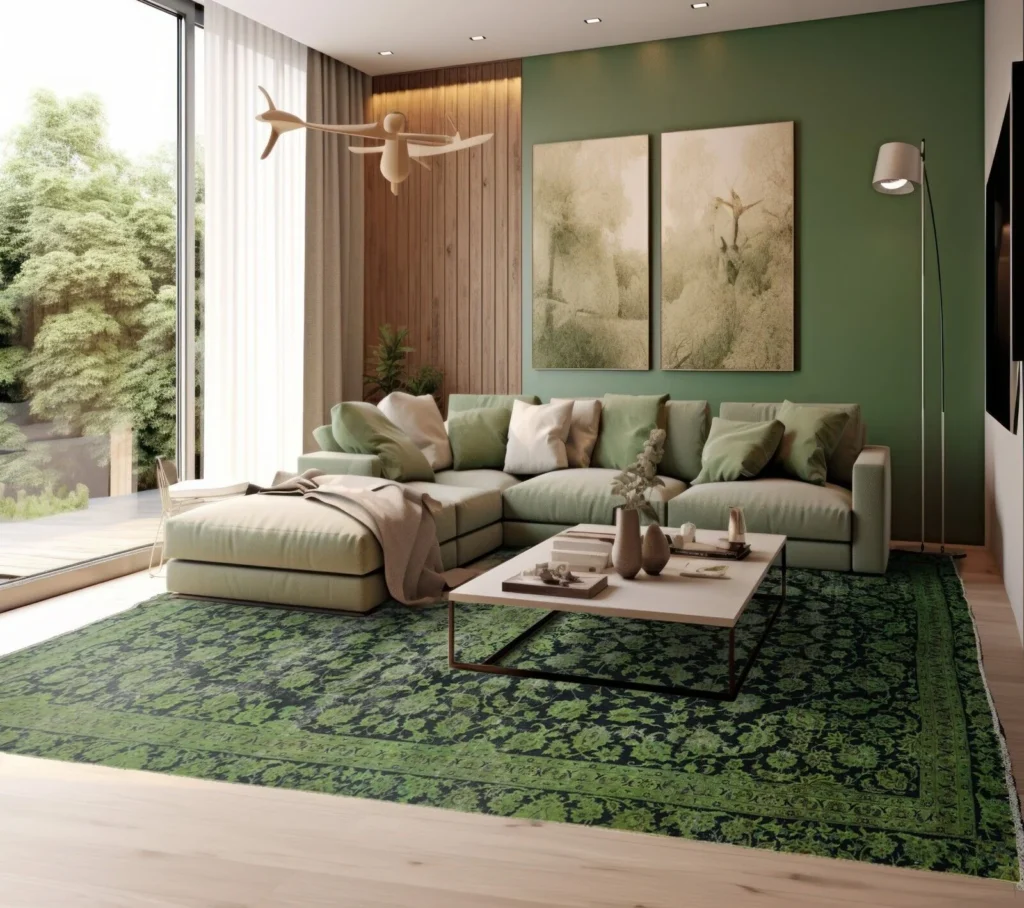 We can match the rug's color with the sofa to add a more natural palette, as we can see the green living space contrasted with a beige center table.
Their remarkable adaptability, which effortlessly matches various home styles, from the timeless elegance of retro to the free-spirited allure of bohemian chic and the clean lines of Scandinavian minimalism, makes them even more alluring.
5. Colored Rugs: A Bright and Cheerful Way to Add Personality and Energy to Your Space
Colored rugs are a joyful and cheerful way to add character and vibrancy to your living areas. The correct color selection can take your space from boring to spectacular, whether for vibrant hues or calming pastels. Vibrant, colorful rugs infuse any space with visual appeal and a lively vibe. They allow you to express your individuality and distinctive style while leaving a natural impression.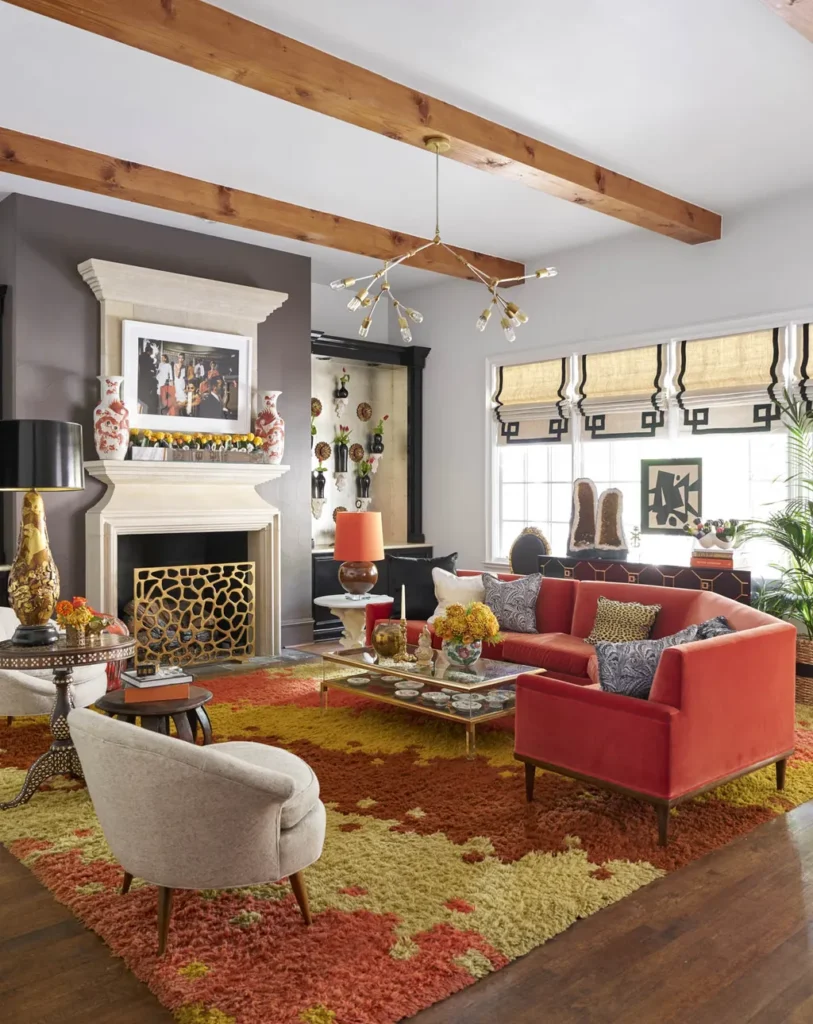 Colored rugs are a dynamic addition to the decor, bringing life and brightness into your area and making it a mirror of your joy and creativity, whether you prefer the calming comfort of soft hues or the energizing energy of primary colors.
As we see in the picture, to create a warm and cozy space, choosing an orange or red rug with a soft and fluffy texture is the right combination. Contrasting the palette with a beige armchair makes the space more creative and transforms your floors into a statement piece.
The Ultimate Guide to the Best Rugs for Your Home in 2024
Rugs are more than just floor coverings. They are also a way to express your style, personality, and creativity in the home. In 2024, there are many rug trends that you can choose from, depending on your preferences and needs. Whether you want a vintage or a modern rug, a neutral or a colored rug, a regular or a shaped rug, you can find the perfect rug for your space.
We hope you enjoyed discovering rug trends and got inspired to elevate your space and create moods and atmospheres from cozy and inviting to playful and fun rugs. We invite you to discover our Essential Collection for more inspiration.