The mid-20th-century brutalist design movement has been the spark of conversation throughout the latest centuries – and some demystification seems necessary.
While some praise its raw, expressive forms and emphasis on materials and construction, others have criticized it for its heavyweight appearance and excessive use of concrete. This article will explore brutalist design, its relationship to architecture, art, and interior design, and how one designer, Jae Joo, has turned this controversial style into a chic and functional interior design concept.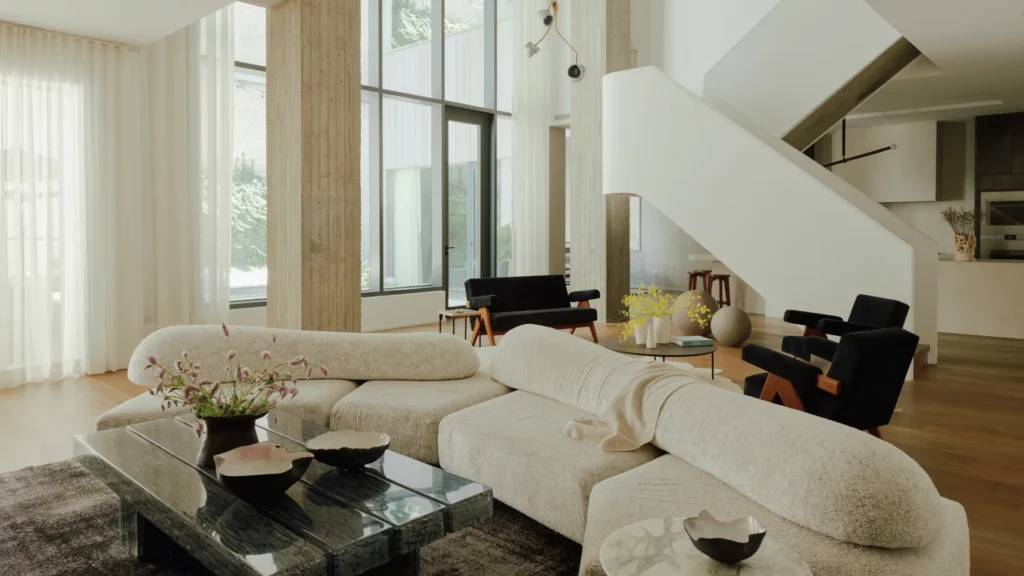 What is the brutalist style? ​
Brutalist Style Architecture displays a predilection toward heavy use of concrete and the bold, often massive structures it creates. Artists have honored this architectural style for its "timeless quality" but, at the same time, condemned it as one of the most criticized styles in recent history.
Can Brutalist Art Be Turned into Chic Interior Design?
Yes, it's possible. Some designers, like Jae Joo, have found ways to incorporate brutalist design into their creative expressions. Jae Joo Designs, a New York-based interior design firm, specializes in creating unique visions of comfortable luxury. Jae Joo's ability to blend old and new and her passion for vintage align perfectly with brutalist style architecture.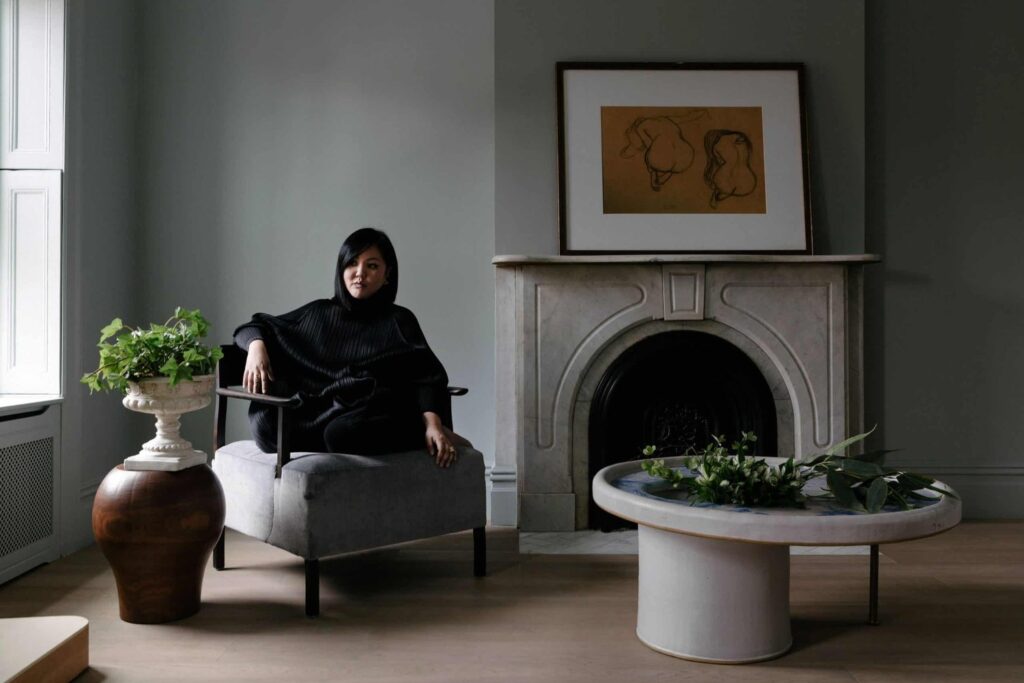 Jae Joo, the head designer behind Jae Joo Designs, is renowned for her ability to blend luxury with comfort and cater to her clients' unique lifestyles. Her work is a testament to her creative prowess, which has seamlessly embraced the brutalist design of architecture. Her recent project, a chic triplex in Tribeca, perfectly illustrates this.
The Chic Brutalist Design Tribeca Triplex
The Tribeca triplex, spanning 3,800 square feet, presented an exciting challenge for Jae Joo. The project involved transforming the living space, three bedrooms, and 4.5 baths into a family-friendly environment that retained simplicity, tranquility, and a neutral color palette. The artist herself claimed to have much creative freedom, with one essential condition – no animal-based products.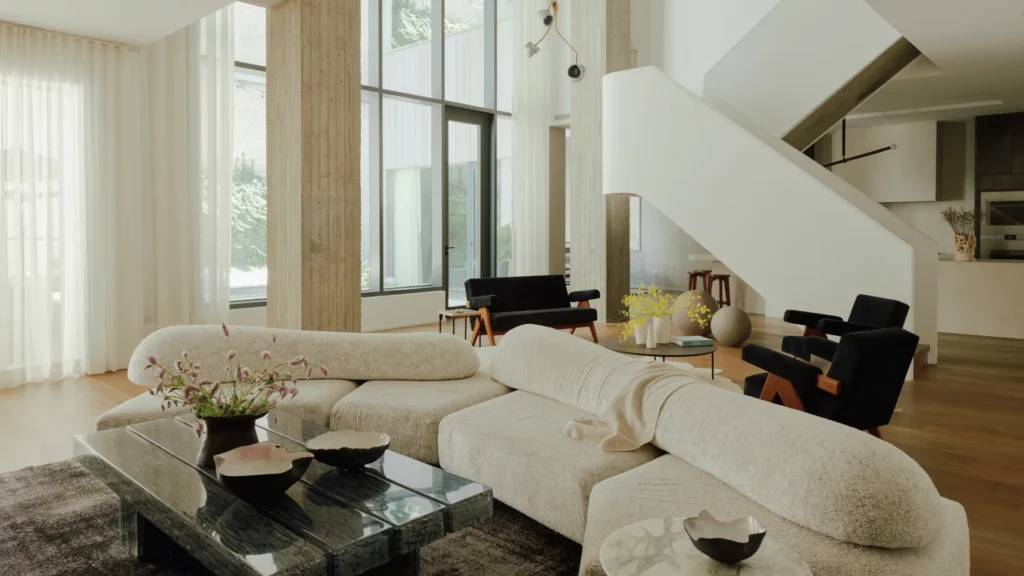 Stepping into the living room, a sense of delight washes over you. The centerpiece, an inviting Edra's On the Rocks sofa from DDC, beckons with its comfort and elegance, perfectly chaperoned by the sculptural staircase. This enchanting view is brought to life through the masterful fabric lighting by the brilliant Ruemmler, casting a warm, inviting glow that dances across the room.
The shimmery coffee table from Timothy Oulton adds an extra layer of sophistication, creating a space where every detail is considered. This living room is not just a space; it's an experience. A Pierre Jeanneret settee and chairs, adorned with a striking MOS Design coffee table, invite you to sit and stay a while. The exquisite faux cowhide rug further elevates the room's charm, giving it the air of a slightly more formal sitting area where conversations flow effortlessly.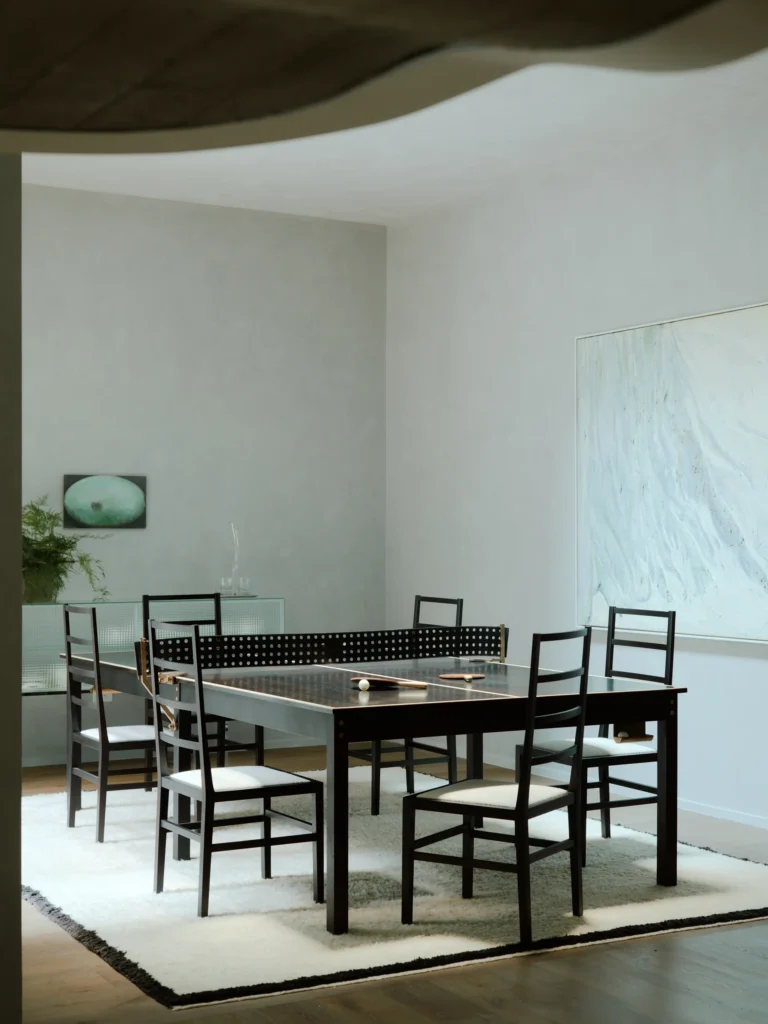 The brutalist design was a triumph in the dining room, sparked by the guests' enthusiasm for the desire to play with the BDDW ping pong table. This multi-use table not only adds a playful element but also serves as the perfect backdrop for a bespoke rug. It's a space that transitions from formal dinners to lively game nights effortlessly.
The kitchen holds a special place in this family's heart since cooking is not just a task; it's a treasured activity. Jae Joo has transformed it into a functional and aesthetically pleasing facility. Masterly hidden Gaggenau appliances and the patinated metallic façades contribute to the hyper-minimalist feel, making it a chef's dream. Above the Dekton island, an Apparatus fixture hangs gracefully, while Pierre Jeanneret stools from P! Galerie provide the perfect seating for a leisurely chat.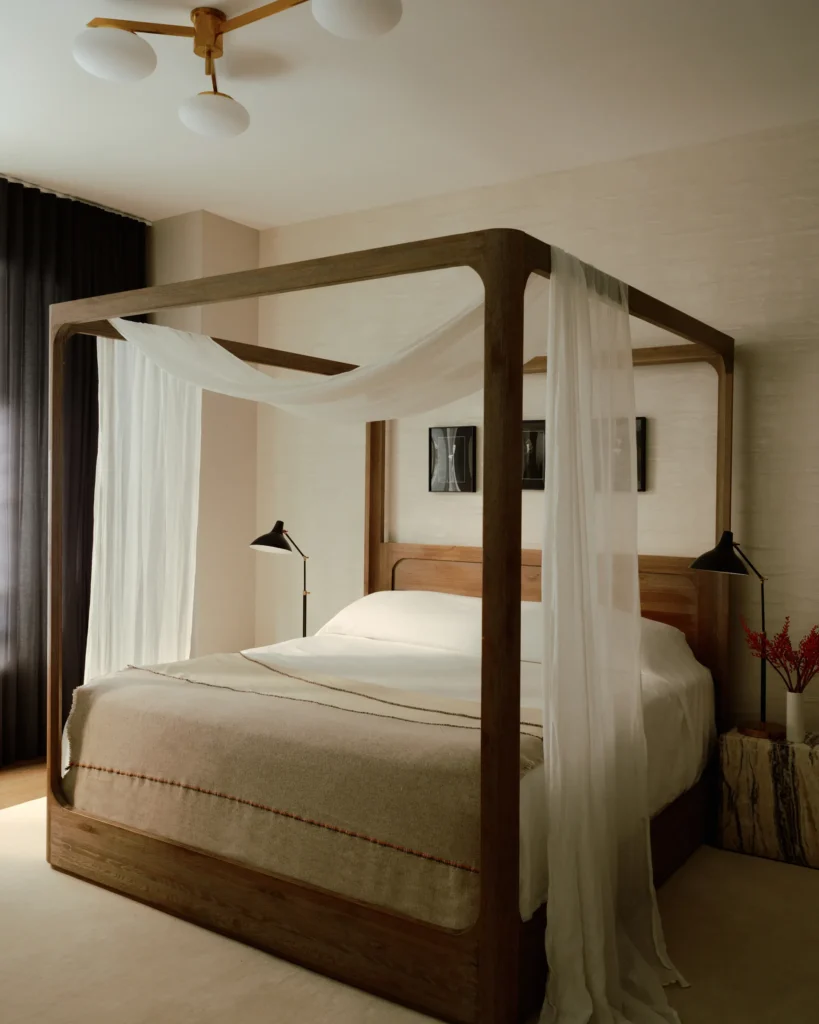 The primary bedroom diverges from the chic brutalist design to ensure a harmonious balance between the rooms. Jae Joo has created a serene retreat featuring a four-poster RH bed draped in a Toogood and Teixidors blanket. The blend of wool, oak, textured plaster, and onyx nightstands creates a neutral, soft, and calming atmosphere, inviting peaceful slumber and relaxation.
A Success That Redefines Brutalist Design
Brutalist design is about showcasing artistic ideas in their rawest form. It highlights industrial elements' shapes, textures, and color palettes, offering a glimpse into humanity's evolution and thought over the decades. Brutalist design may be a divisive topic in architecture and design, but it can create unique, timeless, and functional spaces. Jae Joo's success in transforming a Tribeca triplex into a chic brutalist-style home is a testament to the versatility and beauty of this controversial design style.
As our guided tour of this Family's Chic Brutalist Style Tribeca Triplex comes to a close, it doesn't mark the end of your journey with TAPIS Studio. For a fact, it's just the beginning of a design adventure waiting to unfold. To truly perfect your Brutalist aesthetic, we invite you to explore our website and discover the exquisite TAPIS Essential collection that will help you find the inspiration to elevate your vision.