TAPIS Studio's stand G144 at Olympia London reveals all rugs, materials, colors, and finishings in a blend of physical and digital reality.

From 9th to 12h October, London was invaded by the most attentive interior design professionals. For brands offering bold home solutions and designers looking for inspiration, Olympia London was the destination.
On the 44th edition of Decorex London, TAPIS Studio joined HOMMÉS Studio, ACH Collection, and ACH4Pets to showcase the very best of rugs, furniture, decorative objects, and pet accessories in the same place – at TAPIS Studio's stand G144.
The TAPIS Studio's stand was the address to the METAMORFIK House. Inside this house, visitors discover the brand's products in mixed reality. On the one hand, design professionals discover colors, materials, textures, finishings, and customization options by manipulating TAPIS' printed catalog, touching samples, or speaking with TAPIS Studio's team. On the other hand, Decorex 2022's visitors, design professionals, and even design lovers can access the metaverse realities that the Porto-based design studio created.
Revealing unusual creativity, TAPIS Studio's stand is a glimpse of what HOMMÉS Studio can make for you – offer high-quality rugs, furniture, and home accessories alongside a plethora of design services, such as custom and bespoke designs and 3D visualizations.
TAPIS Studio's Stand at Decorex 2022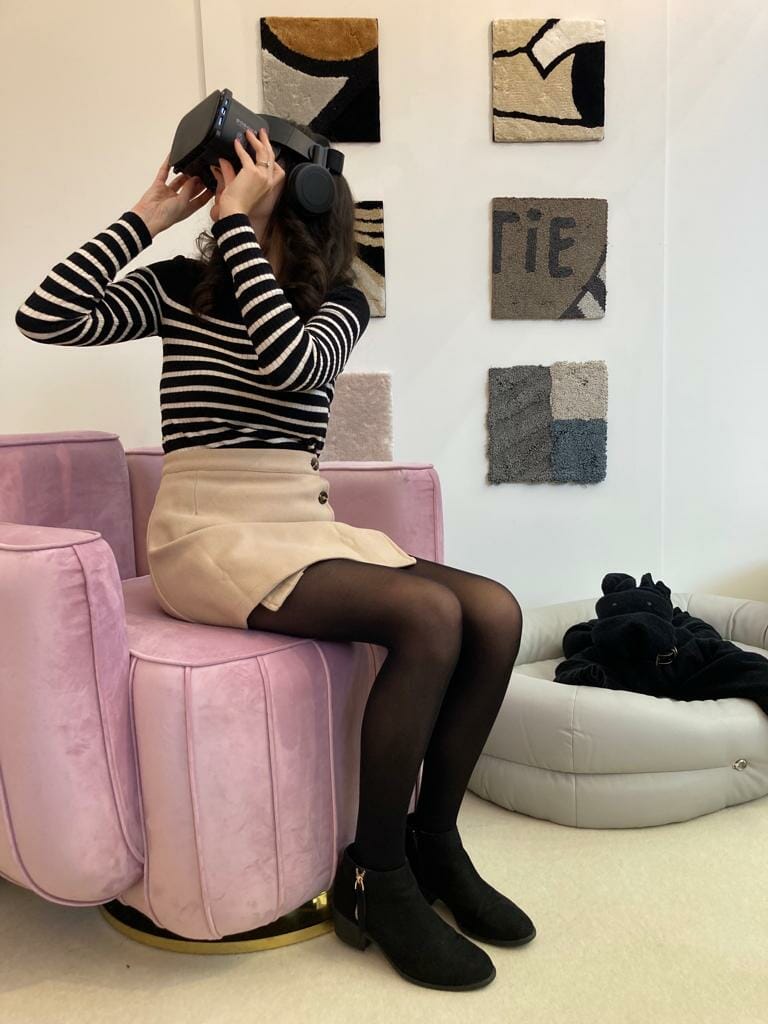 TAPIS Studio's stand was shared with other brands born under HOMMÉS Studio's umbrella, including the founding furniture brand itself.
Since it couldn't be another way around, the design studio decided to make a statement on its first exhibition at Decorex London. The booth G144 at Olympia London was filled with eye-catching shapes, vibrant colors, and maximalist objects. Nevertheless, TAPIS Studio's stand was elegant, breezy, and bright, emanating warmth and a sense of belonging.
Two iconic rugs from the TAPIS Studio's Shaped Collection elevated the booth at Decorex 2022 to another level. While one rug goes under a majestic HOMMÉS Studio's dining table, another goes in the wall to affirm the soulful and artful character of all TAPIS Studio's rugs.
A cozy corner was dedicated to inviting design professionals to discover the TAPIS Studio's different materials, piles, colors, and textures. A set of color samples also allowed interior designers and architects to dream about customizing a TAPIS Studio rug or designing their own floor covering solution.
TAPIS Studio's Featured Products at Decorex 2022
About METAMORFIK House
METAMORFIK House is a comprehensive and ultra-modern way of looking into art movements and design philosophies relevant to our zeitgeist. HOMMÉS Studio, TAPIS Studio, ACH Collection, and ACH4Pets present METAMORFIK House – The Future Vision Of Interiors by combining a physical experience at TAPIS Studio's stand at the Olympia London with a digital experience, three different scenarios in the metaverse that you can access here.
At METAMORFIK House, interior design professionals find furniture, rugs, and decorative objects with stunning designs, ethically made by hand and using only high-quality materials. Moreover, booth G144 at Decorex 2022 is also the starting point for an incredible journey through design styles, trends, and the relation between humans, objects, and space.
About Decorex London
Decorex is one of the most significant interior design events in Europe, since 1978 has been a reference for high-end interior design professionals to meet and do business. The Decorex London is an International Trade Fair for the interior; it offers a complete exhibition of wall coverings, furniture, lighting, and floor coverings; during the event, the latest trends are presented to interior designers and architects.
The 44th edition at Olympia London celebrates design and creativity. Decorex London is based on three essential principles – quality, inspiration, and connection.
Decorex exhibitors and visitors produce and appreciate the best furniture and home accessories made with the best materials. The design event features talks that bring to the table new ideas and discusses the industry's state of the art. Valuable connections are another pillar of Decorex London, including the connection between the physical and digital world.
If you didn't have the chance to attend Decorex 2022, you can still discover the TAPIS Studio's rugs, materials, colors, and finishings by downloading our new catalog.