Envisioned by cultural patrons Jane and Marc Nathanson, designed by Richard Hallberg is a retreat where Their cherished collections reign supreme.
For half a century, the Nathansons have curated an illustrious collection of postwar and contemporary masterpieces, transforming their abode into a living gallery that resonates with artistic brilliance.
Beyond their extraordinary commitment to art, the Nathanson shine as beacon-like philanthropists, their benevolent endeavors spanning diverse spheres, from nurturing culture and safeguarding the environment to advocating for mental health and shaping political landscapes.
In 2021, the Nathanson embraced a new chapter in their journey, acquiring a magnificent residence nestled in the tranquil embrace of Montecito.
It was within the walls of this Mediterranean-style sanctuary, an architectural gem by the esteemed Wallace Neff, that their vision of an idyllic escape materialized.
Renowned for his extraordinary talent in crafting estates for Hollywood luminaries and industry titans, Wallace Neff bestowed his final strokes of genius upon this masterpiece in 1975.
For the Nathansons, their Montecito haven embodies the perfect fusion of art, architecture, and respite. It is a sanctuary where their cherished collections find solace, each artwork given a stage to captivate and inspire. That is why they chose Richard Hallberg to renovate this magical architectural gem.
The visionary designer Richard Hallberg emerges as the maestro of this artistic symphony. Jane affectionately remarks, "Richard has woven his creative magic across six of our residences, comprehending that each dwelling is a true testament to the power of art."
With an innate understanding of their profound connection to the world of art, Richard Hallberg fearlessly embraces the challenge of crafting spaces that transcend mere living quarters. Richard Hallberg's skilled touch delicately balances the graceful architecture of Neff's design with the kaleidoscope of eye-popping artworks that grace the Nathansons' abode.
Among the notable alterations, Richard Hallberg orchestrated a stunning transformation of the dark-beamed ceilings, delicately refinishing them in a soothing hue of light gray. This subtle shift brought an airy luminosity to the space, elevating the ambiance and allowing the art to radiate with even greater brilliance
Richard Hallberg opted to plaster over a wrought-iron staircase, ingeniously creating additional wall space that would serve as a majestic gallery for artworks. This seamless integration effortlessly expanded the possibilities for displaying the Nathansons' cherished collection.
Through these thoughtful refinements, Richard Hallberg artfully modernized the space, breathing new vitality into its every facet. Yet, in this process of metamorphosis, he remained unwaveringly committed to honoring the original architectural splendor.
Honoring the past and embracing the future, Richard Hallberg's vision manifested in a symphony of timeless elegance.
This masterpiece, a work of art of significant value, holds a special place in the hearts of the Nathansons as it serves as the foundation of their shared collection. This priceless item, which Jane's parents gave them as an engagement present in 1966, is loaded with sentimental importance.
Each stroke of the brush, each vibrant hue, imbues the space with an enchanting vitality, inviting all who enter to immerse themselves in its captivating embrace. It is a celebration of artistic expression, an homage to the shared history of the Nathansons, and a constant reminder of the profound connection between love, life, and the everlasting allure of art.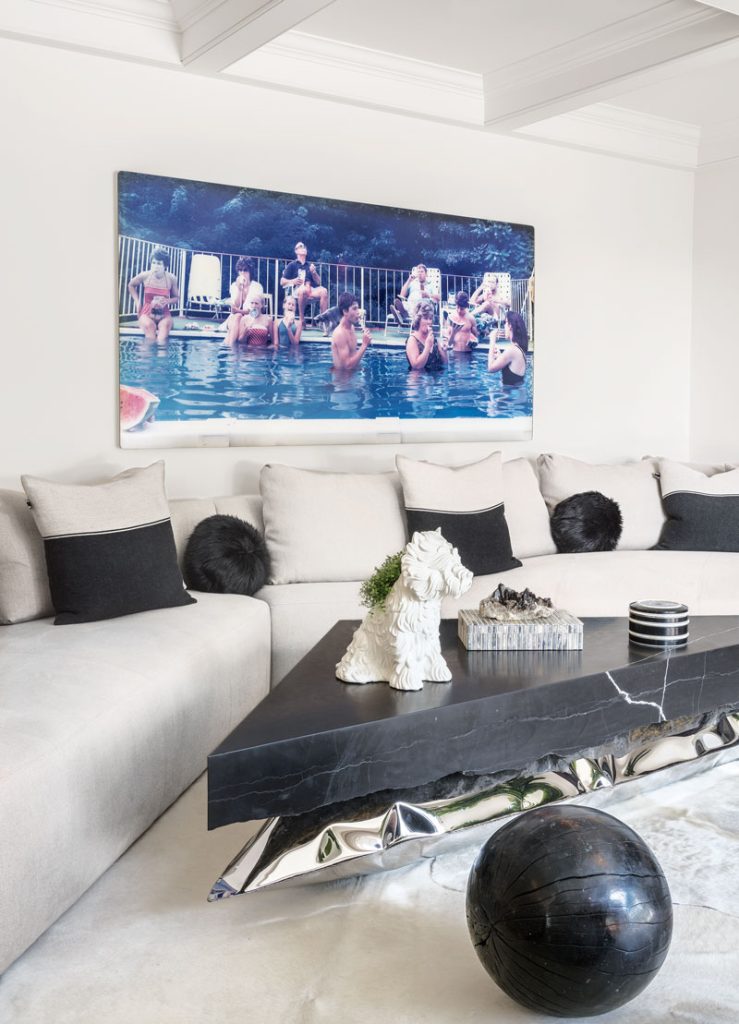 In the family room, an air of casual elegance envelops the space, effortlessly facilitated by Biff Heinrich's evocative photograph titled "Pool." Taking center stage amidst this tranquil setting is the magnificent triangular cocktail table by Ben Storms, an awe-inspiring piece that captivates with its geometric allure. Moving through the dwelling, the presence of art becomes a tapestry of inspiration.
In another bedroom, a framed Roy Lichtenstein piece perches atop a nightstand thoughtfully designed by Richard Hallberg. Every element in the room contributes to the artistic narrative, from the antique mud cloth throw to the custom rug by Coverall Industries, each enhancing the ambiance with its unique touch.
The Nathansons' home breathes with artistic vitality, inviting guests to embark on a visual journey, where each artwork, each design choice made by Richard Hallberg, contributes to a symphony of aesthetics and cultural significance.
Thank you for joining us on this artistic voyage through the Richard Hallberg design. May you go forth and create, infusing your projects with passion, purpose, and the unwavering belief that art has the power to change lives. For further inspiration check out our Inspirational Blog, where you'll find the most exquisite projects.