Discover this recently redesigned 18th-century San Francisco decorator showhouse with Mediterranean architecture, enlivened by twenty-two design studios.
Directed by Jenny Bittner Borden, the residence, built in 1927, in the Sea Cliff of San Francisco Bay, by known bank architects Hyman and Appleton, is filled with 28 exciting areas. A total of 22 design studios recreated the home's three levels. In this article, we'll show you all 28 zones, their respective Spanish architectural characteristics, and each responsible design firm.
Front yard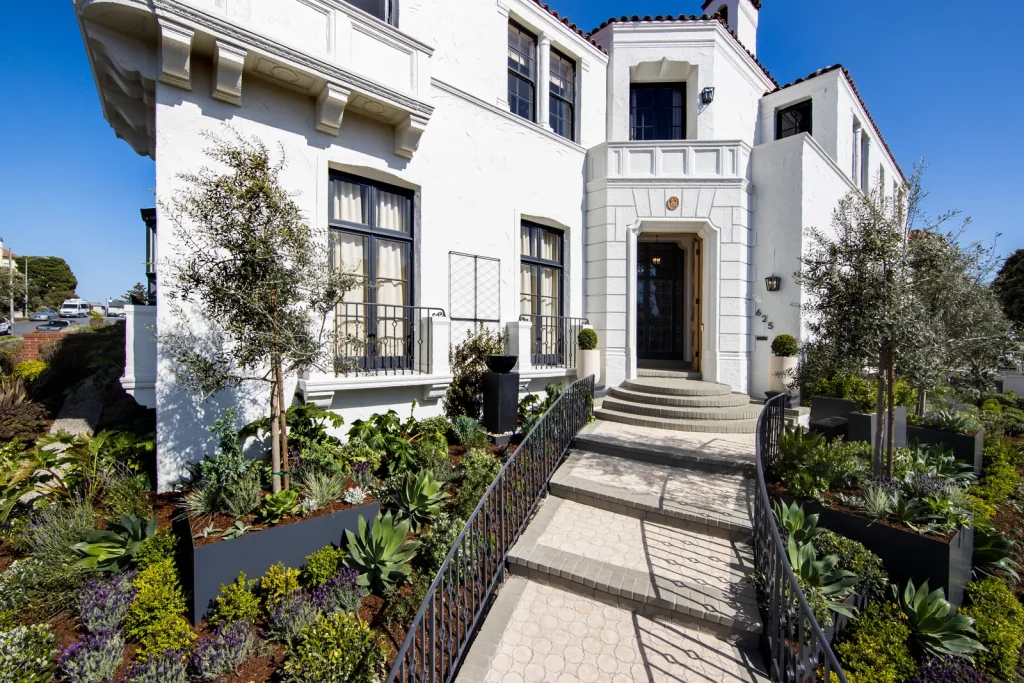 Accomplished by Martinelli Design, this garden exhales its characteristic Mediterranean vibe but also a glimpse of a Californian aura. Here, Russell Martinelli, the company's owner, used scale as the key element to draw attention directly to the showhouse; he achieved this by using lifted planters, for example. One of the ways the designer employed to enhance the Mediterranean features was the decorated staircase with a textured Spanish star-and-cross pattern.
Foyer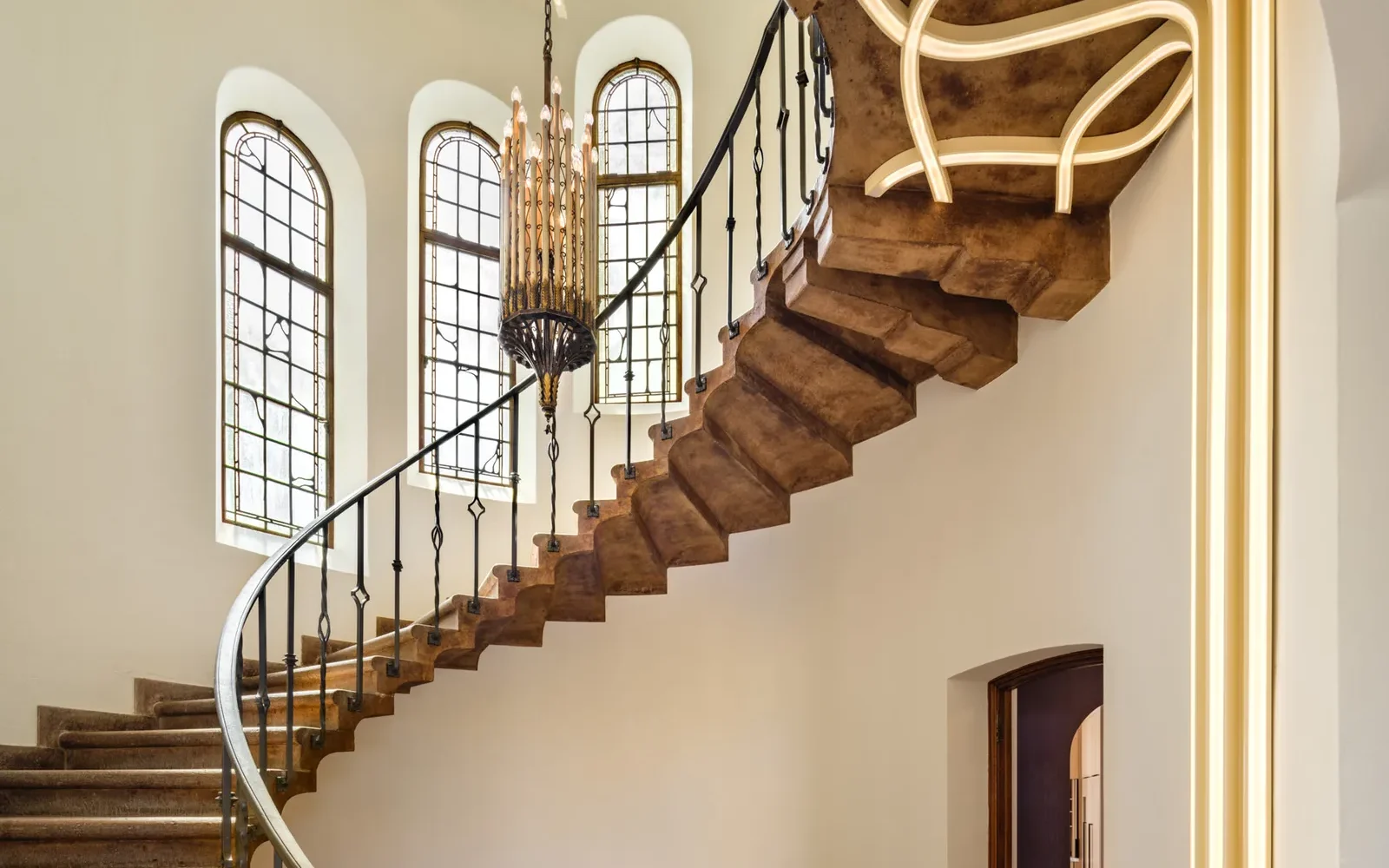 Geddes Ulinskas Architects was responsible for this showhouse area. Even though this space has incredibly divine windows and a tasty staircase with an extravagant chandelier, what is genuinely glaring is the unique, gleaming golden tree made of light and hand-cut lenses.
Powder Room and antechamber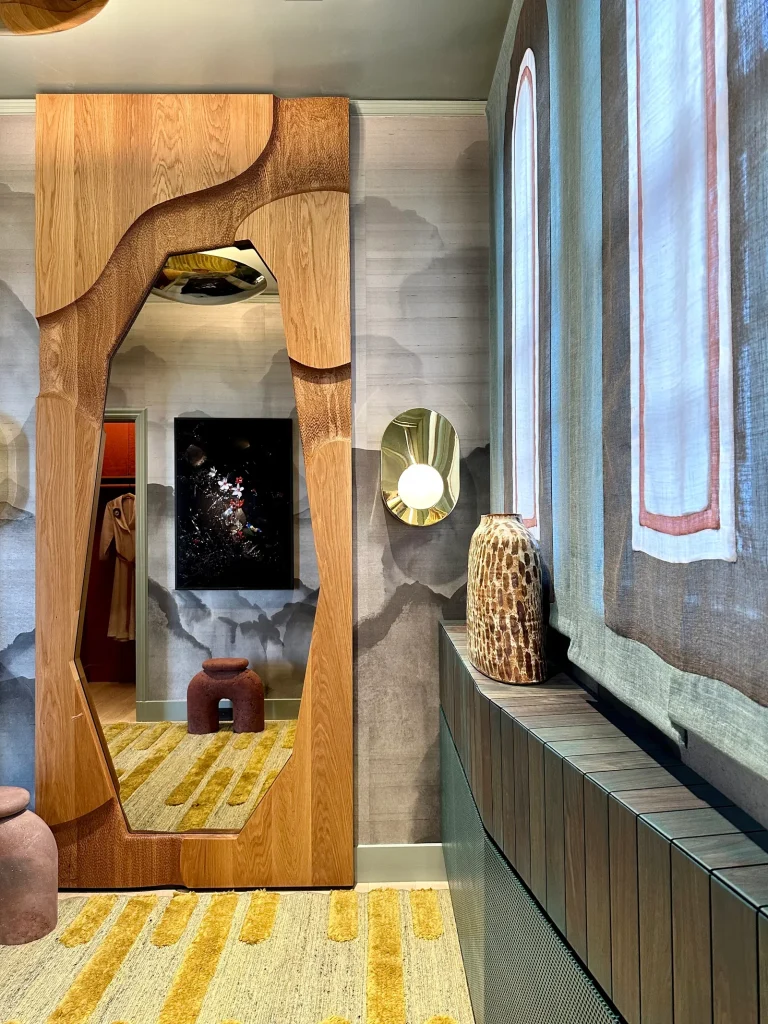 Thanks to Aubrey Maxwell, all the elements present in this powder room and antechamber are sophisticatedly connected. Like the mirror, the wooden materials fuse with the surrounding hazy wallpaper, extending mystic energy.
Study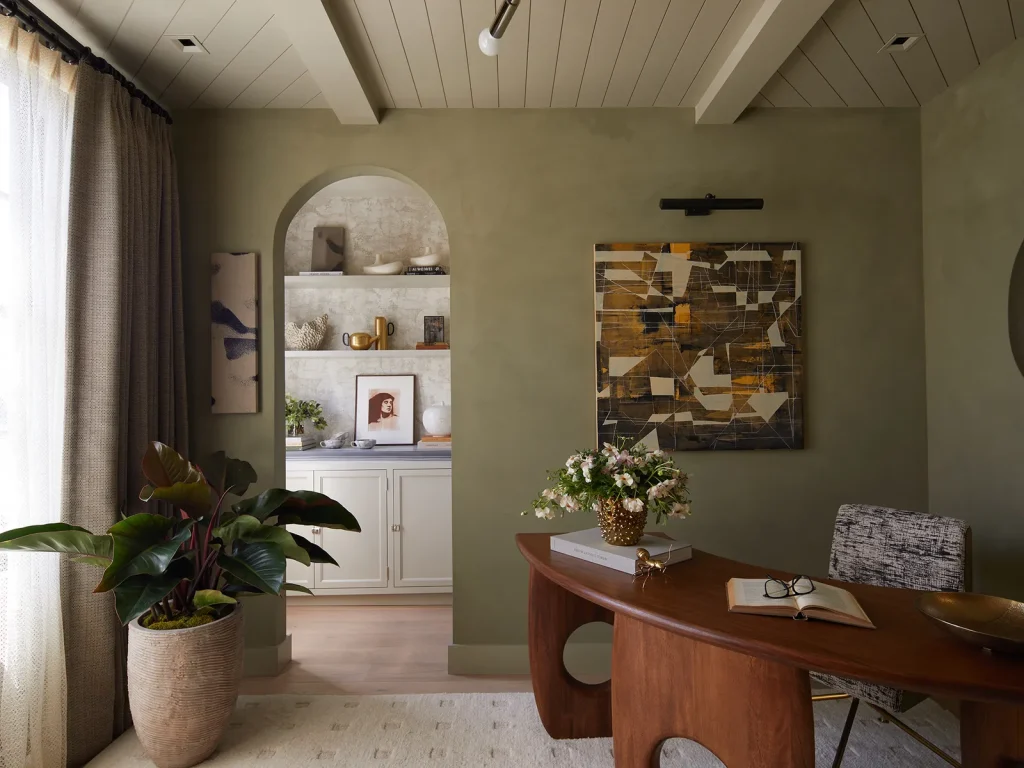 This showhouse is inspiring, and this room wouldn't be any different. Actually, as it is a study, it had to be even more inspiring and exhale a productive aura. Coy & Company was able to achieve this through the earthy tones chosen, contemporary shapes, the use of plants, and the ceiling details inspired by millwork from the 1800s.
Living room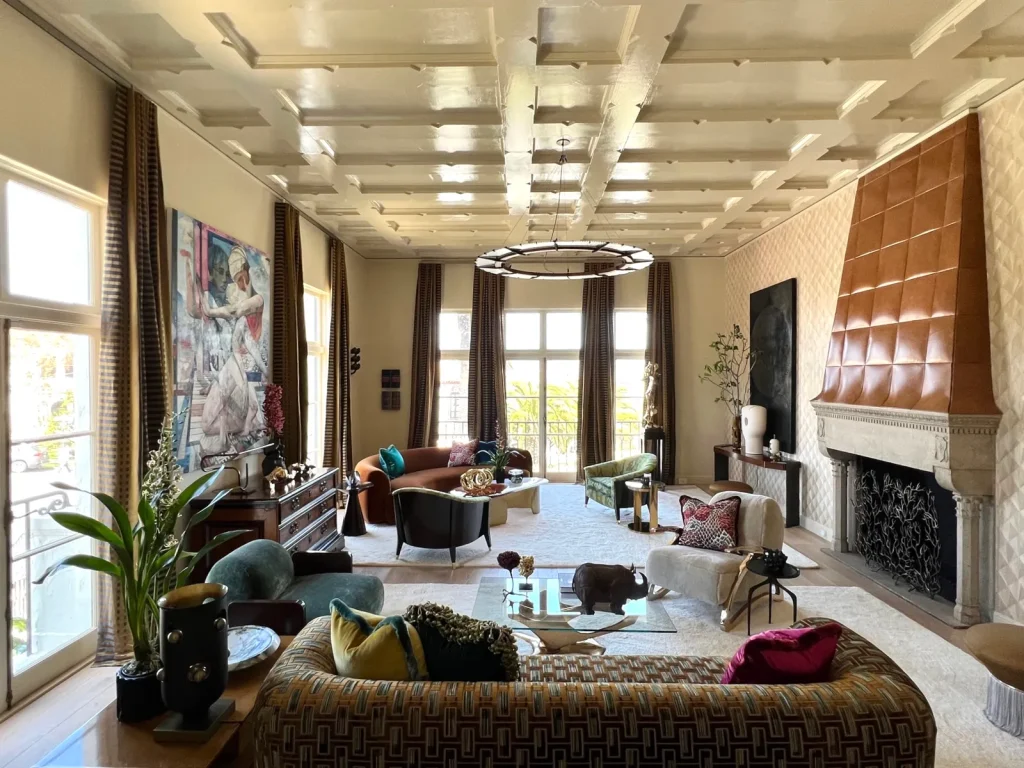 Inspired by a European style, to be more precise, by the Villa Necchi Campiglio in Milan, Kimberly Denman Inc. improved the living room by adding contemporary artwork, a stimulating wallpaper, and incredibly detailed furniture, including the elegantly worked ceiling, providing a luxurious atmosphere to the showhouse.
Dining Room
Chroma opted to bring a surrealist style to the dining room. The gradient colors on the walls and ceiling, the colorful yet color palette-belonging artworks, the rare furnishing, and the bright rug all together create a loose aura, but of course, maintain its sophistication and originality.
Kitchen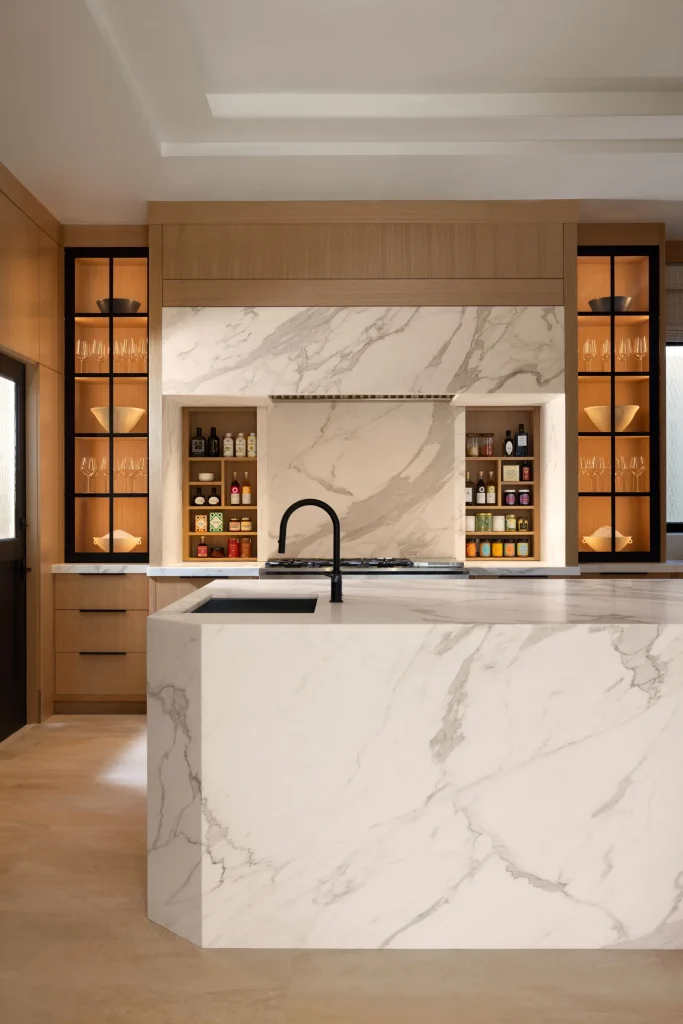 One of the most desired characteristics of a kitchen design, as the esthetic part is always given a lot of significance, is its elegance. However, there are more essential elements than that. The crucial characteristic of a kitchen is its functionality. Lauren Berry Interior Design was capable of creating a kitchen with both. Despite this being one of the showhouse's most graceful environments, it is still functional, organized, and comfortable.
Salon and Sunroom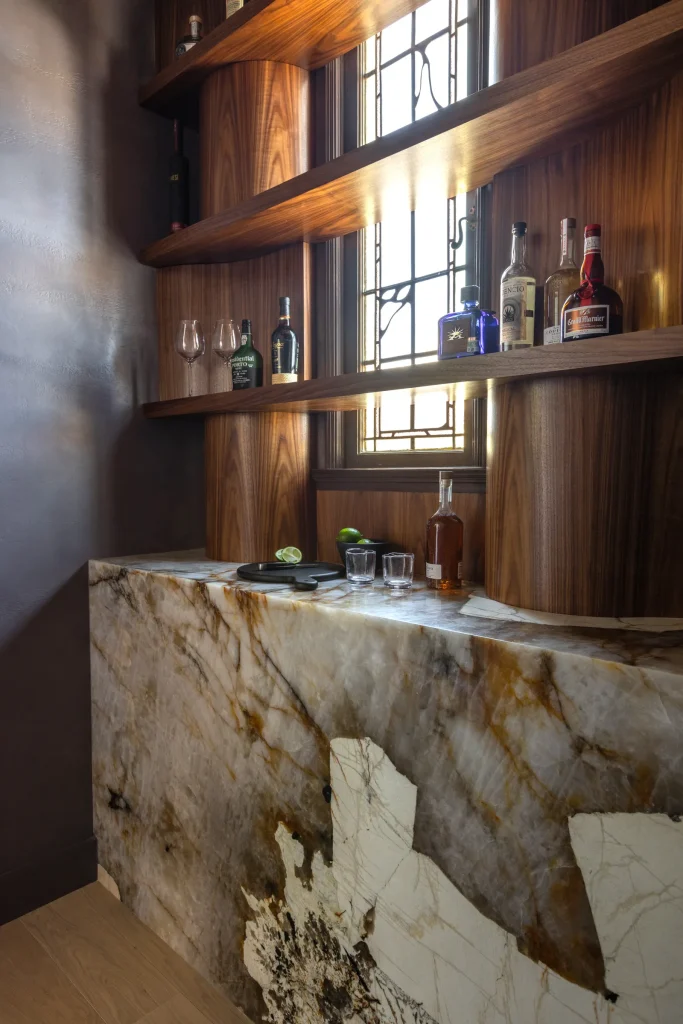 Created by Malone, the salon area has quite a unique design. With its peculiar walnut shelves over the window and the flashy granite bar, this design evokes a great sense of balance between old and new.
The sunroom, designed by Dina Bandman Interiors, is characterized by its subtle details spread in every corner; for instance, the hand-painted geometric floor, floral wallpaper, and white plaster palm chandelier form a refined layout.
Family Room
To transform this showhouse zone, which was initially a hallway, into a functional, familiar room, DLC-ID worked with a serene color scheme to increase the natural light in the area, eventually creating the illusion of a more expansive space. Beyond that, the designer made this room highly cozy and homely, perfect for a family retreat.
Primary bedroom, closet and bathroom
This suite is the room of a design where quiet and extravagant merge, and the perfect example that opposites attract. Tineke Triggs balanced bright and dark colors and produced a lavish complete suite, focusing on highlighting the energy induced by gemstones, principally in the main bedroom.
Guest Bedroom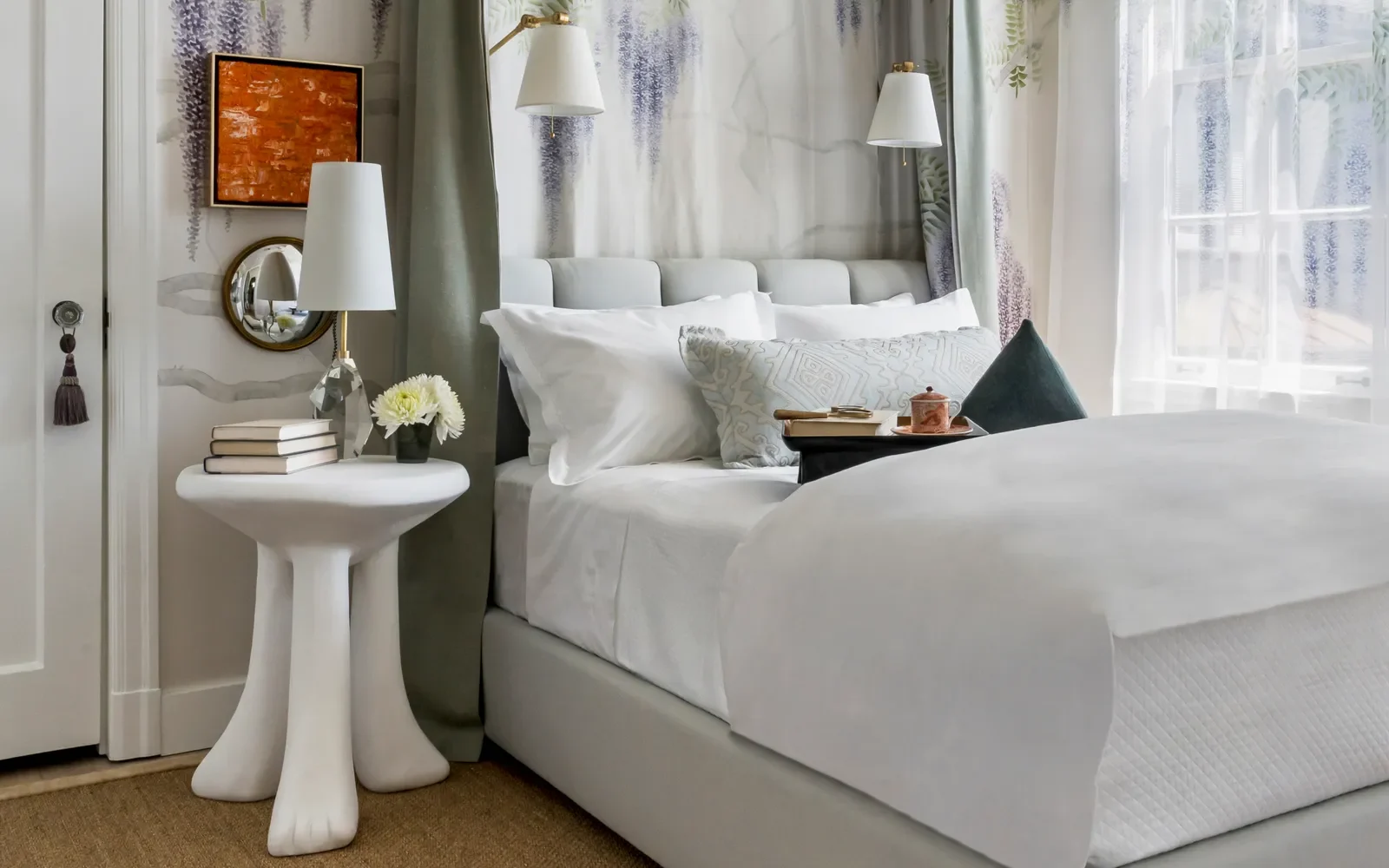 Stimulating the nostalgia that the owner of Miyuki Yamaguchi Design Studio felt when she saw this wisteria wallpaper that reminded her of spring when she was a young adult, she provided a fresh, soft look by joining the furnishing with neutral colors.
Kid's bedroom and bathroom suite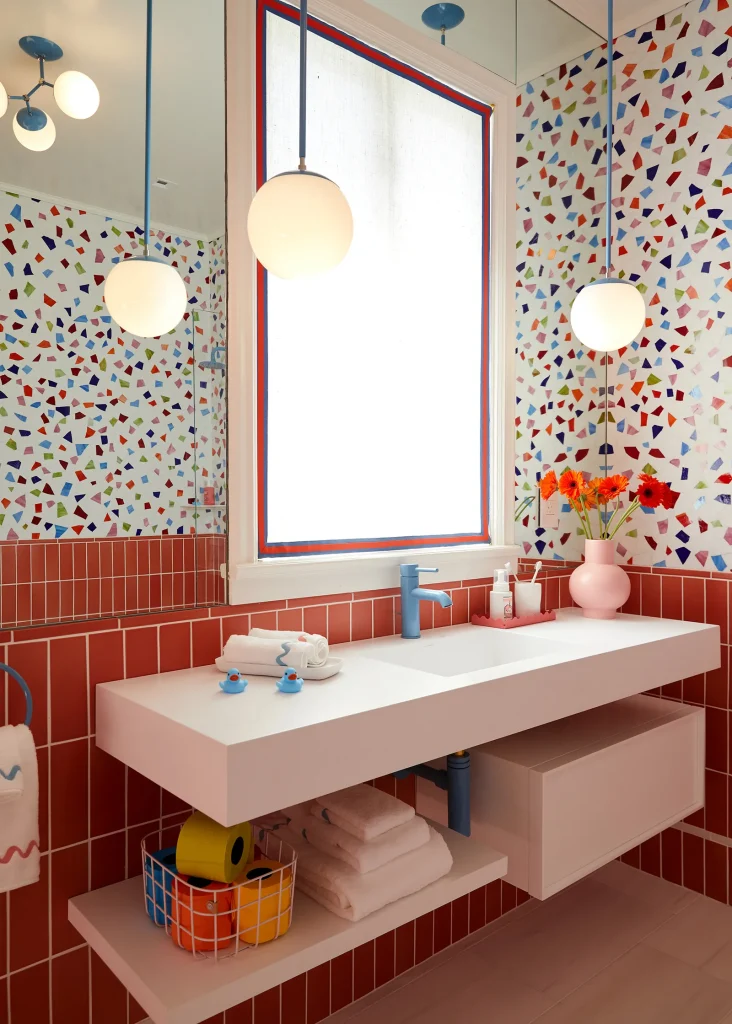 Inspired by the Memphis style, EJ Interior Design transformed this showhouse section into a super playful and creative environment. And even though it is full of patterns and bold colors, these elements don't weigh the room down; actually, the spaces look ample and safe.
Second kid's bedroom and bathroom suite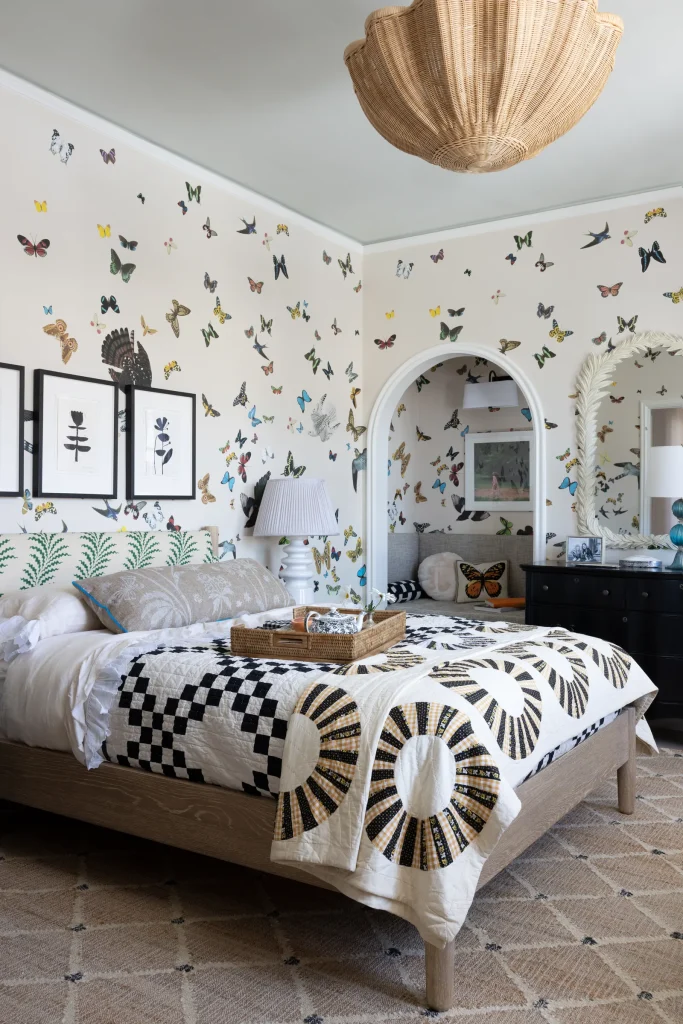 Defining the butterfly wallpaper as a starting point, Chantal Lamberto reformed this suite into a whimsical kid's bedroom centered on nature. The designer fulfilled a feeling of naivety and warmth while maintaining a charming design that is perfect for a kid's room.
Guest bedroom and bathroom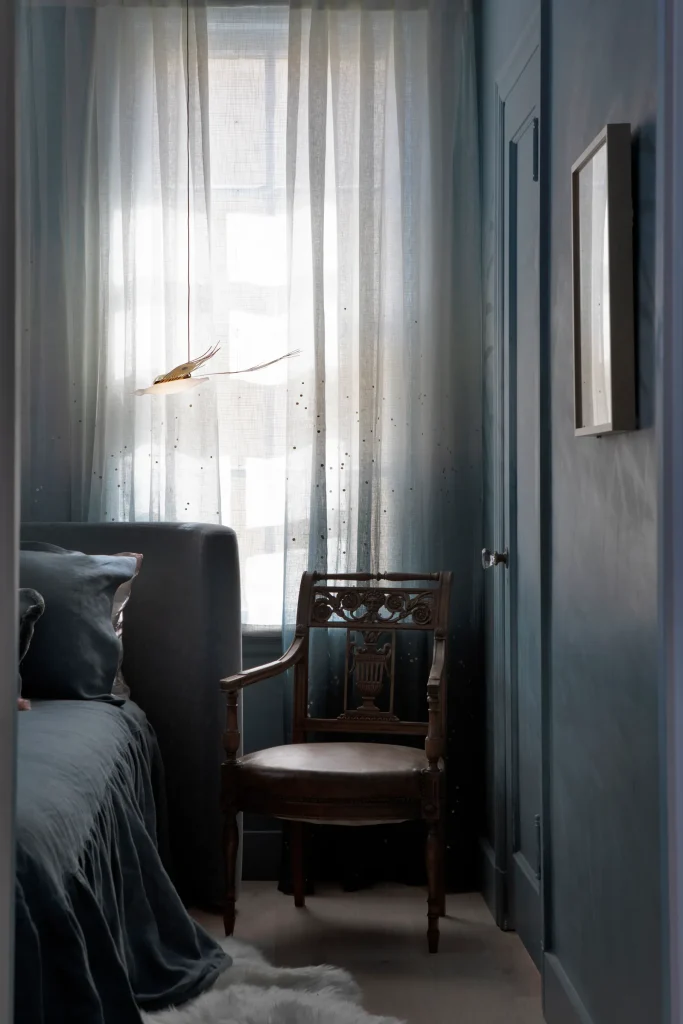 Intending to originate a relaxing feeling, Marsh & Clark Design filled this showhouse zone with diverse smartly-though furnishings that could evoke that tranquility. For example, there's the bird form lighting, the walls in the bedroom and bathroom that invoke an idea of movement, and the delicate tilted headboard that curls all over the bed and side table, like it's wrapping you with comfort.
Media Room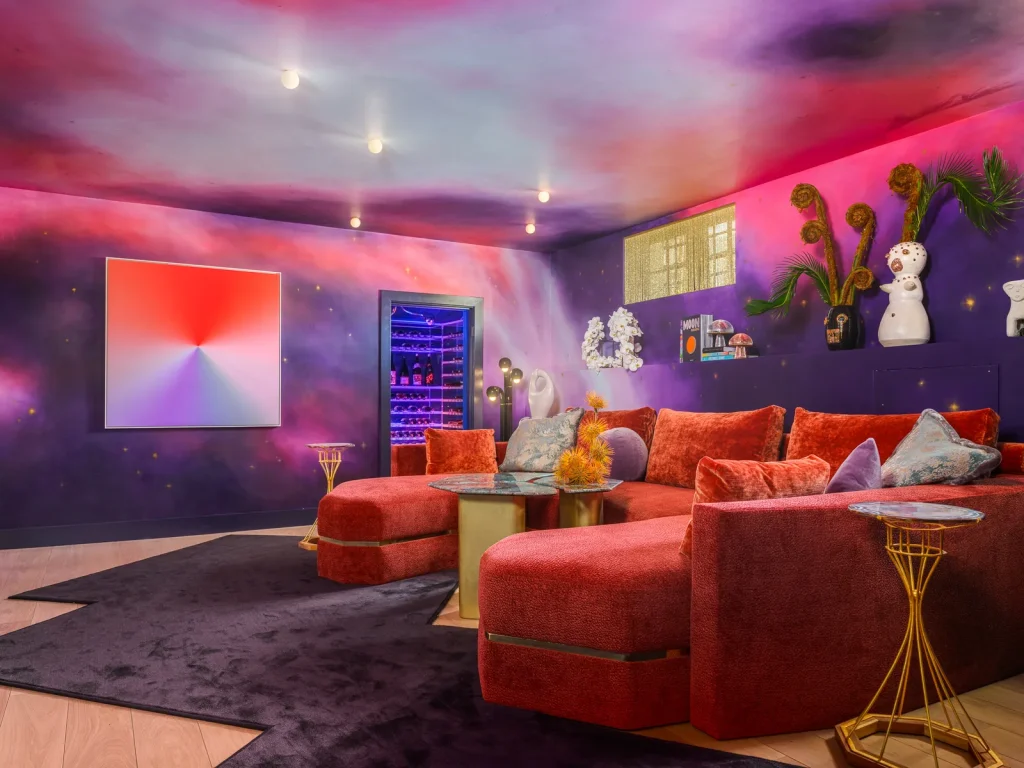 The remarkably unique and creative design in the media room was mastered by Noz Design, where constellations are represented; for example, the Big Dipper is present in the ceiling through golden lamps representing the main stars. This designer accomplished in perfection the sensation of making anyone feel amazed and like they are in their own reality, but at the same time feel loosened.
Playroom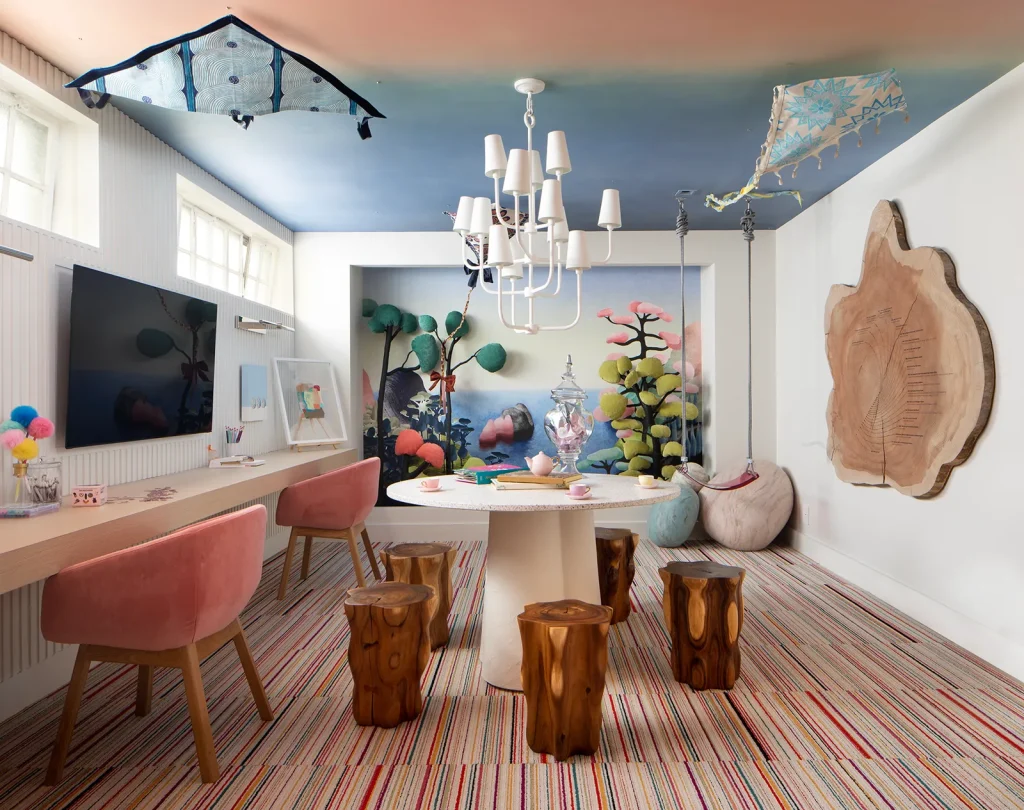 If there's a space in this showhouse that feels like a fairytale is definitely this one. This children's playroom, made by Shelley & Company Interior Design, thanks to the realistic wooden stools, sculptural trees, and vivid color arrangement, surely make anyone feel like they're in a different, magical world. Perfect for boosting children's imagination, this room is also multifunctional and extremely fun for kids to play in.
Office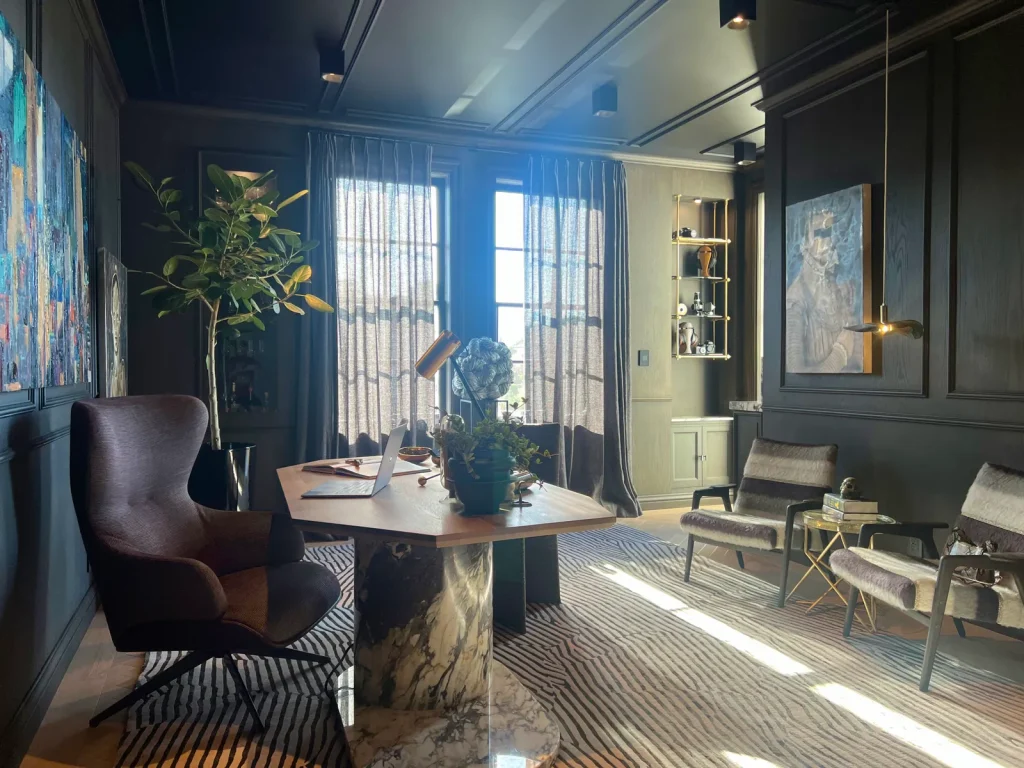 Contrary to what many people may think, the office is more than just a place where you sit at your desk and write on your computer. This space occupies multiple roles, most of them still include work, but still in a way that demands a little bit of diversity. Recognizing that an office is versatile, Lizette Marie Interior Design designed this showhouse space to allow both work-focused tasks and family get-togethers.
Laundry and Bathroom
MGG Designs efficiently established a handy, yet, thanks to the patterns, amusing laundry in such a small area. Most importantly, the designer ingeniously added lots of storage!
Now moving to the bathroom, a luxurious, classical black and gold fusion is found. Just like that, as the materials and colors used create a visual and architectural appeal, Ruben Marquez Interior Design upgraded this design to give off a private member's club atmosphere. Apart from that, as everything isn't just about the exterior look, the designer developed a beneficial and desired feature, heated cables underfoot.
Gym and Elevator
Focusing not only on the body but also on the mind, Kyle Hill Design shaped this showhouse corner into a charismatic gym. This gym, having modern energy and a stable aura, certainly has what is needed for a good workout or even just meditation time to relax both the body and the mind.
To generate a showhouse sector that would radiate a sunset vibe, Elan Evans Decorative Finishes innovated the firstly plain elevator design with gold details and luxurious painting elements.
What an exciting tour! Now that you have seen this Mediterranean-style showhouse, with so many innovative and unique designs, get even more inspired by these fantastic 9 interior design trends belonging to top designers' showhouses.