Discover this tropical-looking Spanish house in Menorca Island that merges the style of Streamline Moderne present in Miami and France, creating a luxurious sanctuary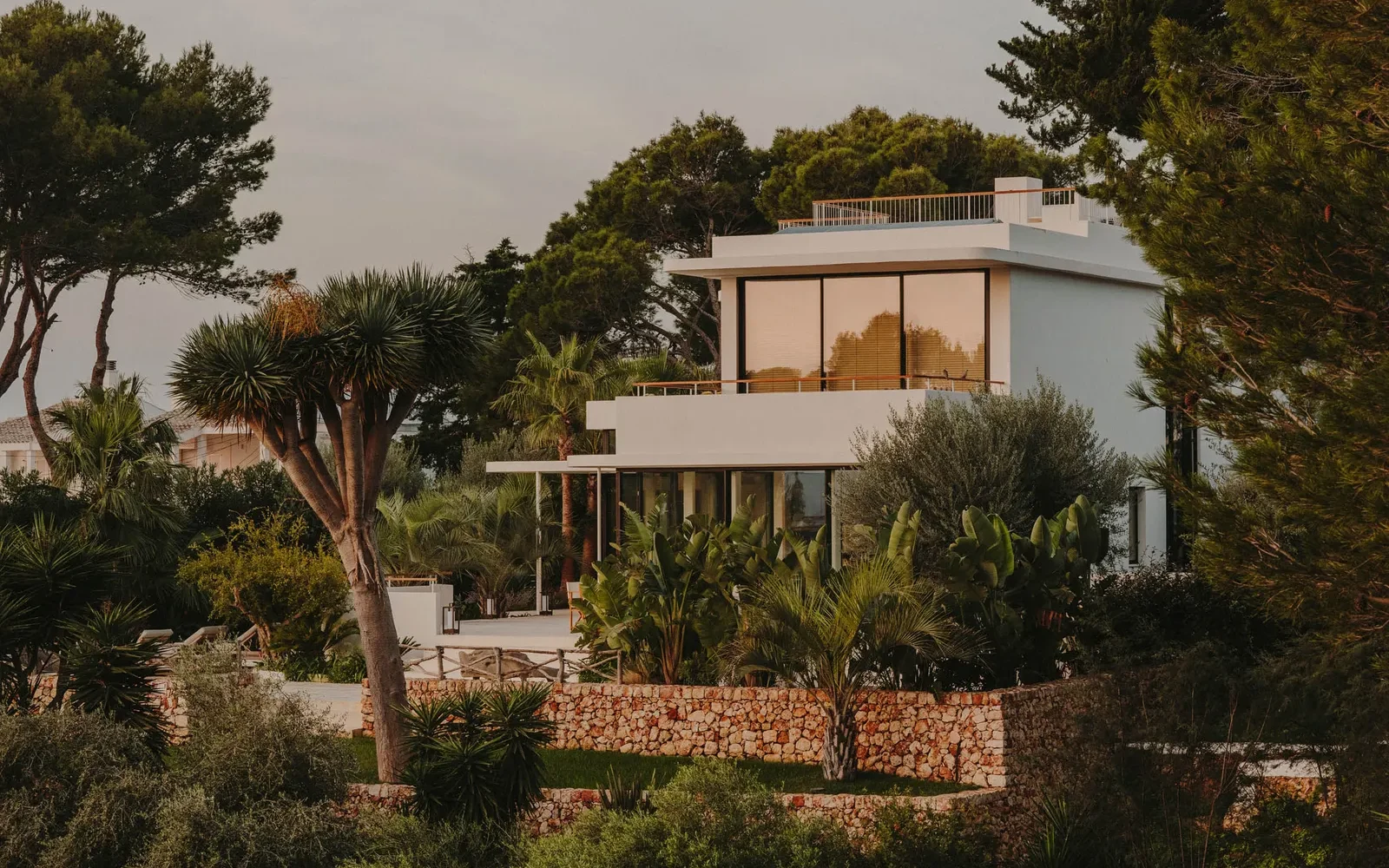 Nestled in the middle of a typical Mediterranean garden lays the all-white environmentally friendly Cala en Busquets. This elegant, near-the-coast building, belonging to the biggest city on Menorca Island, was designed by the local architect Antonio López.
Despite having a 15-year-long career in Barcelona, López is originally from Menorca, where he's currently settled. He now focuses on creating eco-friendly architectural projects and founded his own Architectural firm, Dasein Architecture & Lifestyle, which achieved an international approach.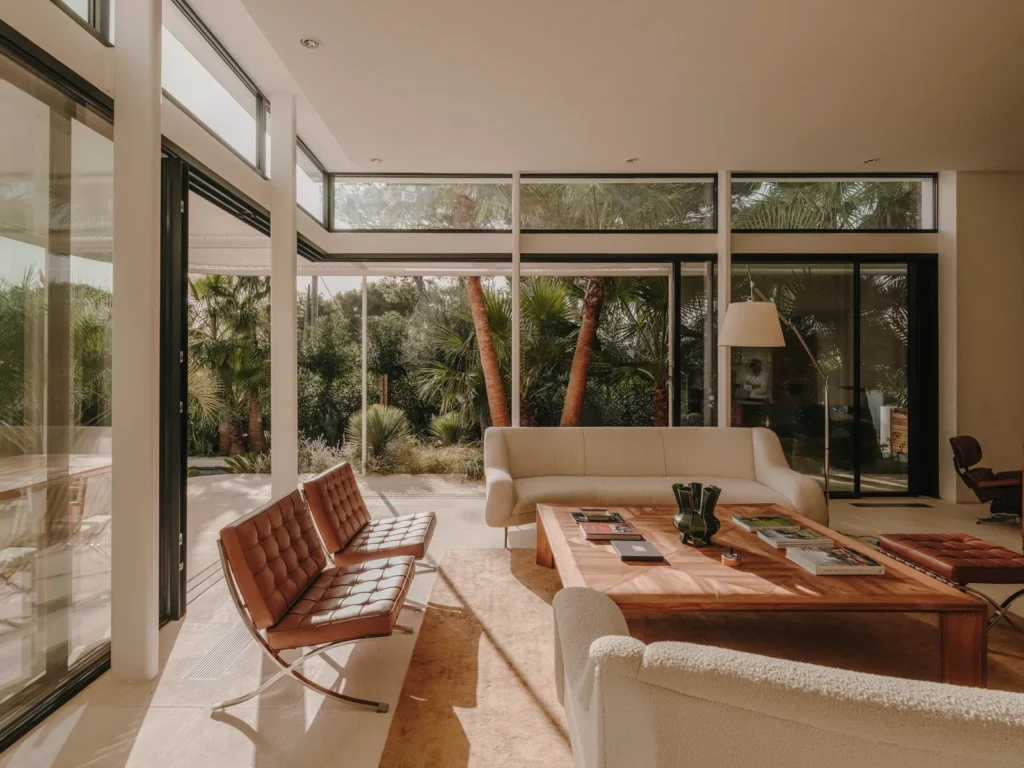 Guided by the owner's desire for a modern yet classic Spanish house, López created a family home that embraces dynamism and a luminous aura. He was able to achieve this by embodying a Menorcan aesthetic, which consists of the harmony of straight and curved lines with the use of a scintillating white color. Regarding the dynamic of the villa anatomy, the architect could provide a strong structure by adding a steel pergola supported by thin pillars, exhaling an intelligent, relaxed aura.
As a way for the French client to escape from the hustle of his busy hometown, Paris, this Spanish house was transformed into a complete two-floor quiet space where everything needed would be found, such as a gym, basement, swimming pool, and a treatment area for relaxing massages.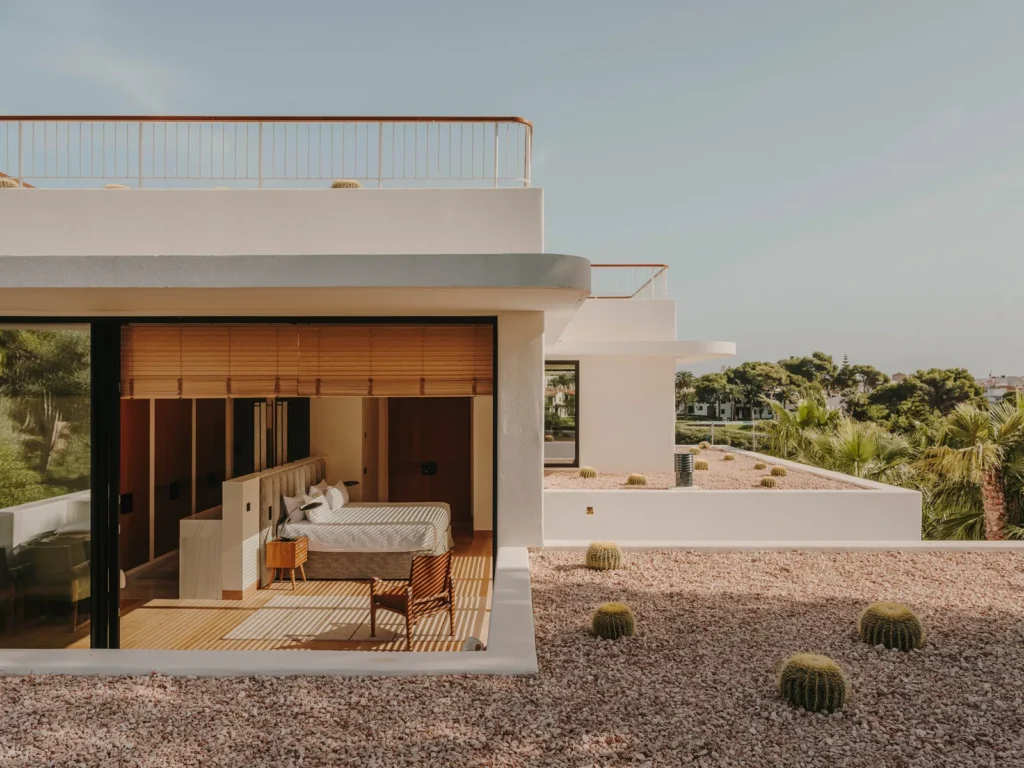 To express the Menorca Island surroundings and personality even more in the house, López ensured that every part of the villa was bathed with sunlight. He intensified that idea by exposing some central parts of the Spanish house, such as the main bedroom, making direct contact with the natural landscape and warm light possible.
Using a neutral, earthy color palette is another crucial factor in exhaling the island's spirit. The fact that the color scheme is pastel accentuates the peaceful feeling that the client craved. Also, the shades arrangement being earthy helps to match this house with the typical local architecture and elevate that wanted sunny, summery vibe.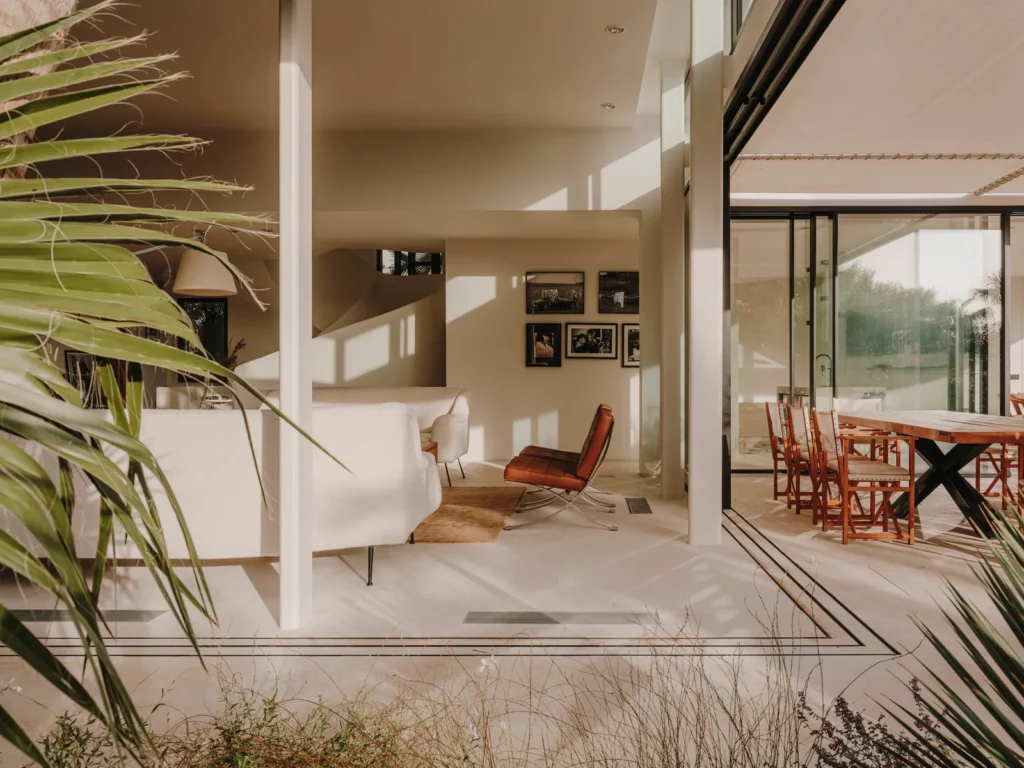 Being mainly characterized by an open-plan space, the house's interior is specifically made to connect every room in harmony and spread a sense of lightness. This airy flow is essential to provide a clean, organized space and create the perfect balance between the outside area and the interior.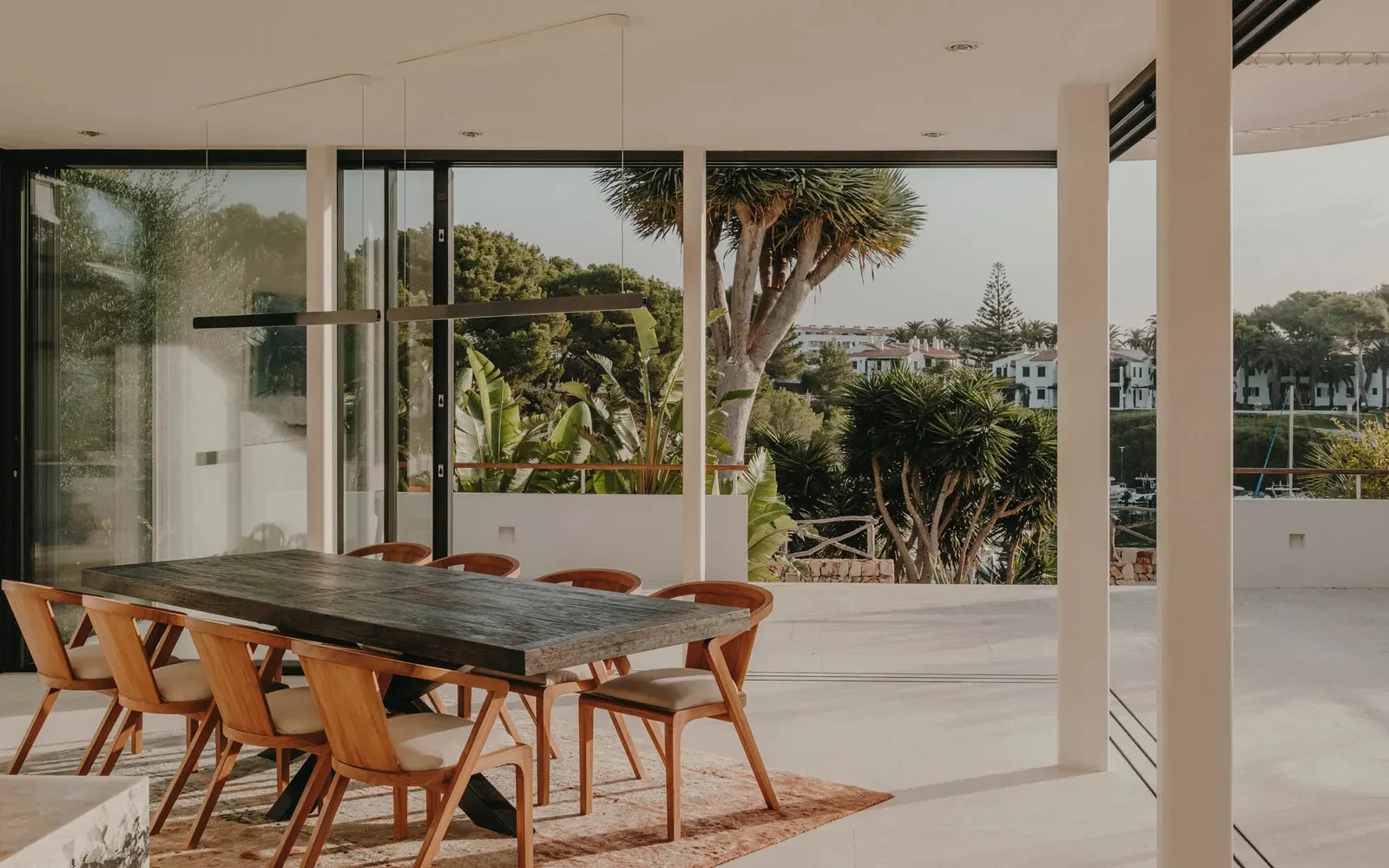 Another exciting element about this project is the utilization of natural elements similar to the materials present in its surroundings. For example, wooden furnishings are utilized in diverse shades but always match the Spanish house landscape. Another decoration that helps bring the whole area together is, undoubtedly, the sustainable pastel rug. This proves, once again, that every corner of this building is gracefully connected and intelligently planned.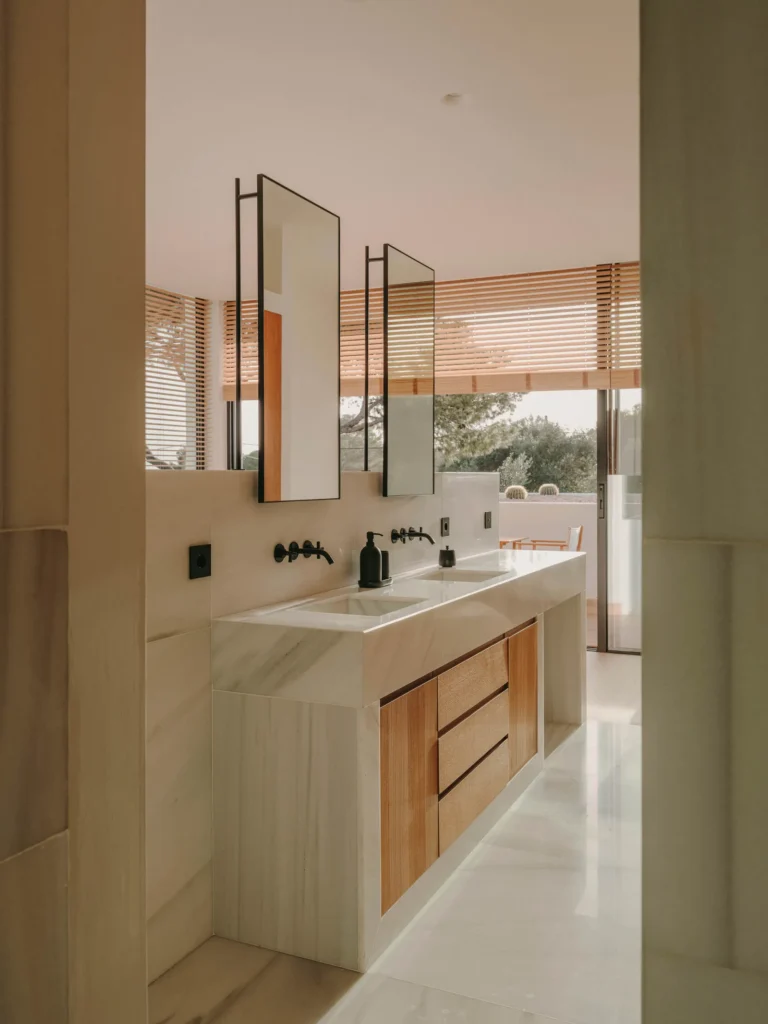 The designers also focused on pursuing a sensation of movement in the house, both outside and inside, through, for instance, the spiral staircase they chose. This technique can twist a boring, plain design into something more sophisticated, creative, and even personal. Usually, it is in small things like this that we can understand and distinguish ordinary designs from high-quality ones.
If there is one place in this Spanish house that looks like an authentic oasis, it is certainly the swimming pool area. The natural pool limits, neutral sun loungers, delicate fences made of wood, and vivid exotic-looking vegetation all come together to look like an absolute dream and the perfect refuge for anyone.
This villa is the perfect example that choosing a more natural and neutral approach is one of the best options to transform a whole place into a luxurious and relaxing sanctuary. Now that this tropical Spanish house inspires you dive deeper into this sunny vibe and discover the best trends for summer and spring rugs that will elevate your interior design project.