Discover the charm of Kristen Peña's residential project, a unique design experience that combines warmth with refinement.
Brought up in elegance and European influences, Kristen Peña is a San Francisco-based interior designer who has established an enviable reputation as an interior designer. With a sophisticated and contemporary approach, Kristen Peña is known for creating unique and elegant spaces that reflect her client's style and personalities. With a background based on European elegance and proportions, Kristen Peña incorporates influences from her travels in Southeast Asia, Morocco, and other destinations, where she developed her love for pattern and texture. This passion manifests in her designs, where she utilizes handcrafted materials and custom details to add depth and interest to spaces.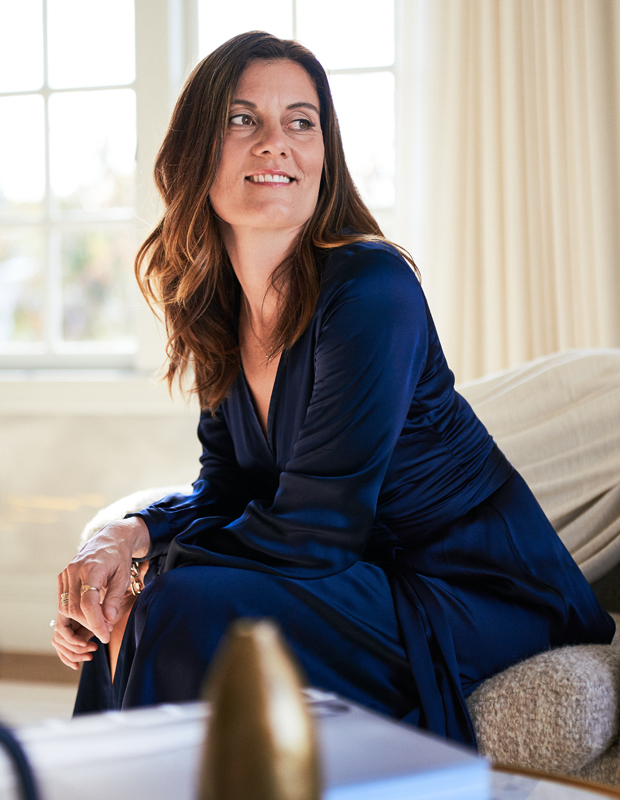 In addition to her aesthetic sensibility, the designer is renowned for her ability to balance openness and privacy in her designs. She understands the importance of creating spaces that are welcoming and functional simultaneously, ensuring that each environment meets the needs and desires of her clients. Her work perfectly blends contemporary elegance, global influences and a personal touch, resulting in truly unique and inspiring spaces.
The Project
So let's present Kristen Penã's project. The residence's owners, two technology executives from San Francisco, are avid collectors of contemporary art. With a comprehensive collection that includes pieces by artists specializing in multiple mediums, they sought a way to feature their artwork in their Napa Valley weekend home. By deeply understanding the owners' tastes, Kristen Peña has created spaces that not only showcase the pieces of art, but also reflect her personal style.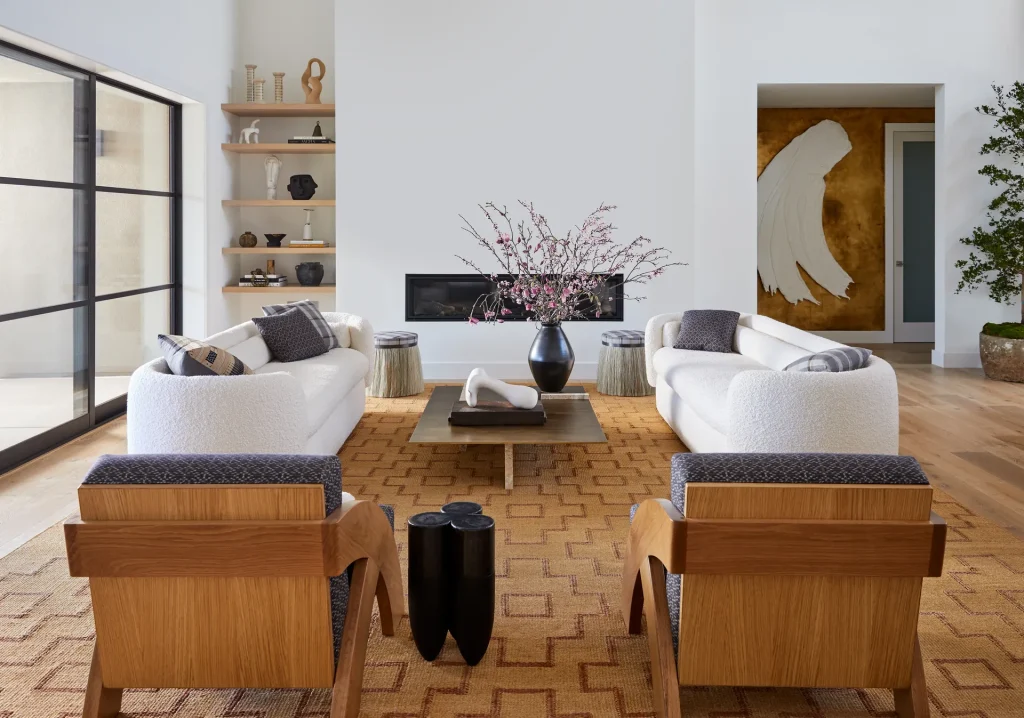 While works of art occupy a central role in this residence, furniture selected from a wide variety of sources plays a crucial role in the interplay between craftsmanship and materiality. In the living room, for example, we have a pair of white sofas with minimalist features that sit next to a center table. We are very aware of the wood color in agreement with the white color, the main color of this space, as we can immediately see on the walls.
Kristen Peña excelled in creating unique details and custom touches for the interiors of this Napa Valley home. In the dining room, we once again have the simplicity of the chosen color palette and the elegance of the environment, with a dining table bringing the tones of wood, in harmony with the chairs surrounding it. Once again, white and wood go hand in hand, we have other colors in some decorative items in the space, with the painting on the wall and the plant on the table, as well as a dark color that we can see in the rug. Of note is the incredible suspension lamp we also have in this location.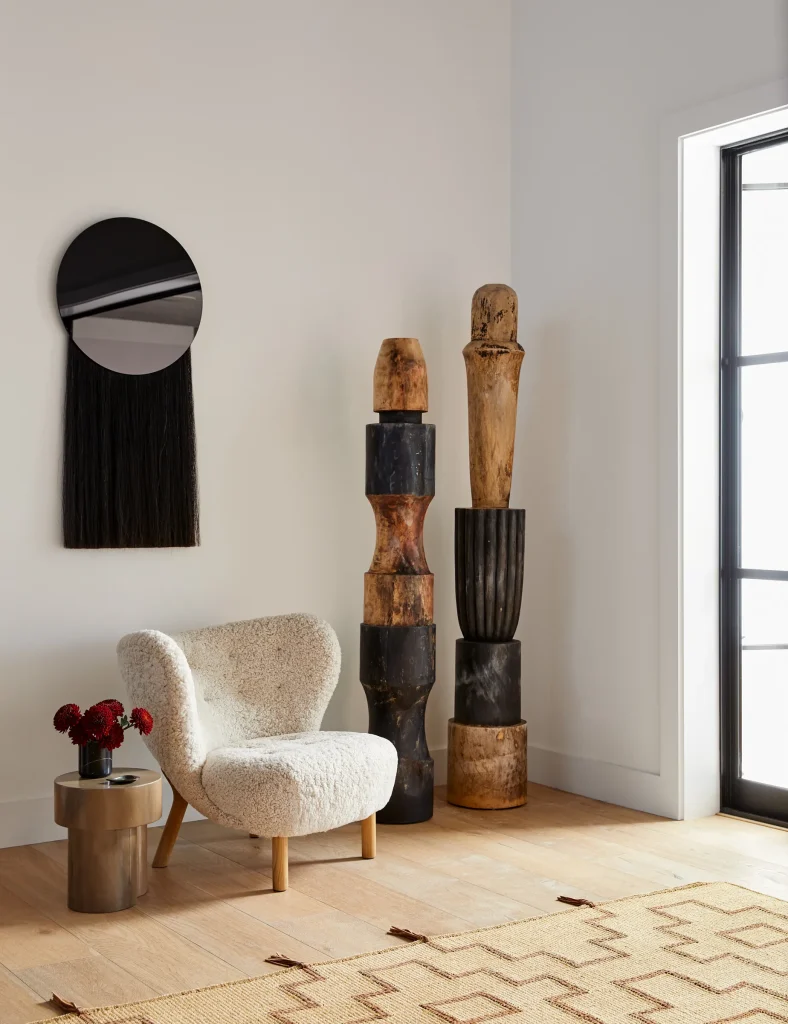 In the bedroom, the minimalist style is maintained, but this time we can identify that it is no longer the white color that dominates the space. To make the area more private, welcoming and warm, Kristen Peña chose gray as the primary color in this space. We have a magnificent bed, this one in white, however, the duvet already returns to the base gray of this space. The bedside tables and the table lamps next to the bed connect elements with the rest of the house, which carry the connection between white and wood that we see in the rest of the project.
The designer also placed some furniture elements that complete the space, such as a sofa and two armchairs in the same shades of grey, with a splendid floor lamp in shades of gold, which connects to the same gold of the table in the center of the room.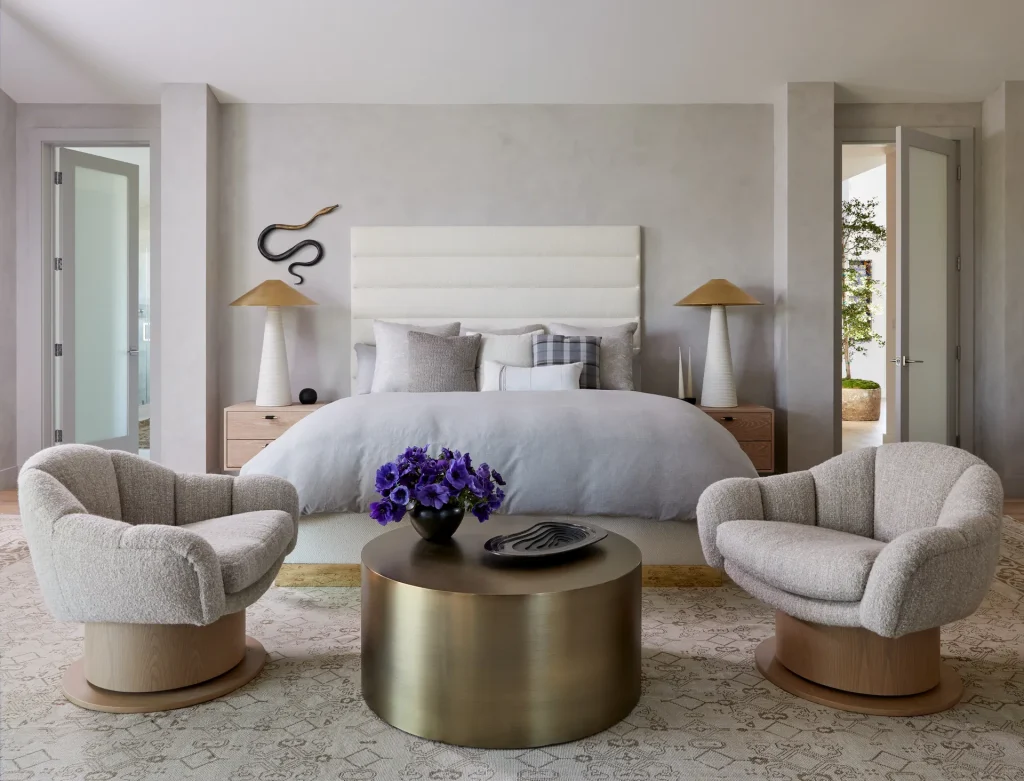 Throughout the residential project, Kristen Peña has created unique and inspiring spaces that perfectly harmonize contemporary elegance, global influences, and a personal touch. The careful combination of handcrafted materials, custom details and thoughtful furniture selection resulted in a residence that not only houses the owners' art collection, but also reflects their personality and style.
Furthermore, the designer's skill in creating a cohesive atmosphere throughout the residence is evident. Spaces flow naturally into one another, with a consistent design language and a color palette that complements each other. The smooth transition between areas provides a sense of unity and coherence, creating an exceptional living experience for residents.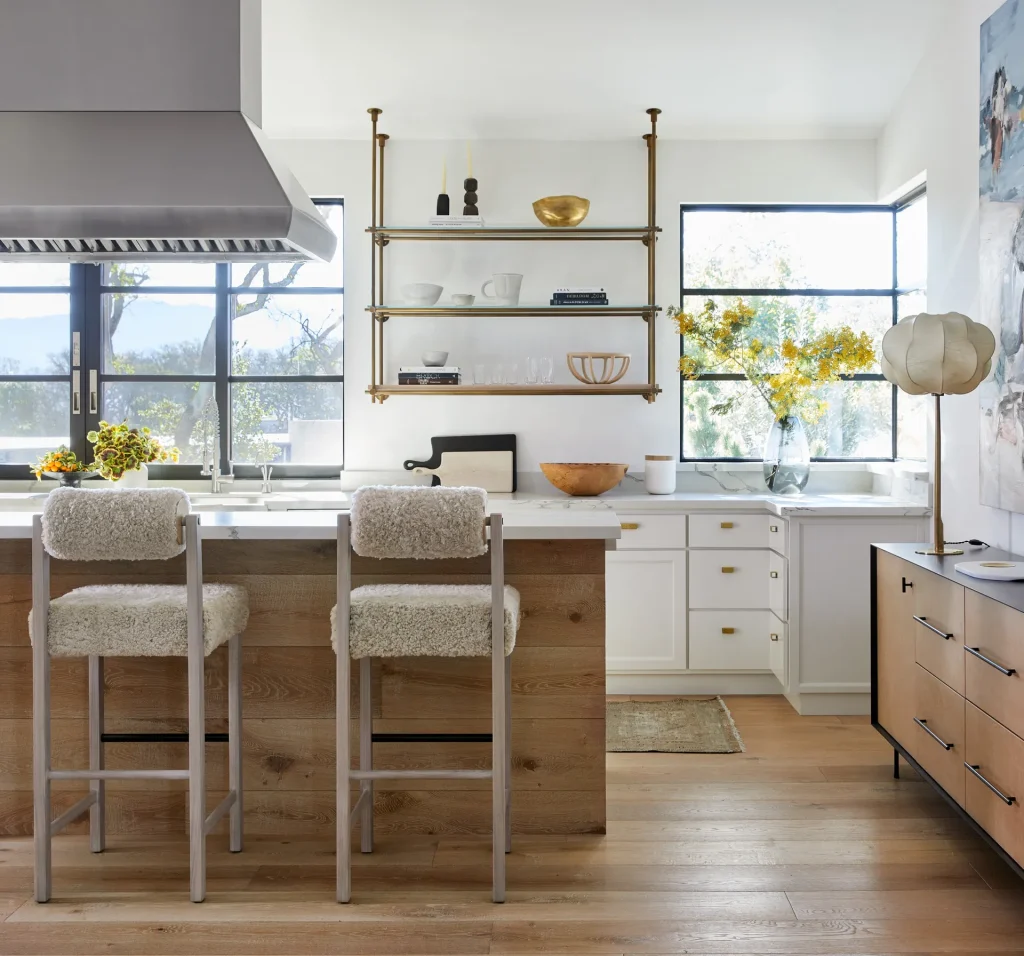 Kristen Peña's residential project in Napa Valley is a testament to her talent and ability to create spaces that transcend expectations. His unique approach, combined with his aesthetic sensibility and understanding of clients' needs, resulted in a residence that not only houses an art collection, but is a work of art in its own right. We hope this article has inspired you. If you are still looking for more inspiration, visit TAPIS Studio and find the perfect rug for your space.