Let's explore Ken Fulk's magnificent Kips Bay project and understand how we can explore the zodiac and the astral plane inside a home
Ken Fulk is a Virginia-born designer renowned for his bold and out-of-the-ordinary designs. Based in New York and San Francisco, he has a design firm named Ken Fulk Inc. He has a team of more than 80 people at his disposal and reaches the entire American country. In 2018 he founded a non-profit dedicated to supporting local San Francisco artists called Saint Joseph's Arts Foundation.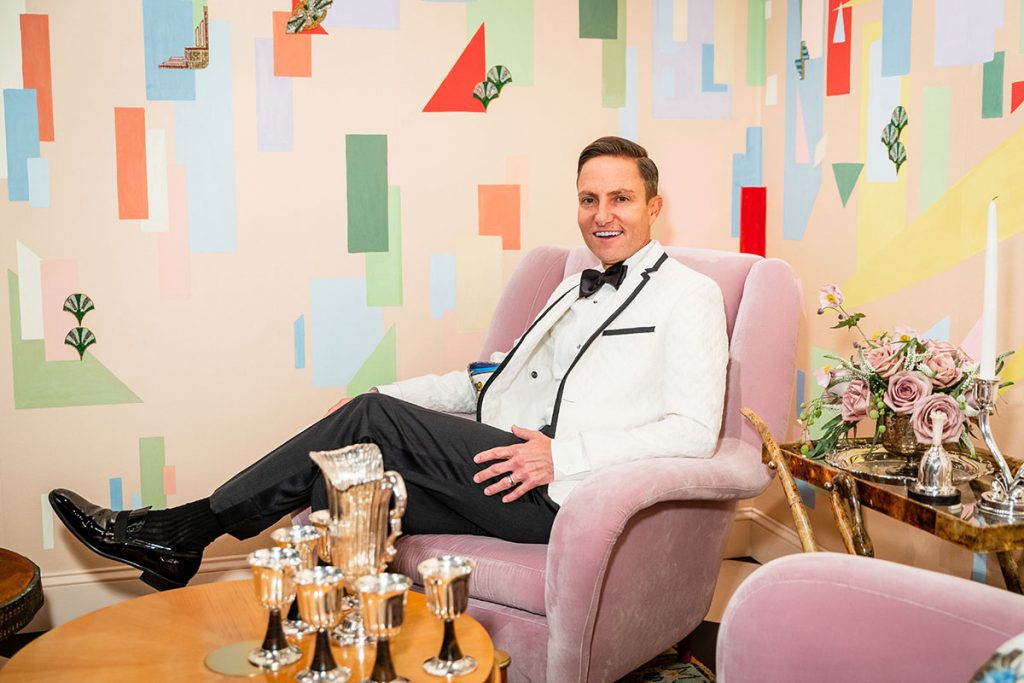 "Each space needed its own expression while also connecting with the others and telling a story because that's how we begin each project: by writing a story and visually bringing it to life", expresses Ken Fulk. "I really wanted to create a space that reflects my own personal optimism as well as the way I feel about this hibernation and reawakening to a new and positive outlook." therefore, through these statements made by the designer, we can understand the way he works on his projects, and this Kips Bay was no different.
The Project
Located in Dallas, Texas, is this stunning project by Ken Fulk called Kips Bay. It is a housing project that, at the first contact, we can verify its uniqueness. From a first glance, we can understand how this house is unique and has an essence of its own. What stands out most at sight is clearly all the references and allusions to astrology and the zodiac, making this space uncommon.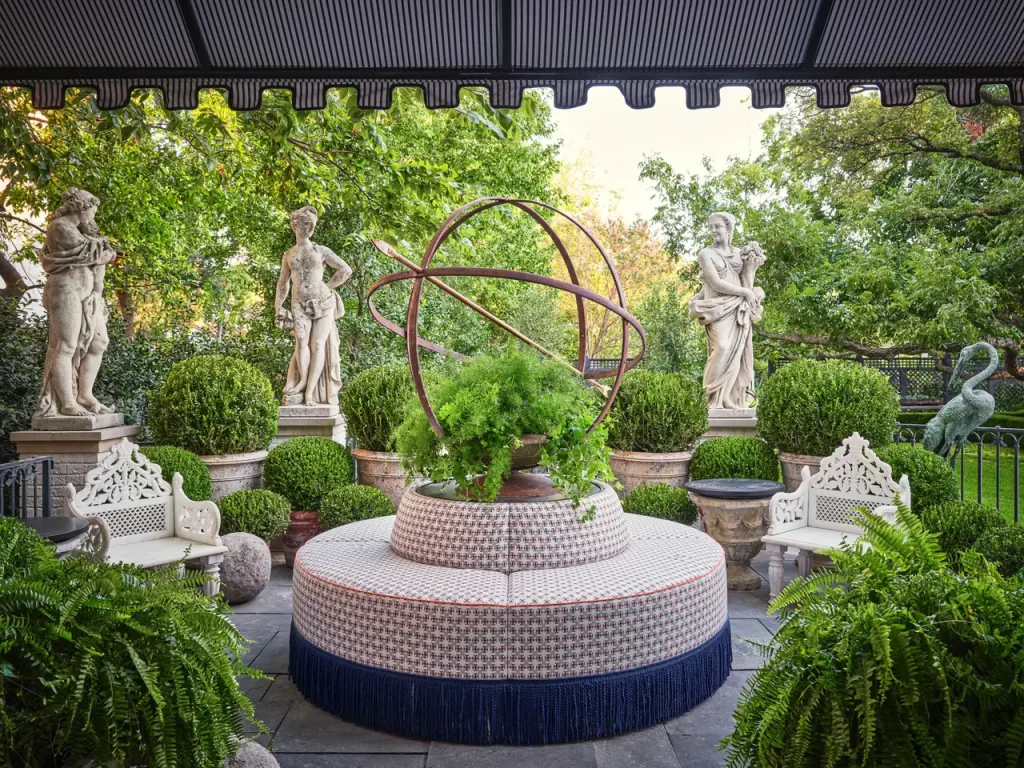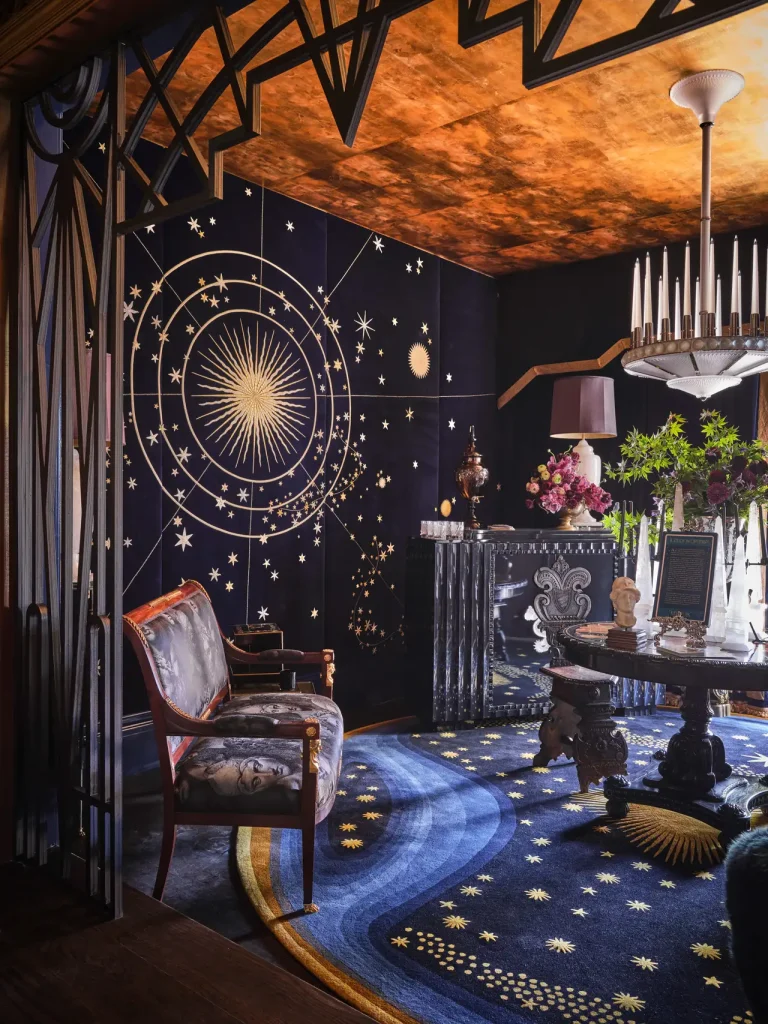 The most outstanding feature at Kips Bay is the incredible living room offered by this project by Ken Fulk. All zodiac references are displayed in shades of gold, as is the characterization of the stars along the various furniture elements, from the wallpaper to the rug, in contrast to the midnight blue that is presented as the basis of this space. This blue manages to transport a distant dimension to this space, carrying associations to the galactic expanse. The ceiling in shades of gold completes this contrast around the entire environment of this living room.
Even so, we can still find distinct references in some pieces of furniture, such as one of the arm chairs found in the living room.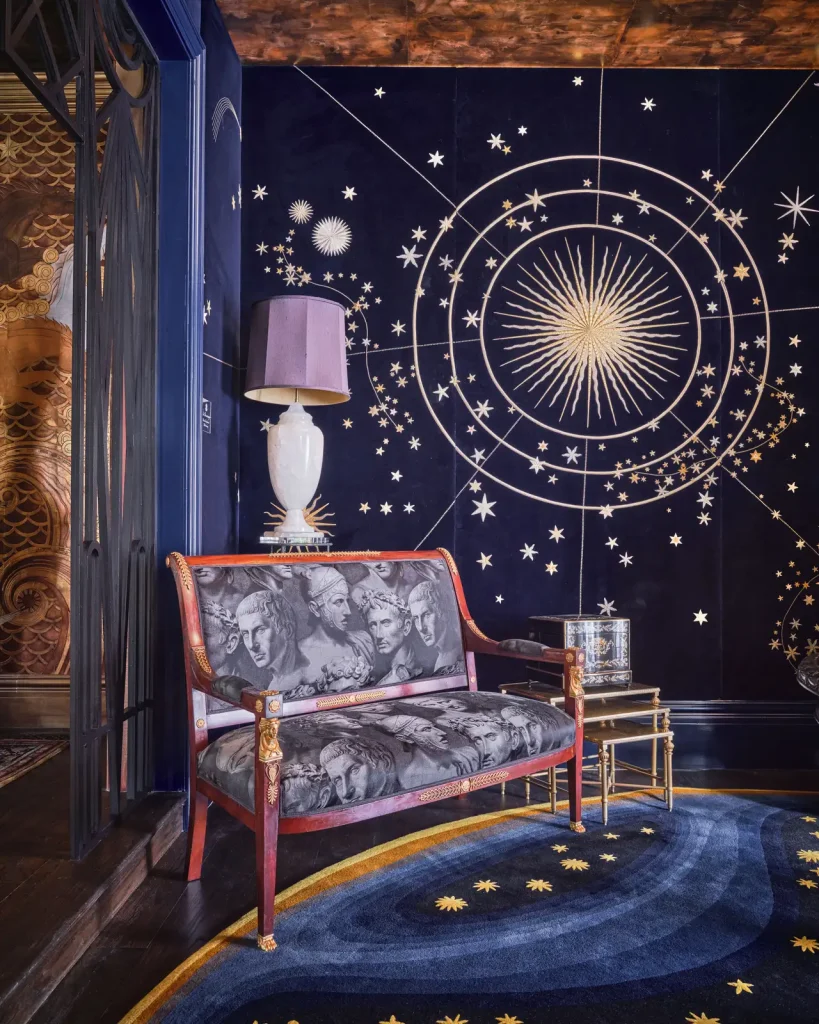 This division of Kips Bay is linked to another one that we also have to highlight, the extraordinary office that this project offers. This one drops the shades of blue and presents itself entirely with strong gold in its essence. On the walls, we have magnificent drawings with divine and animal references. This division has two arm chairs in leopard tones that surround a black center table, as well as a splendid suspension lamp in the same golden tones that underlie this division.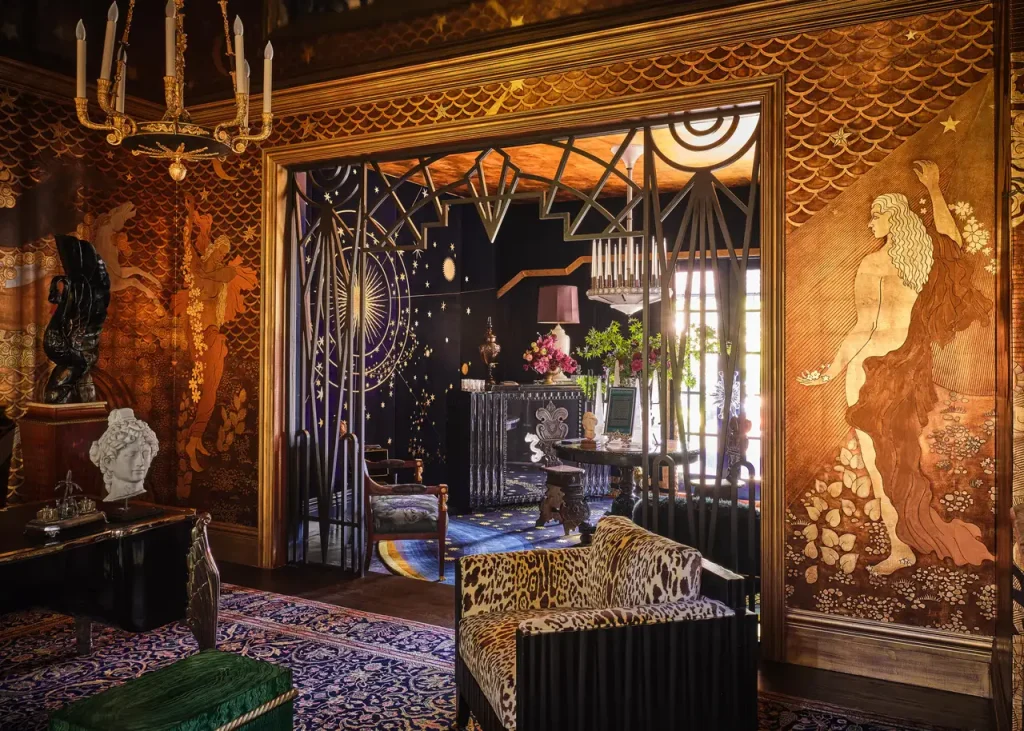 This Kips Bay project is a clear example of an environment that relies on maximalism. This characteristic is very evident, considering all the elements and references throughout Kips Bay. The designer was concerned with giving meaning and essence to every space and every little detail at Kips Bay. However, even with this exaggeration of details, Kips Bay has become a stunning and pleasing space for those who enjoy it.
We still have some similarities with the Art Deco style at Kips Bay, with principles of Cubism and exoticism, with geometric decoration in the design, without sacrificing the refinement intended in a sublime and luxurious place.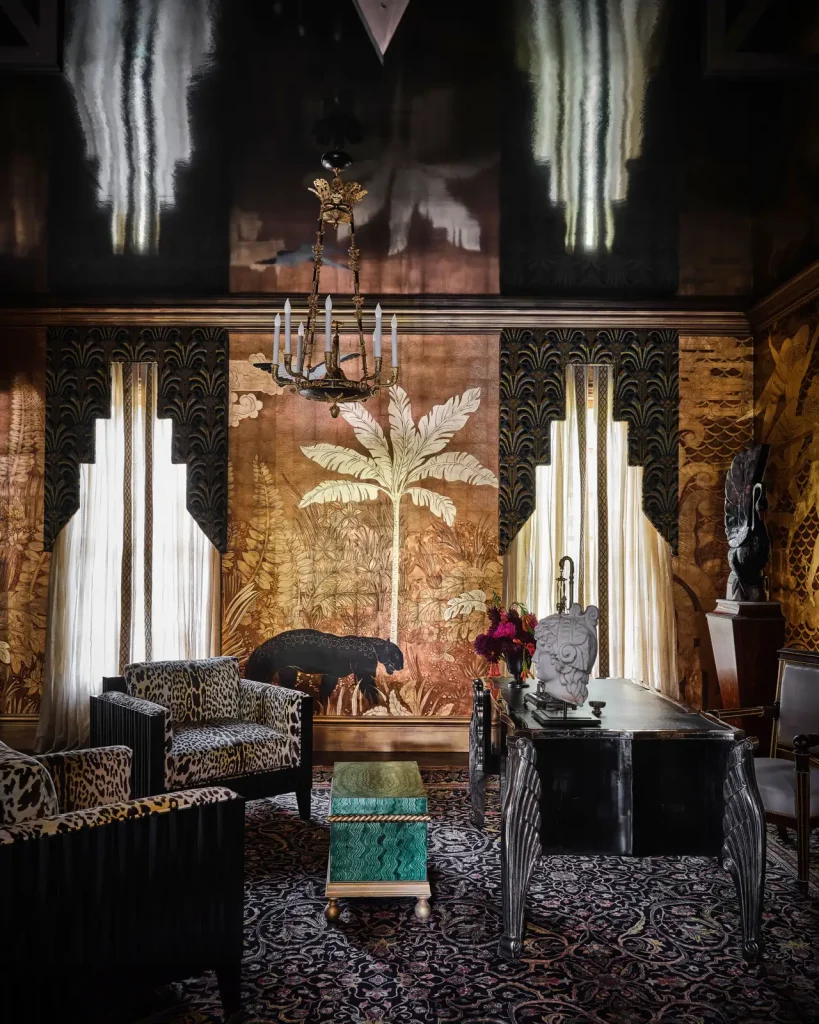 Even with all the styles and trends that we can associate with this Kips Bay, it is also worth mentioning the incredible rugs that Ken Fulk chose for this space. For the living room, we identified a rug that extends to the central theme of the place, as we mentioned before. A rug in shades of midnight blue with gold details that characterize elements associated with the cosmic and spatial dimension. In the office, they preferred rugs that were more distinct from the styles already explored at Kips Bay, these being more vintage styles, surpassing what Ken Fulk managed to trivialize in this environment.
That is another of the characteristics of this Kips Bay, with the abundance of references around the same theme, all the eccentricity that this area carries becomes banal, and it even gets strange when the designer presents something more ordinary in an environment like this.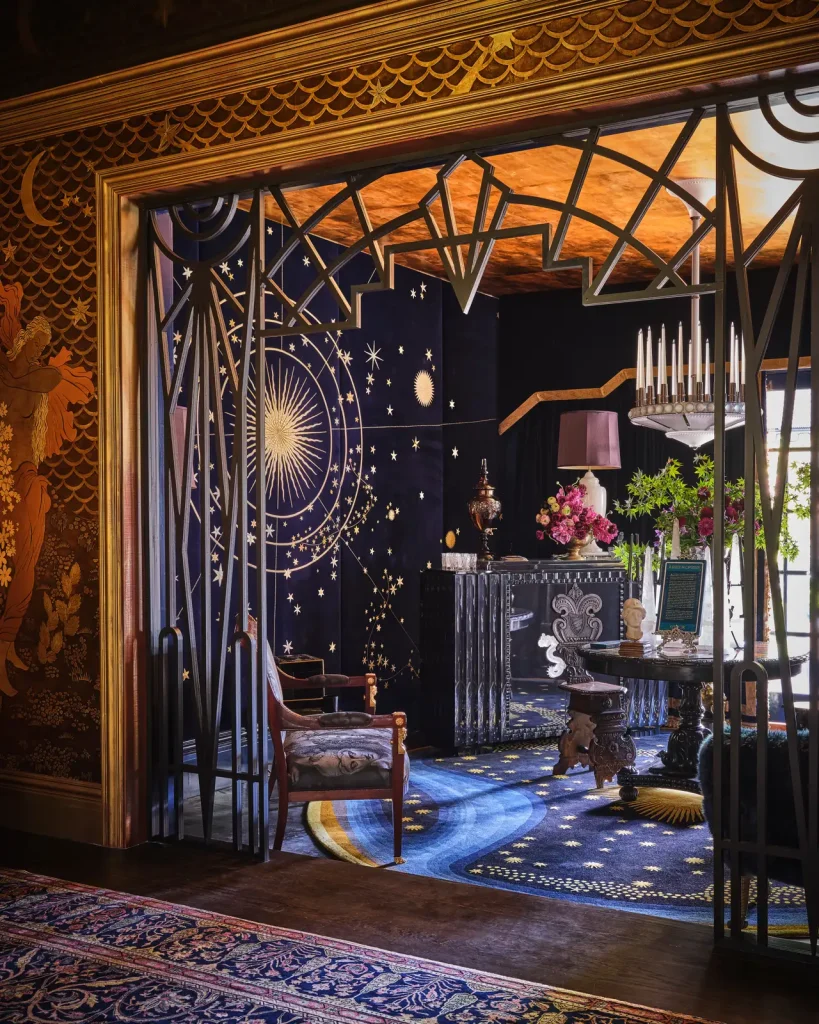 We saw here a magnificent and very particular project by Ken Fulk, this Kips Bay is a space in which we have a very characteristic and specific style that manages to reconcile the excess of detail with the refinement that this environment deserves. If you're looking for more inspiration for your space, look for more projects on our project page, where we cover every type of style you can imagine, all in TAPIS Studio.

Photography: Stephen Karlisch