Discover influencer Emma Chamberlain 's dream home – a modern and welcoming retreat where minimalist style meets comfort and nature.
If there is a person who has captured the hearts of the current generation, it is Emma Chamberlain. With her unique style and free spirit, Emma has emerged as one of today's biggest influencers, breaking down barriers and inspiring millions of young people worldwide. The New York Times described the influencer as "the funniest person on YouTube" and as someone who "changed the world of online videos". In 2019, according to Time magazine, Emma Chamberlain was already among the 25 most influential people on the Internet, alongside celebrities such as Prince Harry and Meghan Markle.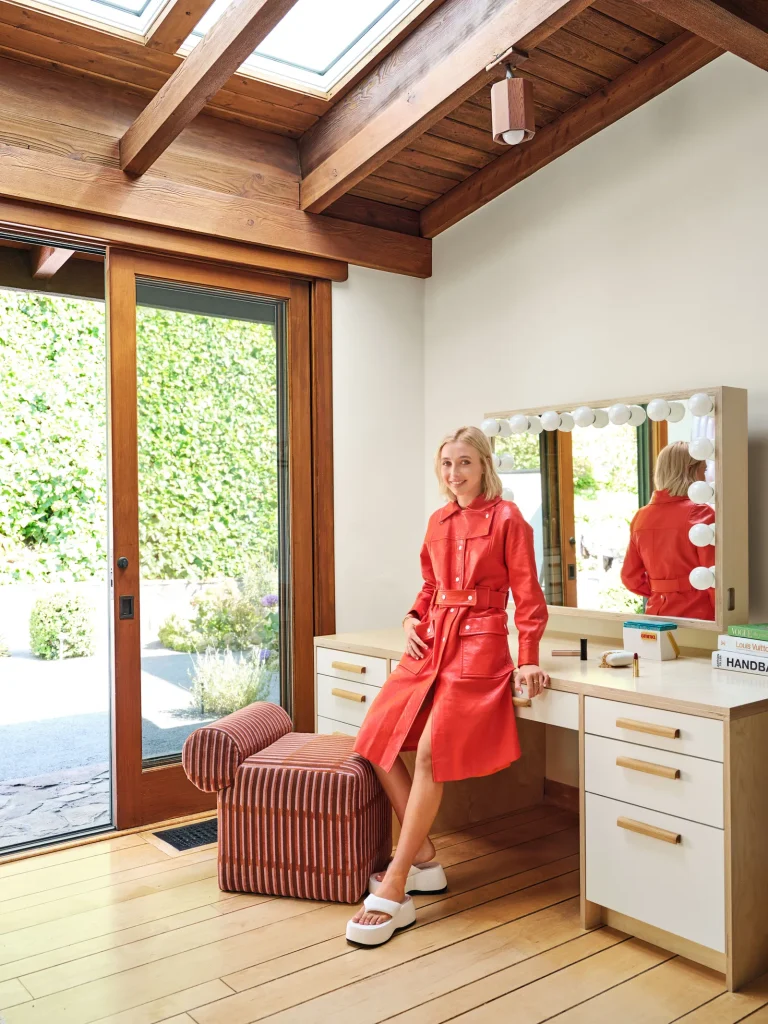 This project we will present is Emma Chamberlain's new home in Los Angeles. Proem Sutdio designed it, and the house reflects the influencer's relaxed and stimulating vibe. "I work from home, so I wanted to create something completely personal and comfortable" were the words Emma used to describe her new home.
The House
As we could foresee, the dwelling of a personality like this really had to be a unique space. This house by Emma Chamberlain has everything that is unpredictable but simultaneously simple and conventional. Built in 1955, this house was shaped entirely for the digital influencer and her taste.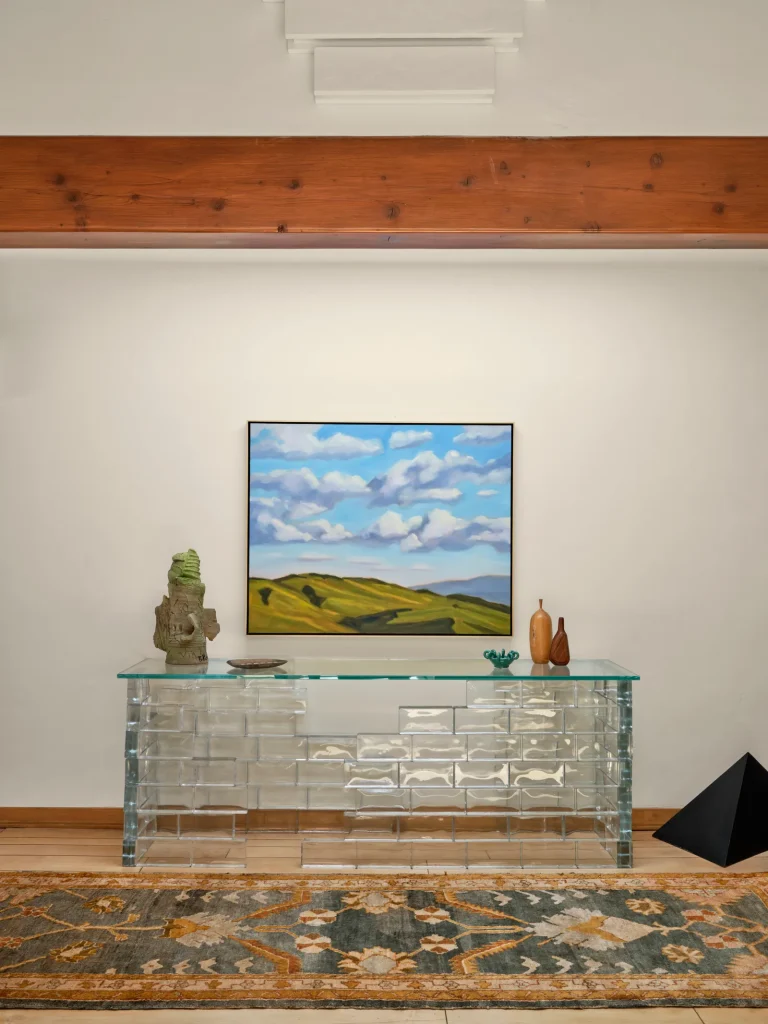 Clad in wood, the simplicity of this house starts with its base. Emma Chamberlain, being known for her relaxed and serene personality, presents her home as an embodiment of her persona. As we have already mentioned, the whole house is clad in wood, and the presence of this, as well as other natural elements, conveys that feeling of tranquility in the place. To match, we have a neutral color palette that we contemplate throughout the house. In addition to the color that wood carries with its presence, we also have white as a foundation.
Starting with one of the most prominent divisions we have the dining room. A vast room, with a high foot and a great use of natural light. From this first space, we begin to conclude what the interior design of this house by Emma Chamberlain will be like. Traces of a minimalist trend can begin to be identified, a wide and clean space with a reduced presence of elements, prioritizing the area's functionality.
In this room, we have a magnificent dining table surrounded by four chairs, all with features that point us even further toward the minimalist trend on a rug. In this division, the most outstanding element is the stupendous suspension lamp that we have above the table.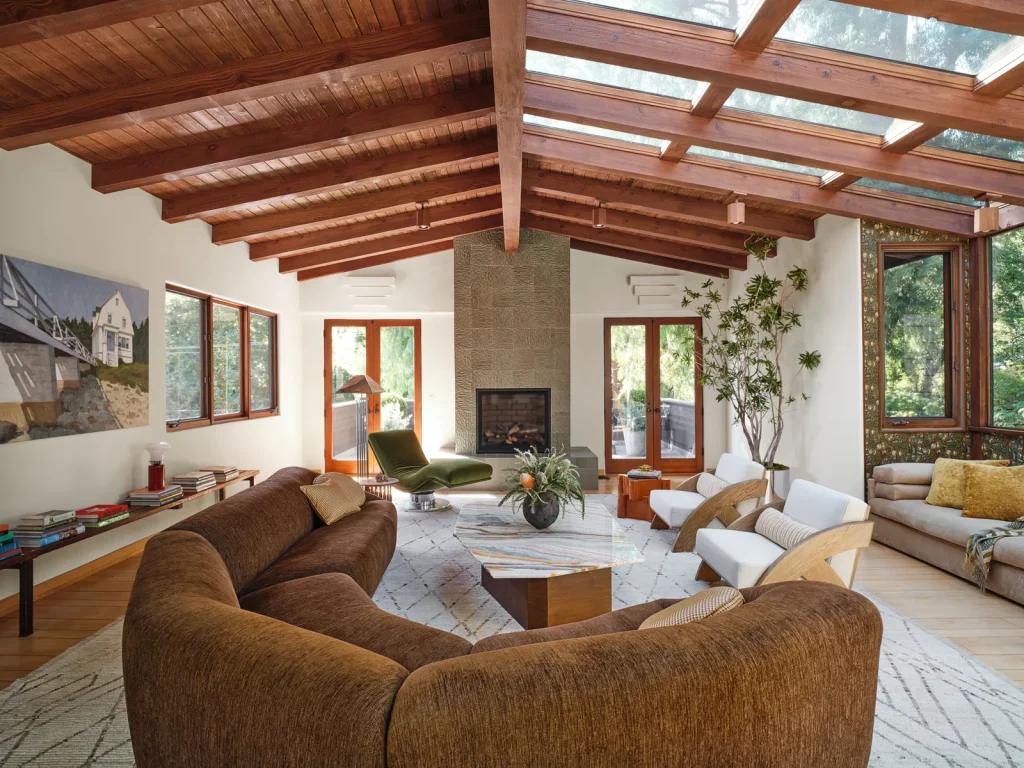 Moving on to another room of great importance in this house, we have the main living room. This space maintains the natural elements, and this time in a very charged way. Once again, the choice of furniture used in this space must be highlighted. We have an incredible sofa that surrounds practically the entire center table, another magnificent element of this room. This is another space that gives a brutal emphasis to the outside area and all the natural light it carries.
As we have already understood, the minimalist trend and the presence of natural elements are maintained throughout the house. A bedroom may be the example that best defines this definition. In this space, we can observe the most present warm colors, which convey harmony with the presence of wood. The bed comes in pink tones, but a very soft pink, which matches well with the orange comforter with a tiger figure in the center. Already around, we have a rug under the bed and two bedside tables that hold two table lamps. Also noteworthy is the plant found in the corner of this division, once again carrying nature outside into the interior.
The kitchen in Emma Chamberlain's house is a charming and inviting space. In this space, we have the place where they created greater diversification compared to the rest of the house. With shades of light green, the color palette creates a refreshing and tranquil atmosphere, perfect for inspiring culinary creativity. The soft green of the walls and furniture brings a sense of harmony and balance, maintaining the presence of wood that adds a touch of warmth and comfort.
The elegance of this kitchen is evident in every detail. The cabinets, with an impeccable finish, display a modern and minimalist design, perfectly complementing the environment. The natural stone worktops are stylish and practical, offering ample space for preparing food and enjoying quick meals. Functionality is a priority in this well-designed kitchen.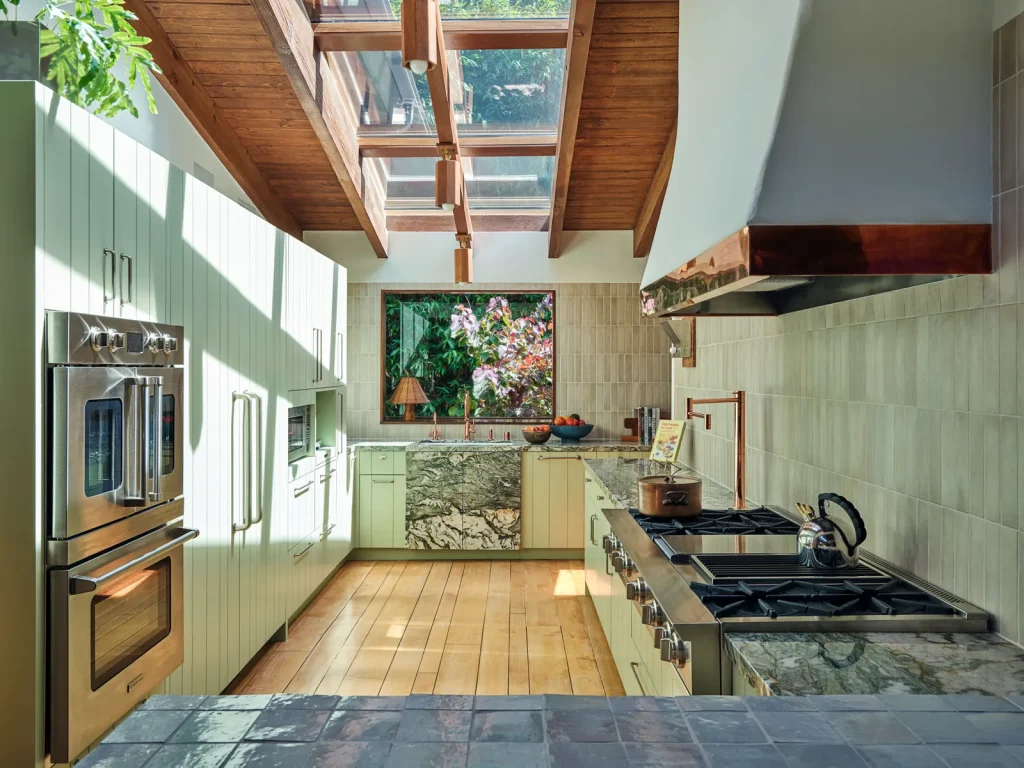 In conclusion, Emma Chamberlain's house perfectly exemplifies the minimalist style, with an approach focused on simplicity, functionality and serenity. Choosing neutral tones such as white creates a sense of calm and balance, allowing natural elements such as wood to stand out. The excellent use of natural light plays a fundamental role, providing a welcoming atmosphere and expanding the feeling of space. We hope we've inspired you, if you're looking for more inspiration, visit TAPIS Studio and explore all we have to offer.