Traveling to distant lands from our place, a modern house design with a desire to cross the walls in a cultural trip.
Passionate about traveling, Tom Stringer connects to his greatest passions in a union of inspiration and discovery.
More than two decades ago, he founded his company to provide design solutions. Over these years, he went to the 4 corners of the world to gain knowledge, as demonstrated in the book he published in 2017: "An Adventurous Life: Global Interiors". His procedure is motivated by the fascination with travel. In this way, Stringer unites cultures and traditions in his works to create a unique and distant space.
"I never wanted to have a signature look. I believe that great design is about storytelling, and each story is unique, just like each individual is unique." this is how Tom Stringer works on his projects, approaching the design process as a journey to discover the story that each client and house counts. Stringer's design doctrine is essentially based on the well-being that a home has to offer to the family.
An African house in Florida
In a different style, Tom Stringer tried to execute this modern house design using what he always believed to be the differential in his projects.
In this modern house design, we can slowly perceive the elements that contemplate the connection to a distant place. As we lean into the images, we notice the presence of peculiar elements, firstly, the illustration of animals in some frames, such as zebras and lions. Then we began to establish the connection that Tom Stringer had prepared in this modern house design, with the presence of figures and elements more characteristic of the people of that area, both in the furniture and in the choice of colors. In this way, we could conclude that this modern house design leaned towards the theme of the African continent.
After this first exercise, all the references and allusions that Tom Stringer explored in this modern house design become clearer.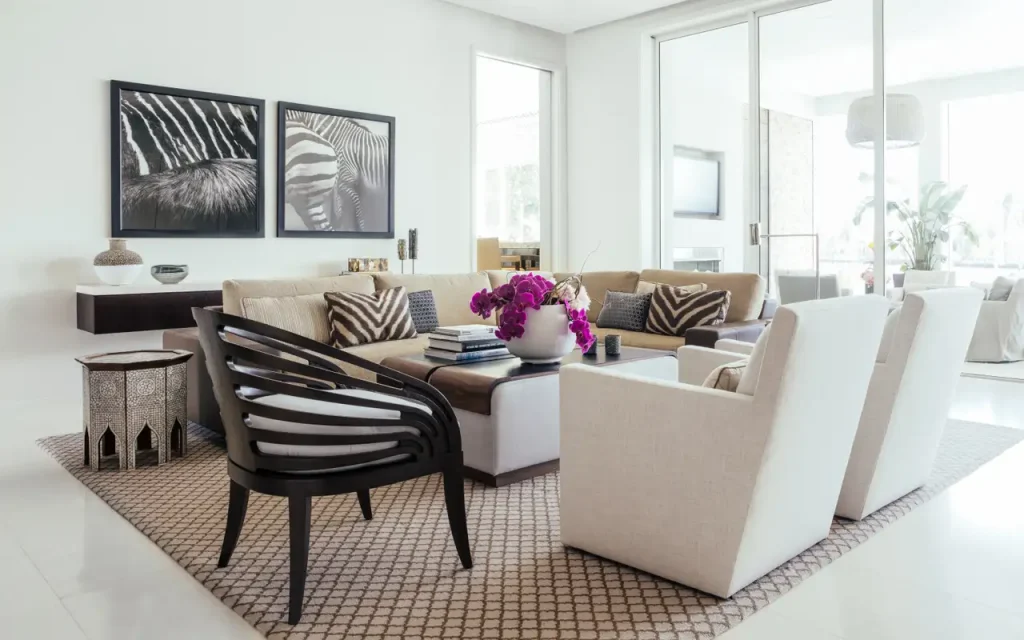 A journey inside this modern home design
The significant factor that Tom Stringer wanted to explore in this modern home design started right from the base, making clear the contrast of colors and how present this would be throughout the house.
What stands out the most all over the house is the presence of dark colors, mainly brown, in contrast to the white that dominates the color of the floor and walls over most of the house. Brown is used in more central areas of the rooms to bring prominence to these elements, such as chairs, tables or sofas.
However, not only is brown in association with references to the African continent, but we can also sometimes find the presence of orange in some divisions and green, presented by the vegetation.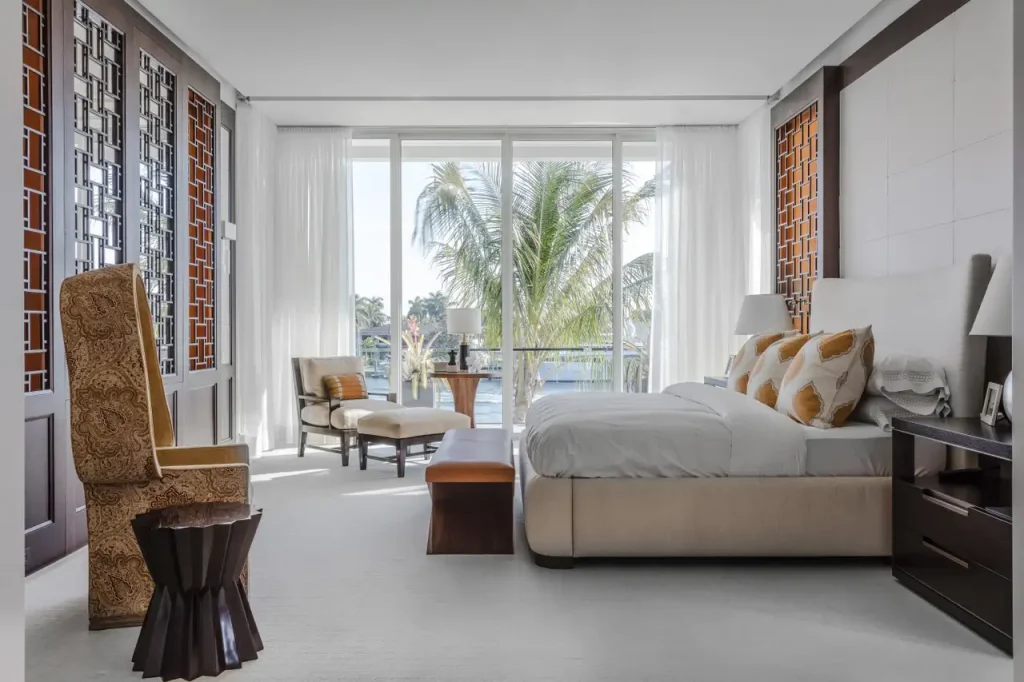 Despite the designer's effort to contemplate this space with so many elements and references, Tom Stringer is also committed in his projects to offering a welcoming space that allows for well-deserved rest.
In this way, Tom was concerned with providing a simple and warm space so as not to make it overloaded for those who use it. We can understand this with the presence of open spaces, where sometimes you could place a sideboard or a chest of drawers, but Tom Stringer chose to leave cleaner and more open spaces for this modern home design.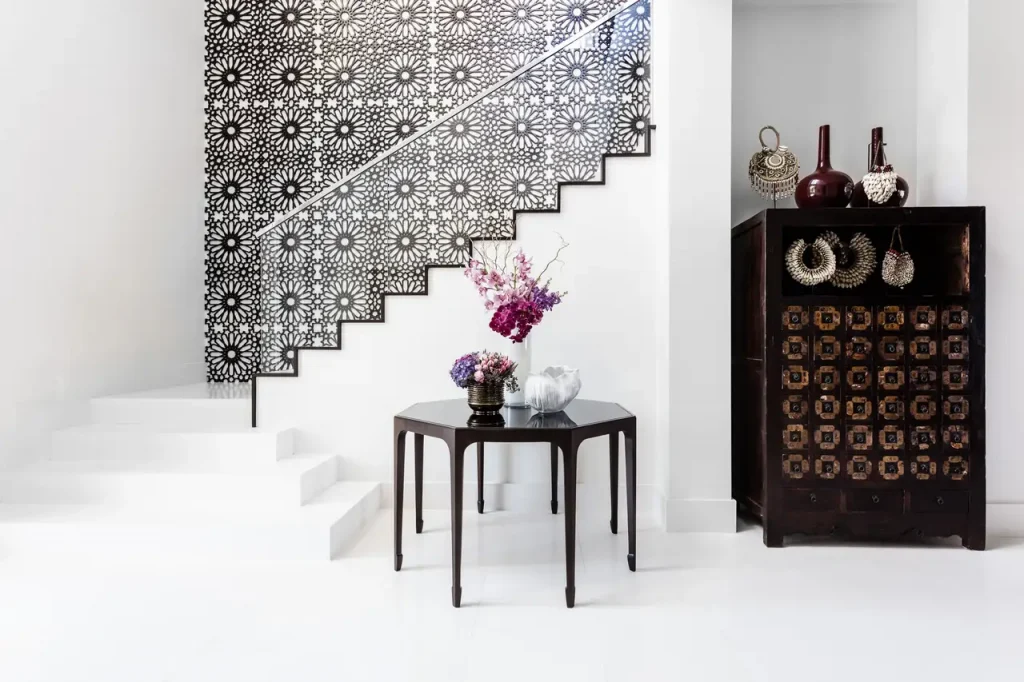 The way Tom Stringer worked on this modern house design was homogeneous, seeking to deliver a unique identity to the house throughout all the divisions.
It is rare, if not impossible, to see elements that deviate from the original identity of this project. With this, the designer intends to completely combine the feeling of travel and convey to the family a sense of distance from reality to create unique ties with space and provide a feeling of comfort and convenience.
In every room of this modern house design, from the entryway to the outdoor, we can find these pieces of connection to the African continent, such as statues, decorative items, and even the type of furniture, which is always very similar to what we associate with these types of places. The use of wood in almost every room in the house refers a lot to these associations, proving Tom Stringer's intention.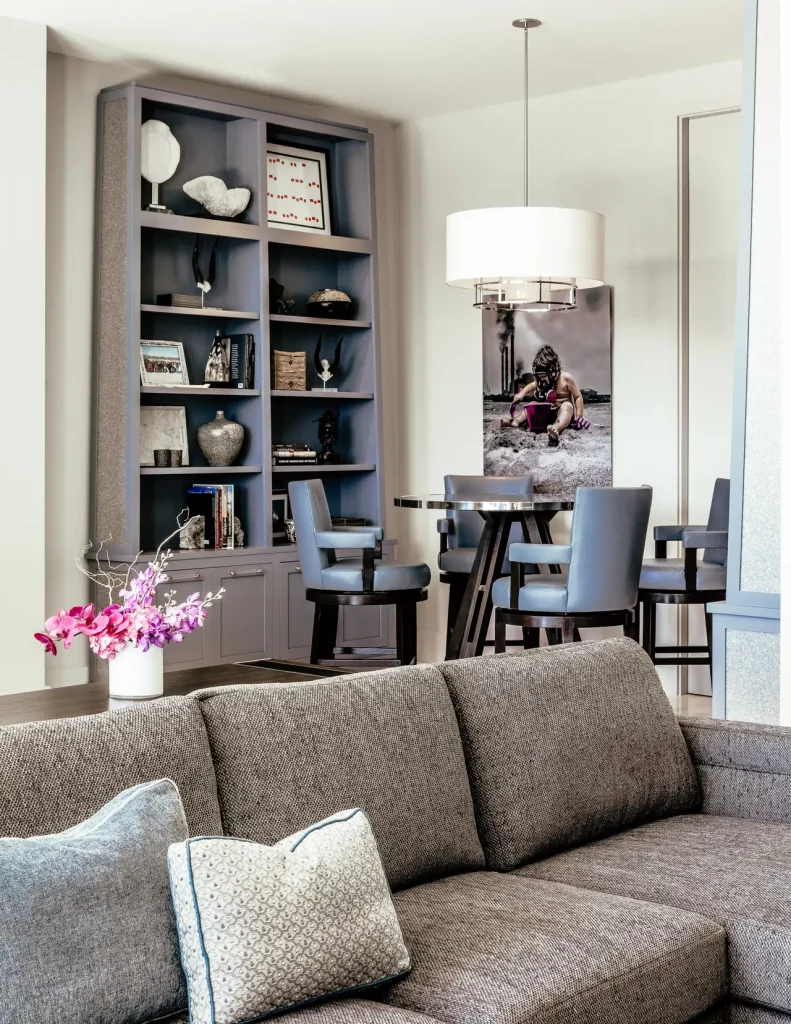 This wonderful modern house design ideally conveys what Tom Stringer intends with his projects. The comfort deserved in a distant experience, all within our own place. In this specific project we can see how the tradition of a reality so far removed from ours manages to be incorporated into our intimate space, offering a unique and cozy experience.
Certainly, something that travel lovers would like – find more inspirations at on our project page where we gathered the best of interior design projects by TAPIS Studio.

Photos: Jorge Gera