Let's Dive Inside Sonoma Valley's Modern Home And Explore How The Artistic Interior Designer Palmer Weiss Transformed An Abandoned Barn Into A Captivating Haven.
Situated in the gorgeous Sonoma Valley in California, a region known for its abundant natural beauty, there is an incredible story of inspiration and metamorphosis of a unique home, nature-inspired from inside and outside.
Let's start the enchanted trip through this tale of design and reinvention, where the artist Palmer Weiss merged with Nature to create a captivating home that revitalizes the tranquil embrace of the valley. In this house, every corner whispers of artistic synergy, where the boundaries between the dwelling and the wild harmoniously blur, allowing an organic elegance to flourish.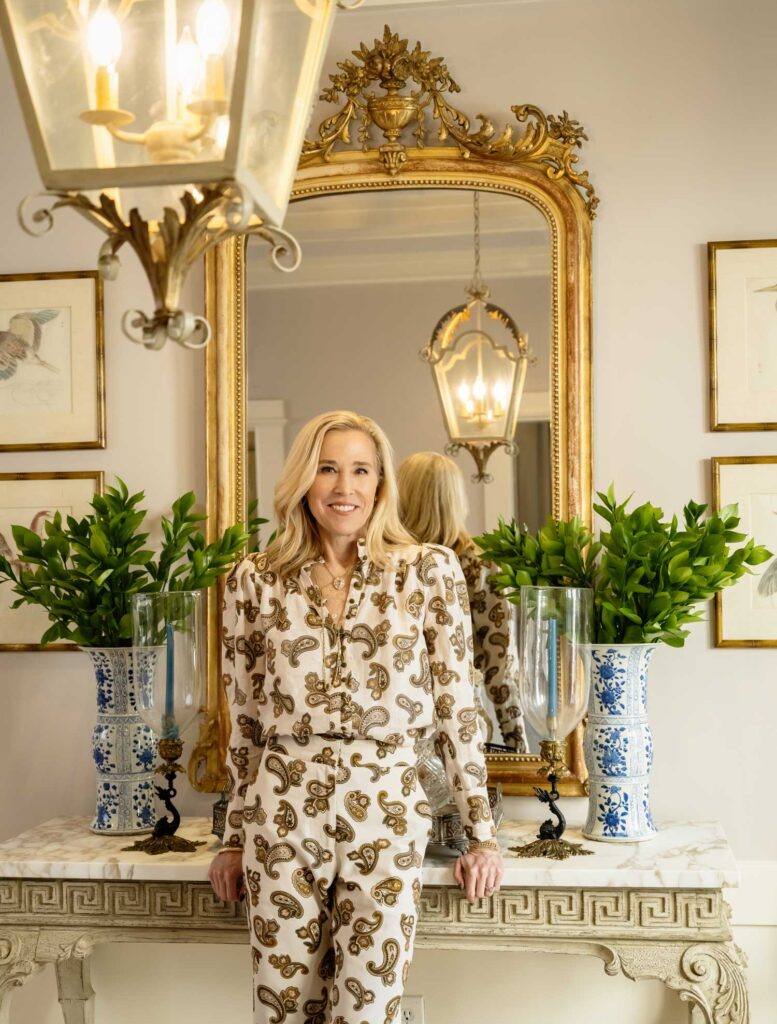 Enchanted Elegance: Sonoma Valley's Modern Retreat
The journey begins the moment you enter this fantastic work of art. The living room, dining area, bedrooms, and kitchen flow together to provide an open living environment. Here, the magic of design has captured the spirit of the homeowners' dreams.
As you step through this house, every corner sings with the artistic vision of Palmer Weiss, her touch extending even into the realm of lighting.
Starting with a welcoming red burgundy sofa invites you to sink into its embrace with its contemporary colors. A tasteful combination of form and function, seamlessly blending comfort and style by contrasting the color palette with soft beige pillows. Nearby, an array of elegant loveseats and chairs add to the room's allure and promising moments of relaxation, and a luxurious rug covers the expanse of the room with its soft fibers and green shades. This rug, a tactile delight underfoot, adds comfort and elegance to the environment.
A Tranquil Living Space: Where Nature and Artistry Merge
Moving to the second living room, an artful interplay of green hues inspired by the surrounding Nature sets the stage. A unique sofa graces the space, offering a sumptuous seat in a shade reminiscent of verdant foliage, effortlessly blending with the room's organic ambiance.
Beside it, a smaller sofa reflects the rich, earthy tones in the landscape. Completing the ensemble is a custom tufted lounge chair, elegantly echoing the valley's natural beauty.
All these elements unite to form a living space that mirrors the vibrant Sonoma Valley's outdoor area and transforms it into a haven of a serene, elegant modern home.
A Tranquil Living Space: Dining in Nature's Embrace
In the heart of this captivating dwelling, the dining area offers a beautiful view as large doors open to reveal the sprawling property beyond. Bathed in natural light, the room exudes a tranquil charm that harmonizes with the serene embrace of Sonoma Valley.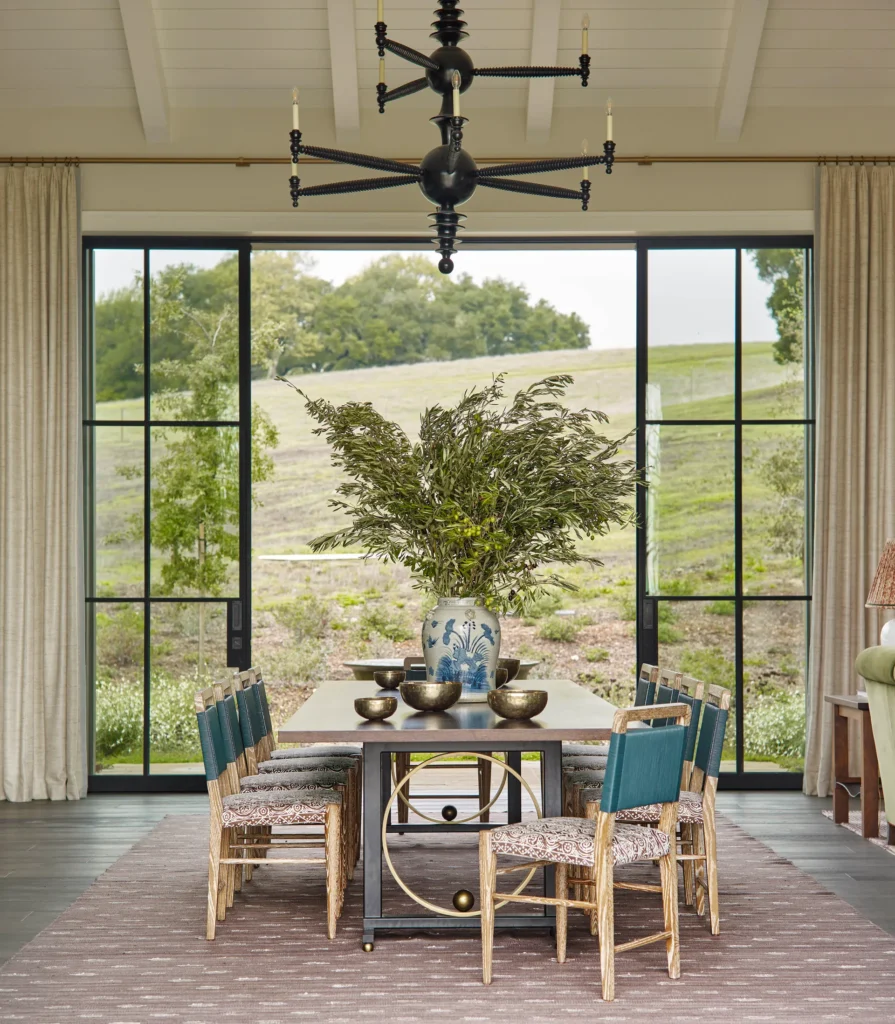 A wool rug with nude shades anchors the area at its center with an earthy touch. A bespoke chandelier casts an inviting glow over the space, matching this modern home style above the dining table and chairs, which exude an organic elegance with a touch of blue that perfectly complements the natural beauty of the surroundings.
A Tranquil Living Space: Rooms infused with Nature's touch
Starting with the first bedroom, a camel-tone headboard, and draperies create a soothing contrast with the soft green wallpaper. The bedframe and draperies were carefully crafted with white-beige tones, adding to the room's unique elegance.
This space exudes a sense of calm and artistry, where every element contributes to an inviting and harmonious ambiance.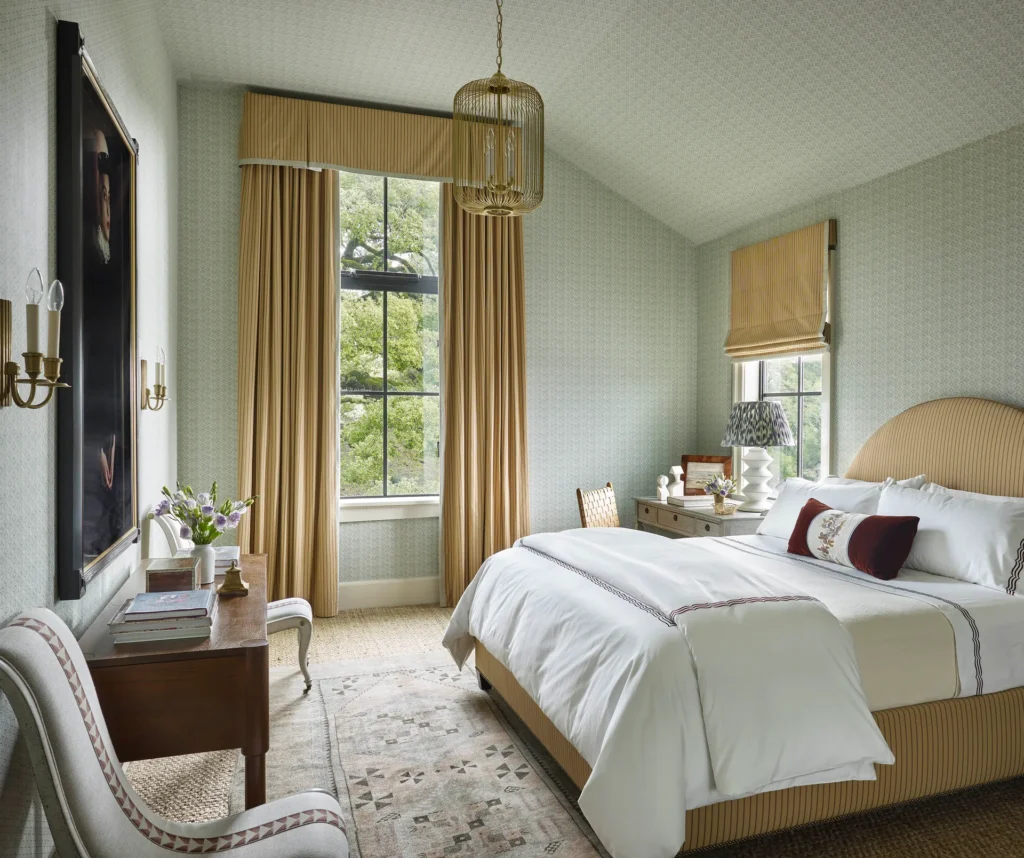 Moving to the second bedroom, a Bird and Thistle wallpaper creates a captivating atmosphere. The room features a chair upholstered in a complementary fabric and a distinctive bed, all surrounded by artistic touches, including a striking artwork above the fireplace and an eye-catching firescreen. This space is a testament to the fusion of artistic vision and natural charm, where every detail contributes to an inspiring and harmonious ambiance.
Green Serenity: A Bedroom of Pure Elegance
Passing to the other bedroom, a tranquil ambiance envelopes you as a soft, green-hued light gently bathes the space, casting a soothing aura.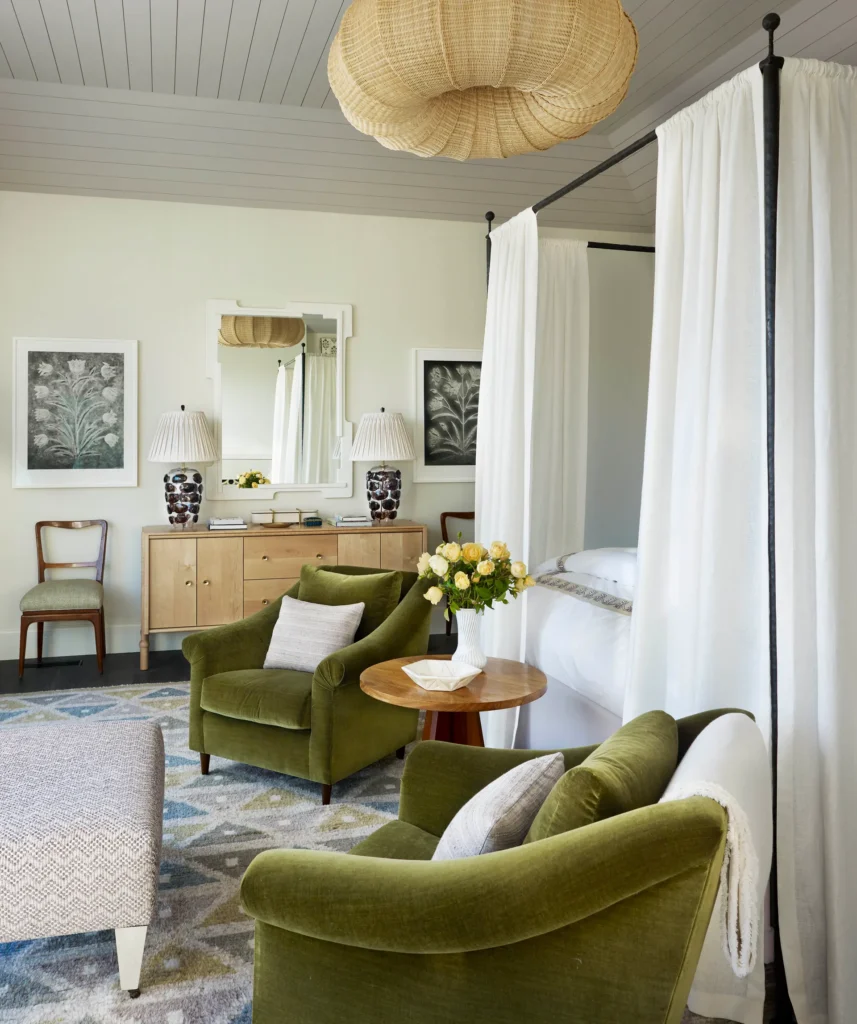 A gracefully suspended rattan fixture adds a natural elegance, perfectly complementing the room's centerpiece- a warm maple credenza.
The inviting green armchairs are adorned in a rich, velvety fabric that exudes an air of opulence and comfort. Their lush green hue brings a sense of serenity to the room, creating an inviting space that is both harmonious and refined, making it ideal for relaxation.
Beneath your feet, an exquisite rug unfurls in an intricate dance of geometric patterns connecting the elements of the bedroom. Triangles of soft blue and muted green, with delicate gray, combine to form a mosaic of understated elegance.
It infuses the space with a contemporary artistic touch in a modern home, grounding the room in a smooth palette of colors.
Enchanted Ourdoor: A Harmonious Space
In the open embrace of the outdoors, an architectural masterpiece finds its extension, echoing the vision of Palmer Weiss within this serene Sonoma Valley landscape.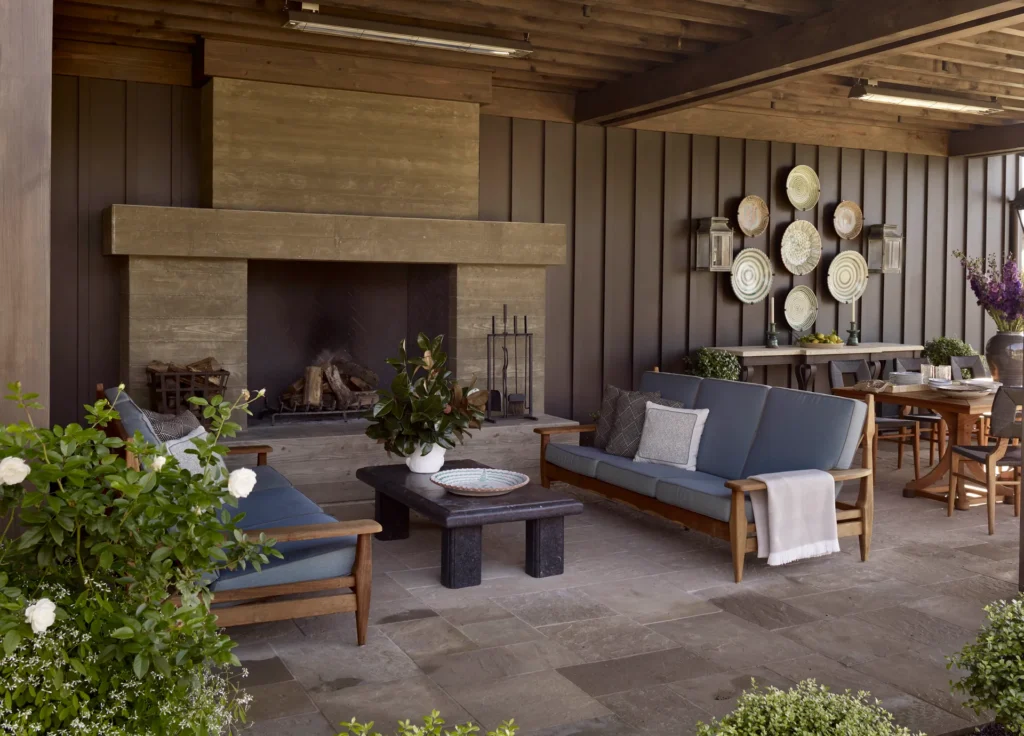 Here are two outdoor sofas in a calming blue-grey palette, flanking a central table. The space is crowned by a welcoming fireplace, where warmth and comfort meet the gentle rustle of leaves, providing an alluring ambiance to gather, relax, and savor the harmony between nature and design.
A Design Journey Unveiled in Sonoma Valley
In this captivating narrative of design and reinvention, we have unveiled a modern home in Sonoma Valley, where artistic vision meets the soothing embrace of nature. From the interior's artful elegance, the harmonious dining space, the tranquil bedrooms, to the outdoor retreat, every corner of this dwelling tells a tale of creative synergy and organic beauty. Through the artistry of Palmer Weiss and the architect's meticulous touch, this residence stands as a testament to the transformative power of design, offering a haven where one can truly live, relax, and rejuvenate in tranquil elegance amidst the enchanting landscapes of Sonoma Valley.
We hope this charming modern house has inspired you; we invite you to explore our website and discover our shaped collection to transform your living space with audacity.