We will present the three best ultramodern designs by Julie Hillman and explore their characteristics and particularities one by one
Julie Hillman is a renowned interior designer and one of the leading references in the industry. Julie began her adventure in the world of design in New York, where she studied interior design at the Parsons School of Design. However, the designer had already worked in several companies before founding her own design studio in 2002, Julie Hillman Design, located where it all began, in New York. Julie Hillman is known for creating sophisticated and elegant spaces for high-profile clients, including celebrities, entrepreneurs and business leaders. She is also renowned for her rigorous approach to design, combining high-quality pieces and bespoke details to create unique and timeless spaces.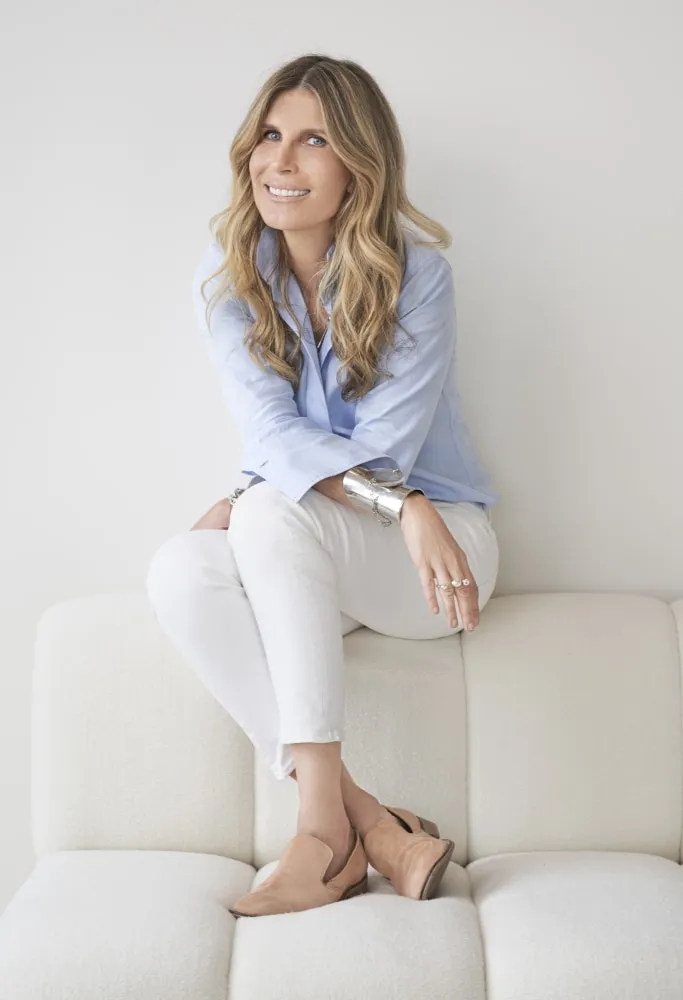 Julie Hillman already has more than 25 years of experience in the industry, where she has developed several skills around her favorite style. She brings an ultra-modern atmosphere to all her projects with her eclectic style, where she combines different traits with pieces of furniture from different periods.
Still, to add to her style, Julie Hillman never leaves out a touch of glamor in her projects. Its color palette is usually composed of soft tones, which corresponds to the expectations of the modern environment of the space. Colors such as white, gray and beige will be the most present in the environment, but colors other than these can also be present to give contrast and life to these spaces.
The projects
So let's present some of Julie Hillman's projects where her style and environments around the ultramodern intention in space are well demonstrated. Let's explore each one and talk about their characteristics and specificities, from the color scheme to the choice of furniture to the most meticulous detail that the designer brought to the project.
Sagaponack Home
The first project by Julie Hillman that we will analyze is called Sagaponack Home, a housing project located next to the beach, and it already demonstrates much of Julie Hillman's style and all the ultramodern style she works with.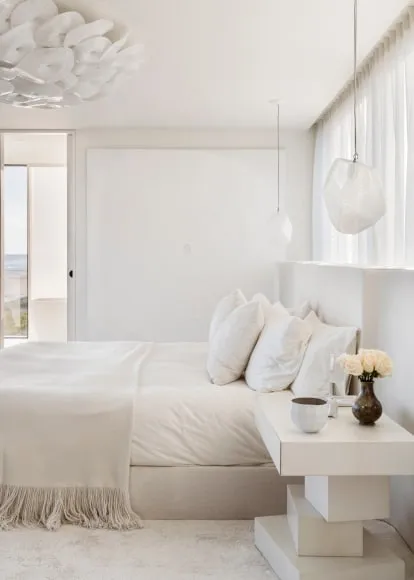 As we were able to verify, we have here a project in which the first characteristic that stands out will be the presence of a clean and smooth environment, with white practically dominating the entirety of the space. Still reconciling this basic and uniform color palette, we also have wide spaces and huge windows that carry all the natural light and the landscape surrounding the space.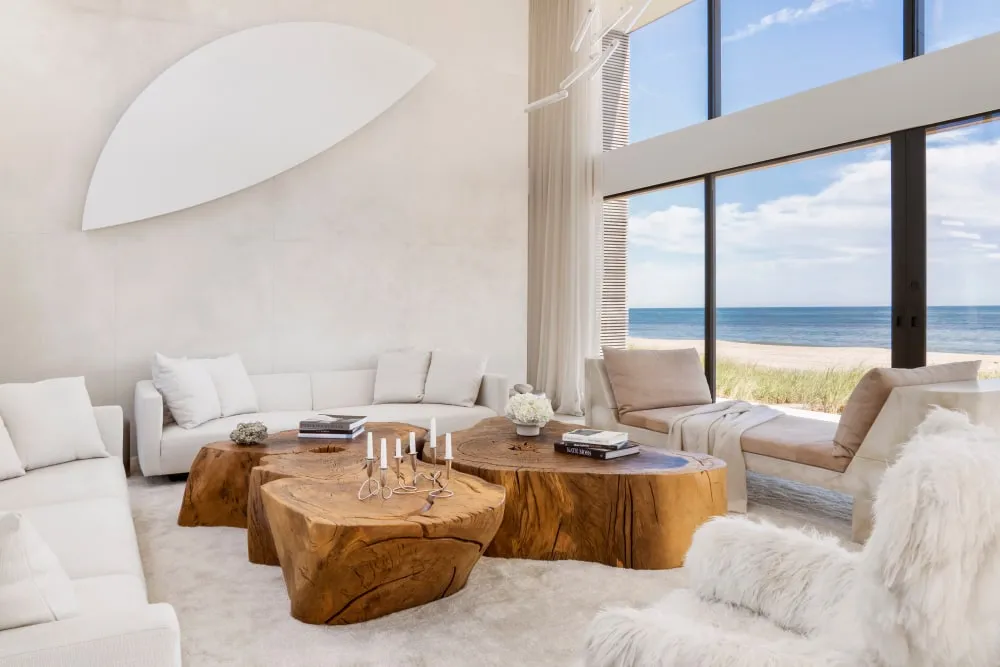 As we had previously pointed out, soft colors will be the basis of Julie Hillman's entire project, however, the presence of some elements that deviate from this trend was predictable. In this specific project, we have the incredible center table in the living room, which brings wood as an opposition to this space, which carries the intended contrast for this space, breaking its monotony.
To prove this same intention of the modern environment, we have characteristics that are based on this style. Furniture items with simple and minimalist features, as we can see in the bedroom, where we have a super simple and functional place.
Ocean Home
We are now moving on to another project by Julie Hillman, this one named Ocean Home. In this, we continue to bear in mind the trend of modern style as a basis, however, it presents some differences compared to the previously shown.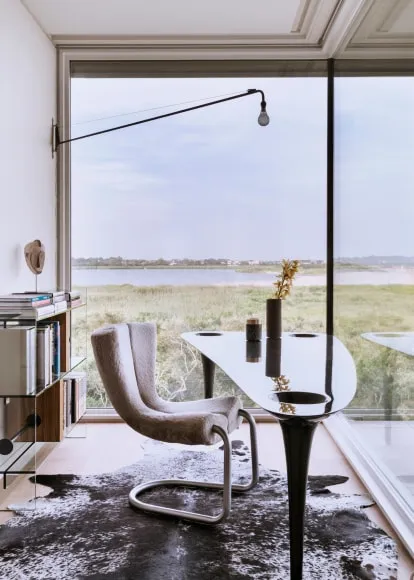 In this project, we continue to have the play of colors with softer tones as the principle of the space, however, we have much more recurrent elements of contrast throughout the different rooms of the house. We have many more details where we can see different colors concerning this same soft color palette. In social spaces, such as the living room, we have areas with less frequency of these exact contrasting details, but if we refer to the bedrooms, we have places that are entirely different from what is usual with the rest of the house.
The rugs are the best proof of this, with rugs in both bedrooms with bright colors and very different from the soft ones. We can understand this choice by Julie Hillman as something that the designer intended to create an opposition between social spaces and more personal spaces, giving life to the most private spaces of those who really enjoy this space.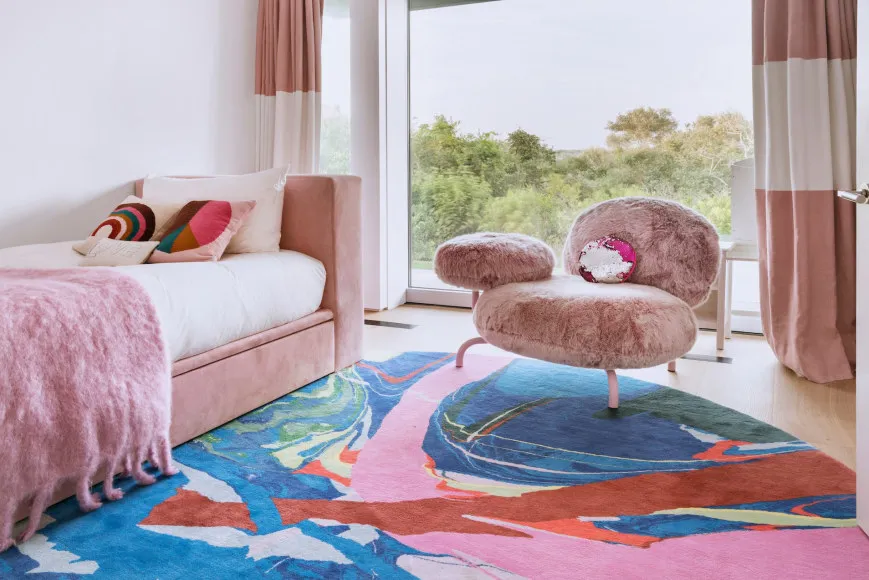 We were then able to understand that Julie Hillman manages to work differently on the same design style that she intends for each project itself, leading to the idea of the designer's intention to create a unique space. However, some characteristics are pillars in Julie Hillman's projects, such as the glamor and refinement of these spaces. This Ocean Home is really proof of that, taking into account that it is a project with so many differences in its style, we continue to have a place of luxury and refinement.
Park Avenue Skyscraper
We leave for the last project that we will present, the Park Avenue Skyscraper. In this one, we have once again a project where Julie Hillman works the modern style differently, and once again, the differences start from the color palette used in the project.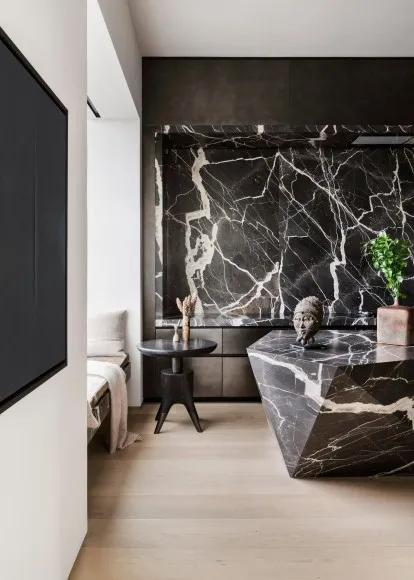 If in the last one we had a project in which the soft colors already had to share more space with the rest, in this one we have one where we can even say that those same colors lose their protagonism. Despite being present, colors such as white, gray and beige are no longer the color that reigns in the environment, becoming darker tones with more significant presence, such as black and brown.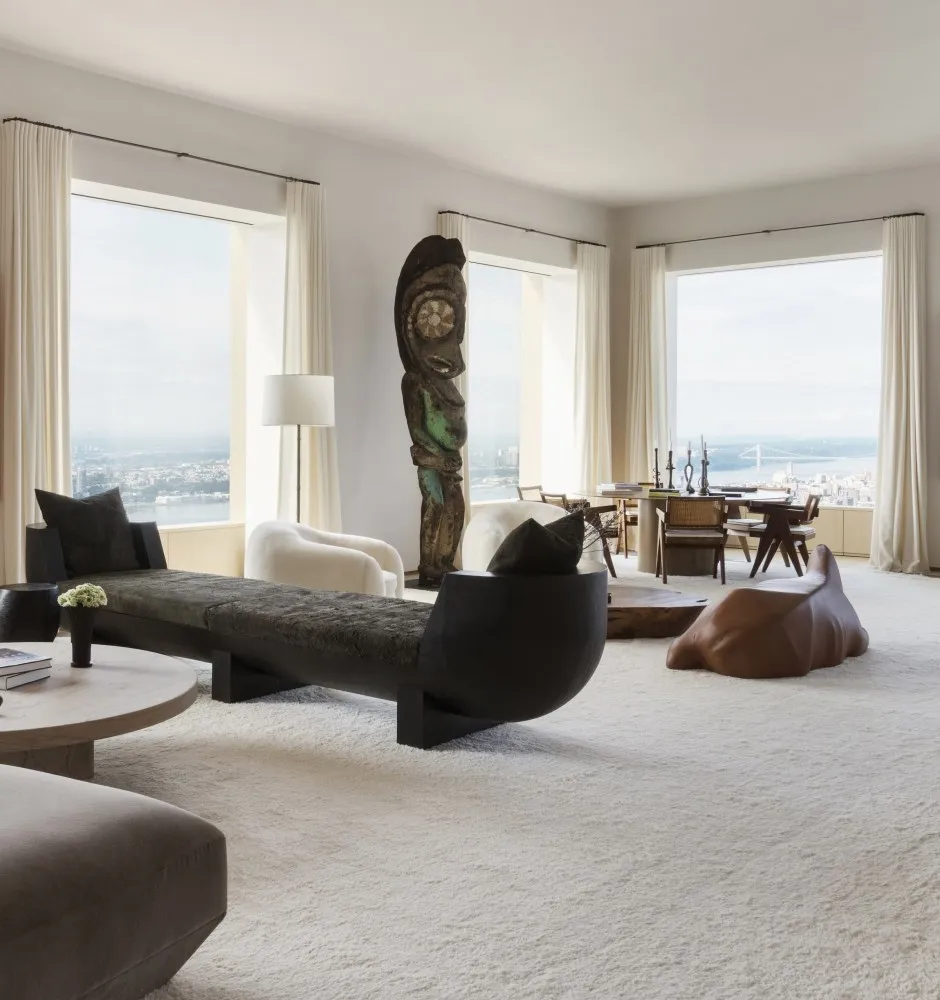 We can then check the way Julie Hillman worked on this project. Once again, refinement is the focus of her work, and the modern trend is the basis, accompanied by the indispensable traits of this style. Minimalist elements, simple lines and vast spaces, as we can see in the magnificent living room that this project presents, with an incredible black sofa in the center of this area and other spectacular furniture and decoration elements.
Unique style
We demonstrate the three best ultramodern projects by Julie Hillman and then check how the designer works this style in her projects, which, although in different ways in each of the projects presented, with similar characteristics and with a focus on creating a magnificent space. We hope it has inspired you, if you are looking for even more inspiration, you can visit TAPIS Studio where you will find the perfect rug for your space.