Discover the vibrant world of color rugs trends for 2024 and elevate your interior design projects. From jewel tones to earthy hues, our guide unveils the latest trends to bring artistry and style to your living spaces
When it comes to interior design, rugs play a pivotal role in creating a harmonious and inviting space. The right color rugs can tie the entire room together, and in 2024, we're witnessing a resurgence of exciting and bold color rug trends that can transform any space into a masterpiece. To help you stay ahead of the curve and elevate your interior design projects, we've put together this guide on the color rugs trends for 2024.
1. Light Earth-Toned Rugs
In 2024 is all about reconnecting with nature, and this trend is reflected in the colors rugs. Light earth-toned hues, including classic shades like ivory, beige, and taupe, are making a significant comeback in the rug design landscape. These timeless favorites have never really gone out of style, but they are now experiencing a resurgence in popularity as people seek to create tranquil, comfortable, and inviting spaces in their homes.
One of the significant advantages of using these light earth-toned color rugs is their timelessness. They are not subject to fads or trends and can endure through various design phases. This makes them an excellent investment for your home, as they won't go out of style and can adapt to changes in your decor.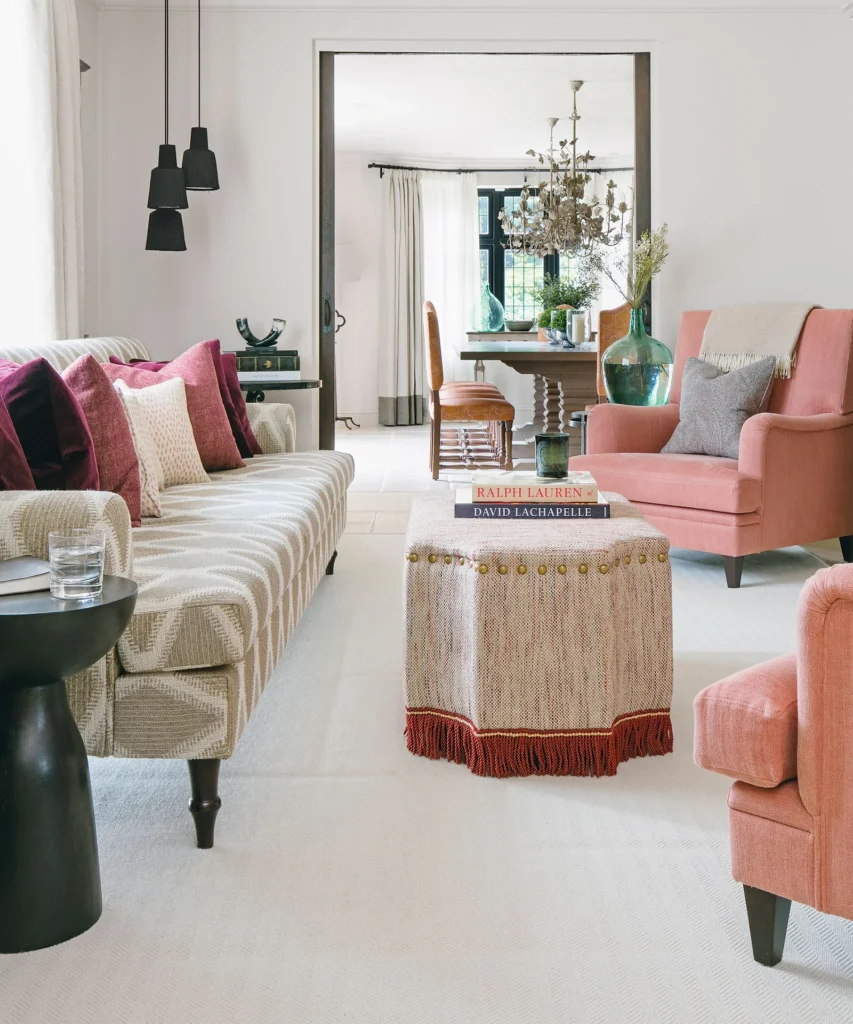 2. Mossy and Olive Green Rugs
Mossy and olive greens are deeply rooted in nature. These color rugs evoke images of lush forests, tranquil meadows, and the serenity of nature. When incorporated into interior design, they bring a touch of the outdoors inside, creating a calming and harmonious atmosphere.
What makes mossy and olive greens color rugs so appealing is their versatility. These colors work exceptionally well with a wide range of design styles. Whether you prefer a modern, minimalist aesthetic or a more traditional and cozy look, mossy and olive green rugs can seamlessly blend into your space.
3. Warm Rug Colors
Warm color rugs like sienna, umber, and terracotta are taking the interior design world by storm in 2024. These earthy hues exude a sense of warmth, comfort, and a deep connection to the natural world, making them a standout trend for color rugs and carpets. Let's dive deeper into this warm color rugs trend and discover why sienna, umber, and terracotta are becoming the go-to choices for many interior design projects.
These colors are also versatile and can be paired with various design elements. They work harmoniously with other earthy tones, neutral colors, and even bolder accents, allowing for flexibility in your design choices. Additionally, warm color rugs can visually expand a space, making it feel larger and more open.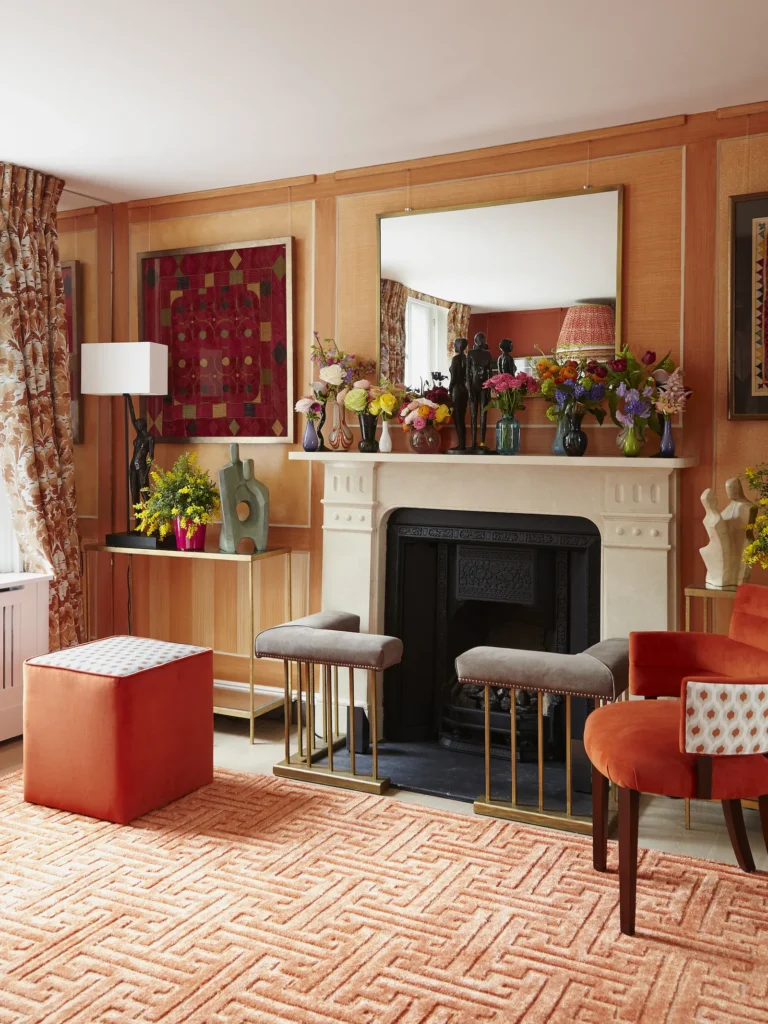 4. Natural color rugs
In 2024, one of the most captivating rug colors trends in the world of interior design is the embrace of nature and sustainability. This theme extends to the realm of rugs, where textured rug designs in natural colors are taking center stage.
The color trends are closely aligned with a desire to reconnect with nature and create sustainable, eco-friendly interiors. As a result, natural colors are making a profound impact. Earthy tones like warm browns, soothing beiges, sandy and cream are being embraced, evoking a sense of calm and tranquility within your projects.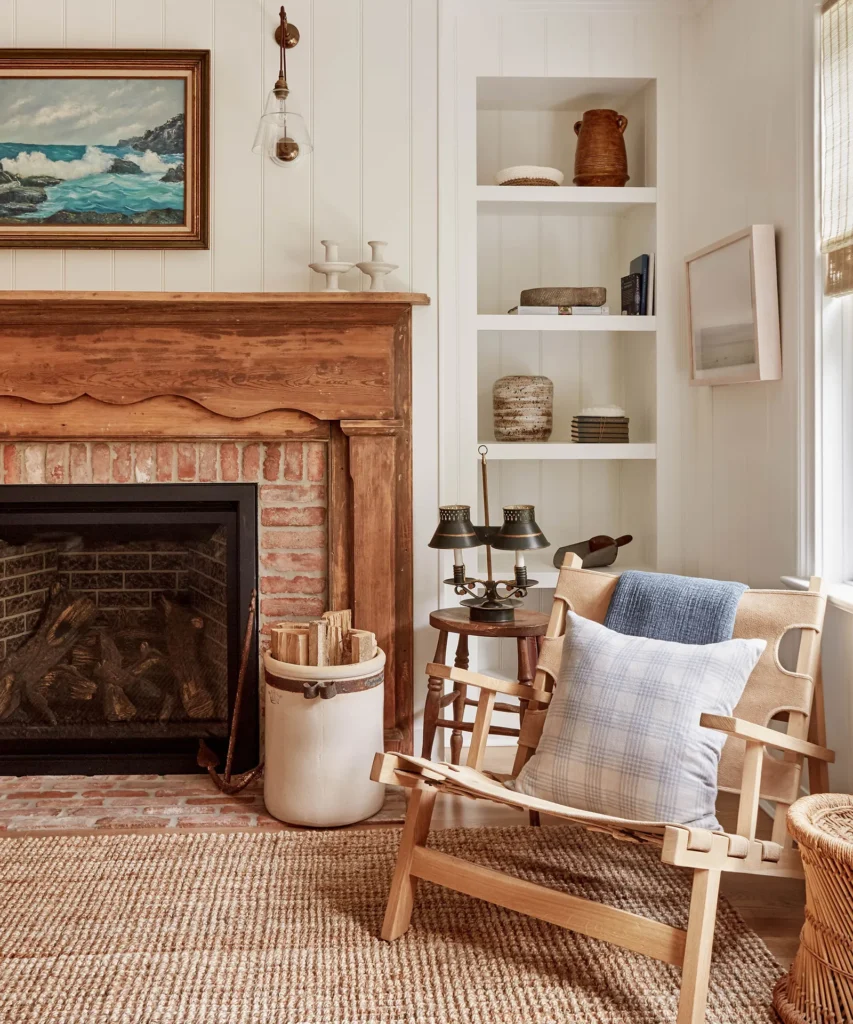 5. Natural Dyes and Wool Colors
Natural dyes and wool colors are set to make a significant impact on the rug trend scene in 2024. As the world becomes increasingly eco-conscious and environmentally aware, the use of natural dyes and wool in rug production is gaining popularity. This trend embodies a return to traditional, sustainable methods of creating rugs that are not only visually stunning but also environmentally friendly.
Using natural dyes and wool color rugs design also represents a connection to cultural traditions. Many artisans and rug weavers around the world have used these methods for centuries. By choosing rugs crafted in this manner, you're not only supporting traditional craftsmanship but also bringing a piece of history and heritage into your projects.
In the dynamic world of interior design, where trends come and go, the color rugs trends for 2024 offer a fresh perspective on how we can elevate our living spaces. From the resurgence of jewel tones to the serenity of earthy hues, the artistry of abstract designs to the timeless appeal of vintage rugs, there's a rug trend for every style and preference.
Amidst these exciting trends, the use of natural dyes and wool colors stands out as a testament to our evolving values and commitment to a more sustainable and environmentally conscious future. These color rugs not only bring authentic and unique colors to your interiors but also reflect a deeper connection to tradition and heritage.
As you embark on your interior design journey in 2024, consider how these color rugs trends can transform your living spaces into works of art. Whether you choose the vibrant colors of jewel tones, the calming embrace of earthy hues, or the eco-conscious elegance of natural dyes and wool, your rug selection can make a profound impact.
At TAPIS Studio, we're dedicated to curating a diverse collection of color rugs that embody these trends. We believe that a rug is not just a piece of decor but a canvas that can elevate your interior projects to new heights. Explore our color gambling collection for more inspiration.