The Kips Bay Decorator Show House Palm Beach 2023 is one of the most highly anticipated events in the world of interior design. Here's what to expect from this year's edition!
This prestigious event brings together the best and brightest designers in the industry to create stunning and innovative spaces that push the boundaries of what is possible. The sixth annual Kips Bay Decorator Show House Palm Beach opened on February 24 and takes place in West Palm Beach's tony Northwood Shores neighborhood. Is a must-see for anyone interested in interior design!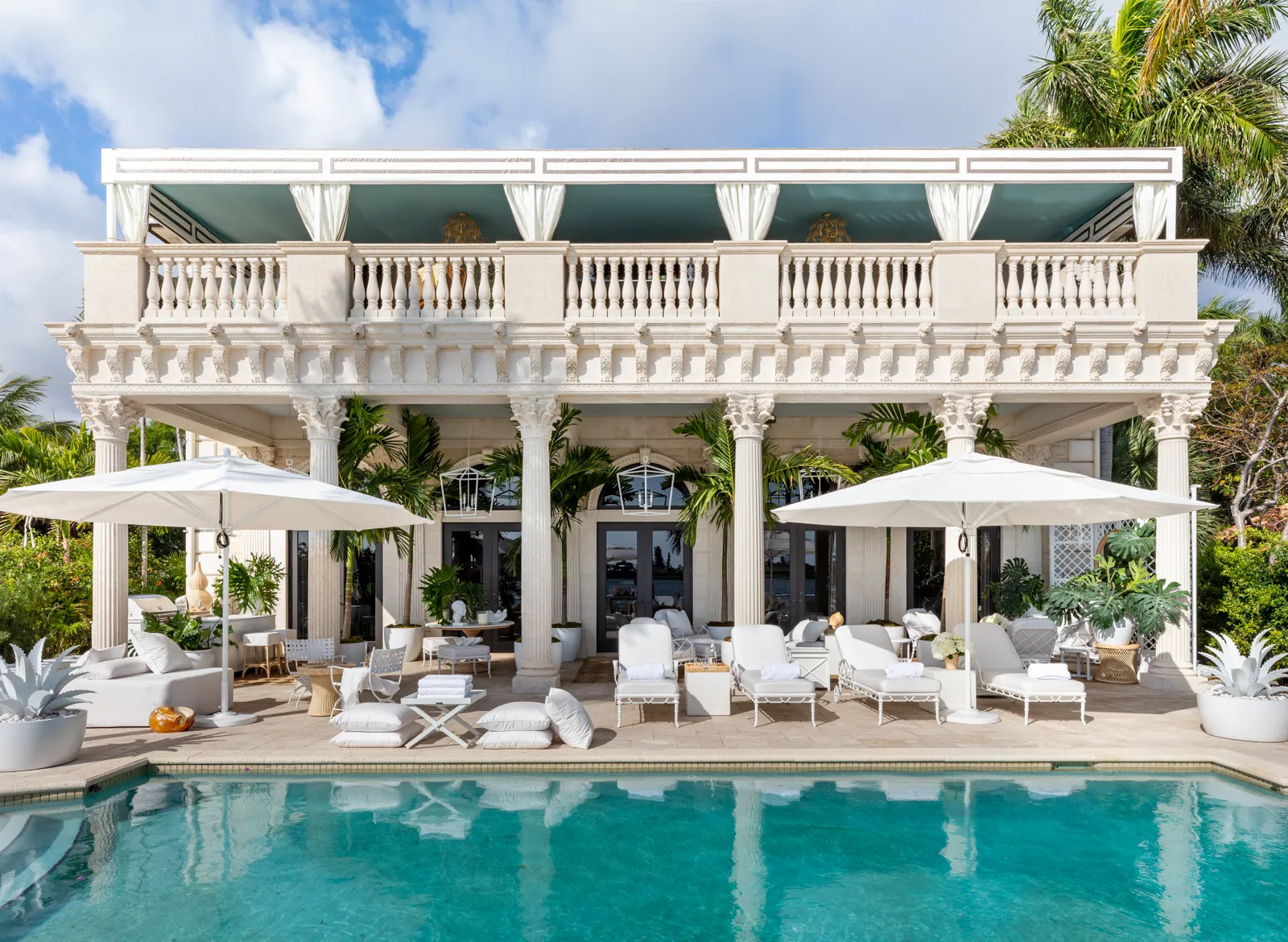 In this blog post, we'll take a closer look at some of the top names and rooms that make up this year's edition of the Kips Bay Decorator Show House Palm Beach. We'll explore the creativity and inspiration behind each designer's work, and discover what makes this year's show house so special.
The sprawling abode, which was built in 2007, is expected to welcome some 15,000 visitors who will be able to admire the splendid transformation of its rooms by 21 design and landscape professionals. Check it out!
The Kips Bay Decorator Show House Palm Beach
Every year, a group of renowned professionals is selected to transform a chosen property into a spectacular showcase of their talents, and anticipated trends in the world of interior design. For 2023, the sixth annual Kips Bay Decorator Show House Palm Beach opened on February 24th, 2023, and is located in West Palm Beach's Northwood Shores neighborhood.
This year's edition features some of the biggest names in the industry, and their creativity is on full display throughout the various rooms and spaces that make up the show house. The event features a diverse range of rooms, each designed by a different designer, and each with its own unique style and personality. From luxurious bedrooms to elegant dining rooms, the designers have transformed each space into a work of art that is sure to inspire and impress! Fall in love with some of the spaces:
The "White Lotus" Entryway by Studio Thomas James
One of the standout rooms in this year's show house is the entryway, which was designed by Phillip Thomas Vanderford of Studio Thomas James. Inspired by Sicilian architecture from the HBO series "The White Lotus", he transformed a space clad in patinated limestone from Palm Beach into a grand foyer to welcome visitors in style. He embraced the existing architecture and embellished it with opulent materials and finishes, such as Italian frescoes, lacquered beams and moldings in New London Burgundy, a Murano glass chandelier from Baker Furniture, and sumptuous burgundy velvet curtains from The Shade Store. Vanderford mixed Memphis Milano-style furniture with curved Cassini chests from MOUS to give the Palm Beach foyer an Italian feel. The result could not be different: a space rich in detail and reminiscent of the true grandeur of an Italian palazzo.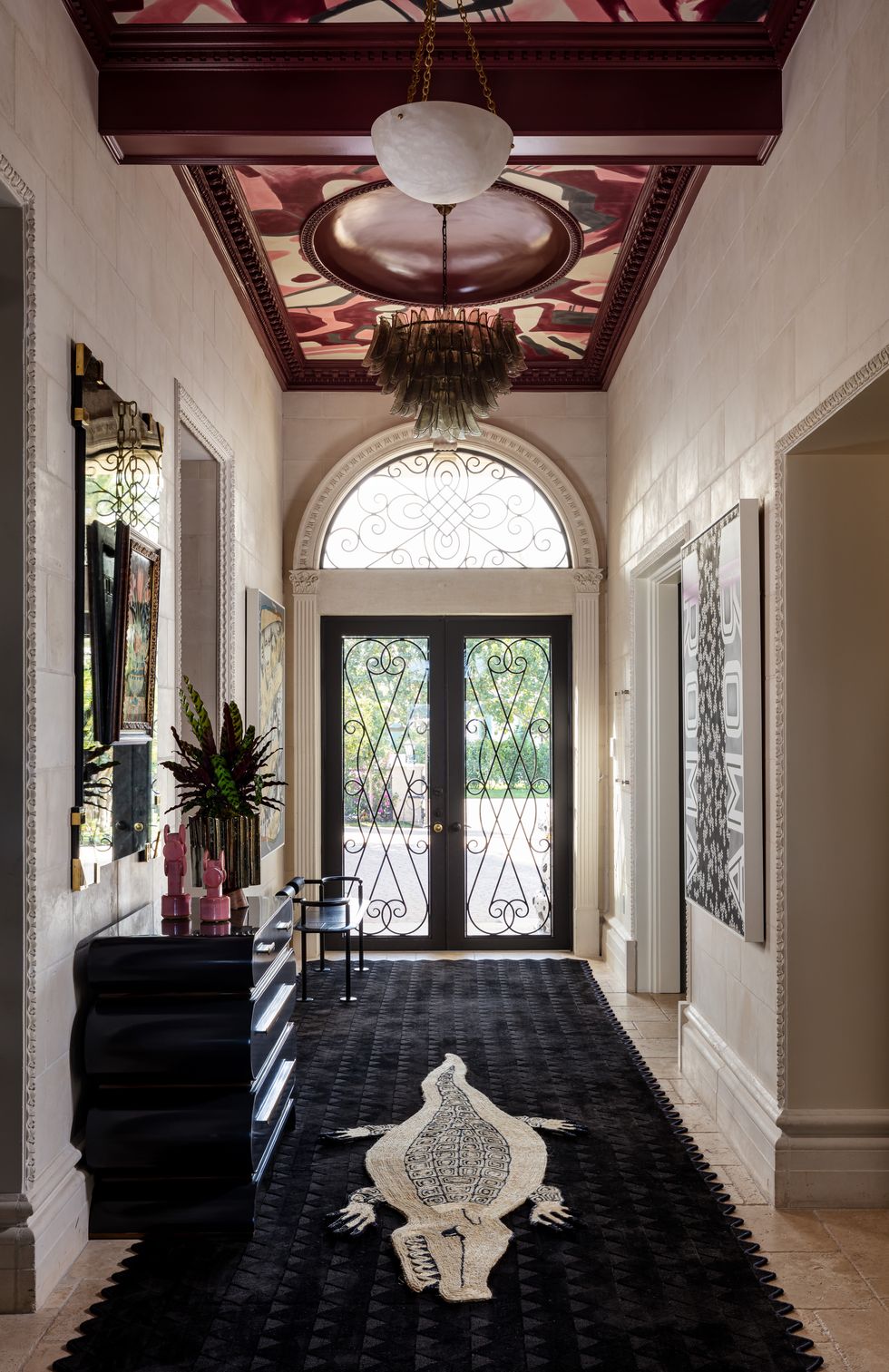 Study by Lucy Doswell Interiors
Another notable room in this year's show house is the multifunctional office in inspired by old English libraries with a tropical twist, created by designer Lucy Doswell. She combined contemporary touches with personal items, books, and hand-painted gold wave patterns to highlight the architectural details. The gallery wall is anchored by a photograph of Cuban palm trees by Andrew Moore and several pieces found at auctions. A fun Fortuny-inspired pendant with a Samuel & Sons tassel emphasizes the ceiling height, while a kilim-style Indian wool rug grounds the room in beautiful geometries.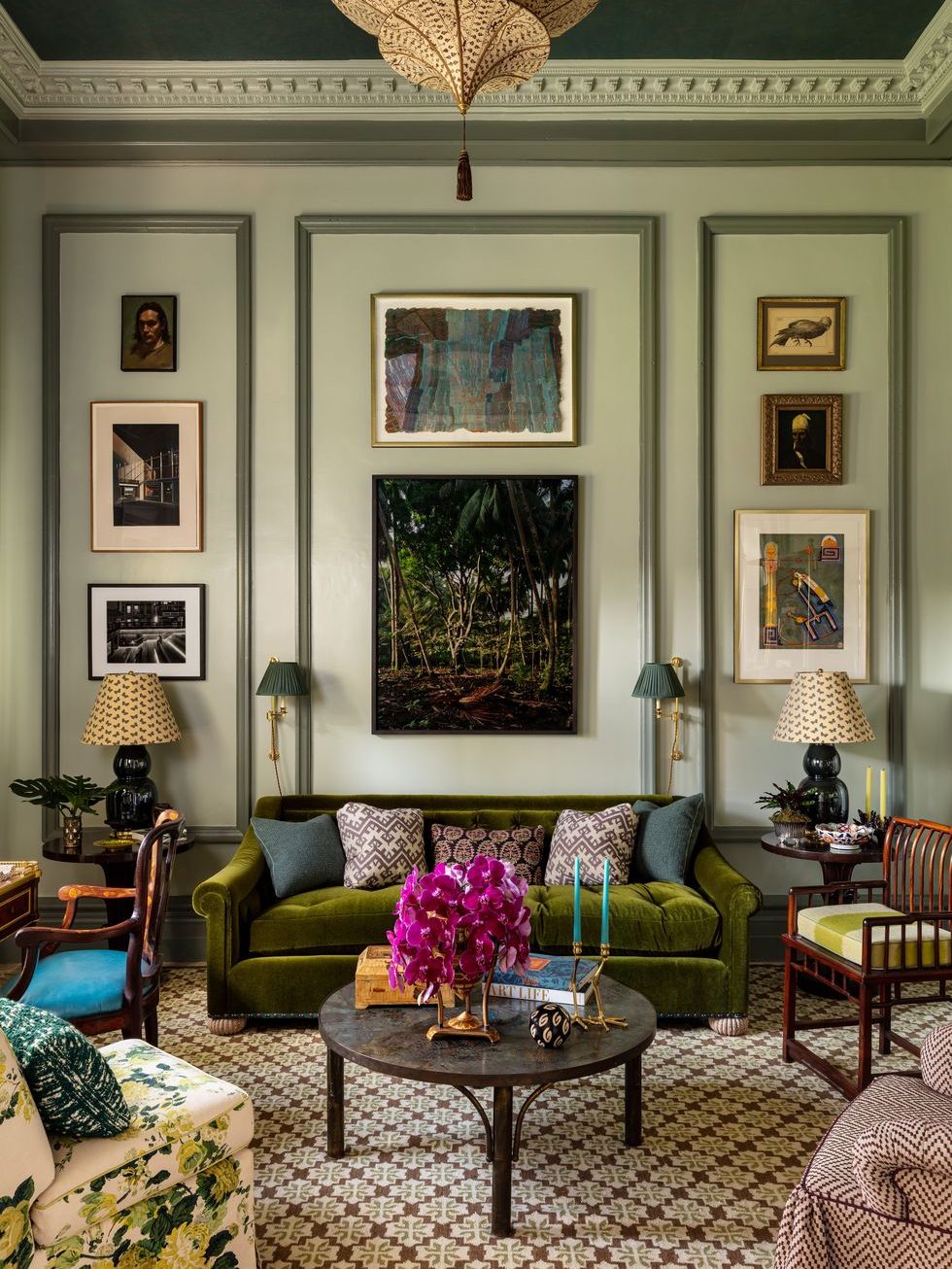 The Great Room by Amanda Lindroth
Amanda Lindroth created a large, airy room inspired by elegant salons overlooking the French Riviera. The mint-green walls feature a hand-stamped lattice motif and large windows framed by linen curtains offer views of the Intracoastal Waterway. The room is anchored by a collection of important antiques, combining regency-style consoles with Trumeau mirrors and Rouge Antique de Gréce marble orchid stands. For a tropical feel, Amanda added white cotton sofas and rattan armchairs, as well as aquatic accents such as Melanie faux oxford fabric pillows from China Seas, a Hollywood at Home ottoman, and glowing lampshades over brass bamboo floor lamps.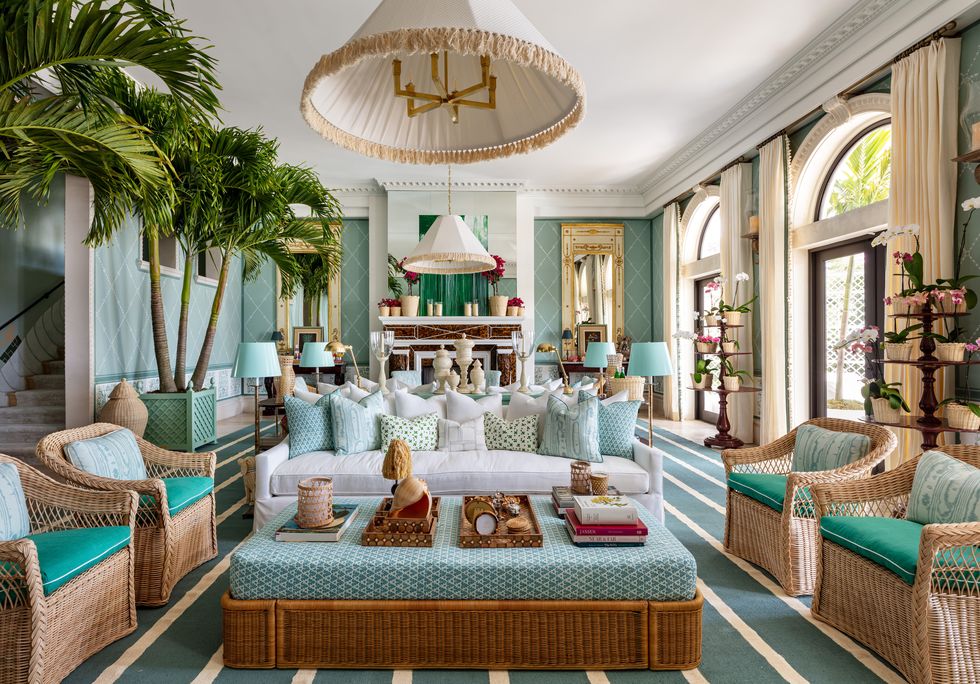 The Powder room by Lindley Arthur Interiors
Lindley Arthur Interiors took inspiration from Tom Scheerer's designer salon in the Bahamas to create a Palm Beach powder room that is traditional, yet bold and glamorous. The designer used Rosa Grecia tiles from Artistic Tile, Roman shades from The Shade Store and Samuel & Sons ornaments, plus memorable garden benches and contemporary artwork by Cate West Zahl. Gracie wallpaper in a peach tone is the designer's favorite look and sets the overall tone for the decorating scheme.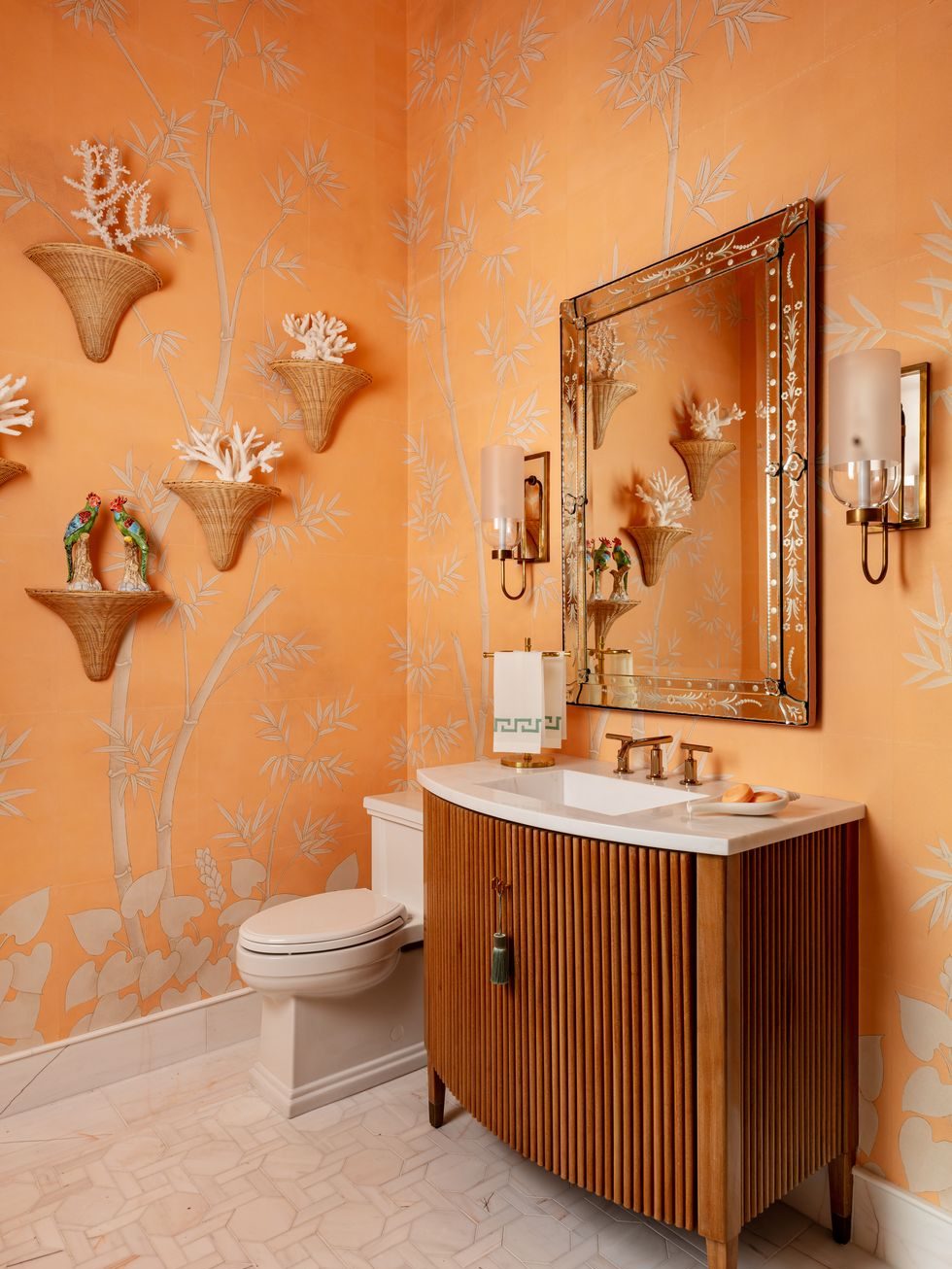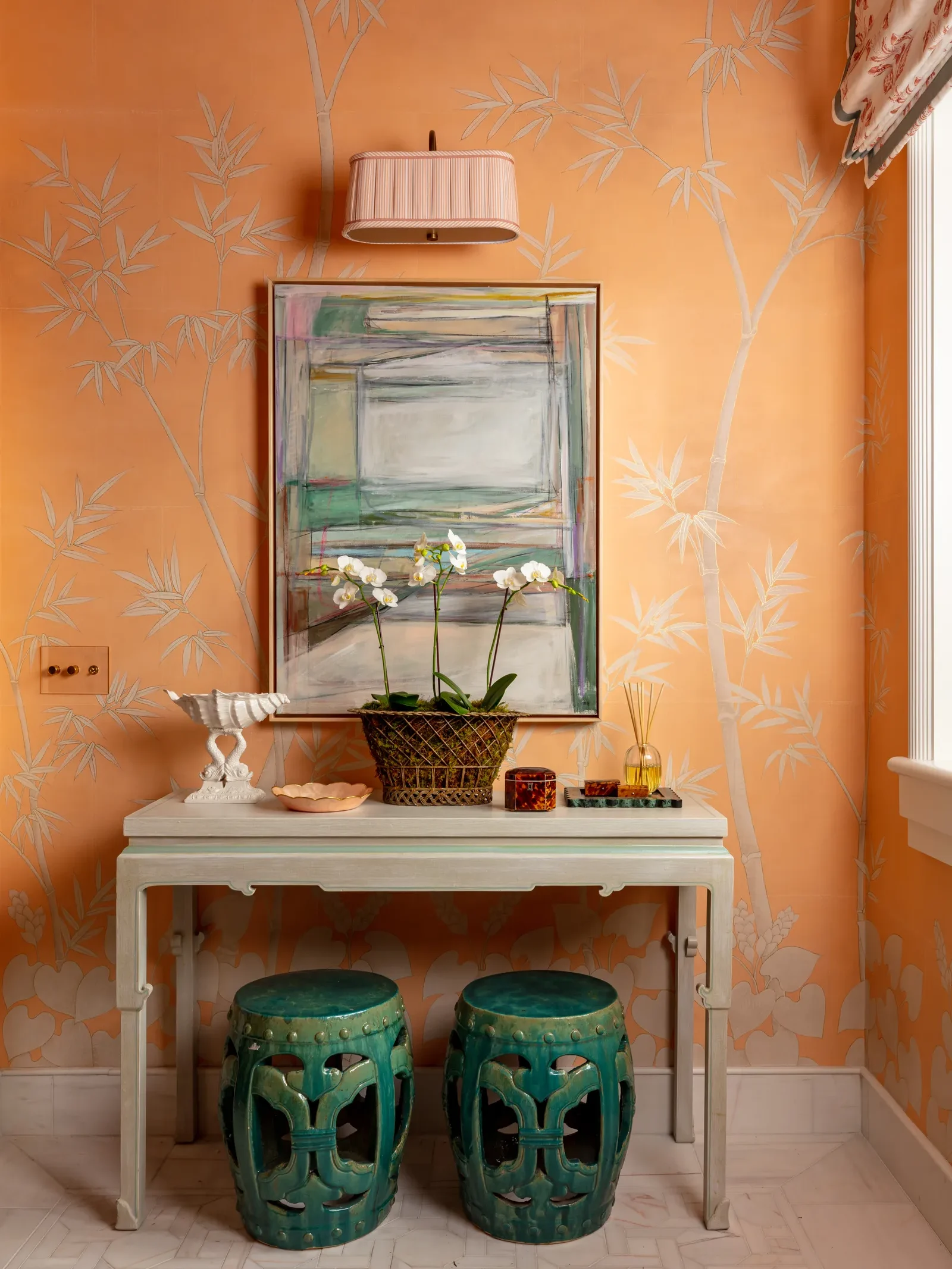 The Kitchen by Christopher Peacock
The cabinet designer Christopher Peacock believes that kitchens are multifunctional rooms that should be tidy. That's why his work for Kips Bay Decorator Show House Palm Beach features a spacious, gleaming kitchen in contemporary style. The walls are enlivened with expanses of blue and gray stripes by York Wallcoverings, and the kitchen features an array of Jenn-Air appliances. According to Peacock, the previous kitchen was old-fashioned and uninviting, so he opened up the room, brought in some color and drama, and liked the shelving that extends through the window openings, creating a useful bonus space.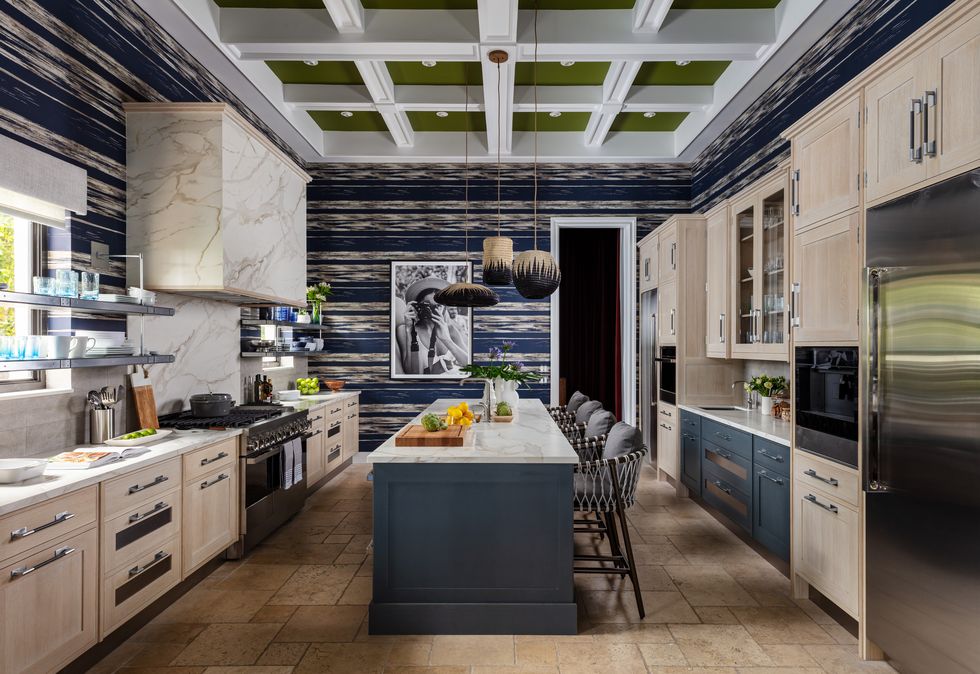 The Bedroom and en suite by Mabley Handler
"You need to see the old Florida to understand what the new Florida should look like," says Jennifer Mabley, responsible for the reinvention of the Kips Bay Decorator Show House Palm Beach guest room inspired by Addison Mizner's Mediterranean vernacular. The space features a tropical mural by Gracie, a sage-green trellis on the ceiling, and playful finishes on traditional furniture, such as a pink lacquered hanging desk and a gray canopy bed by Palecek. Fabrics include a Harlequin coral reef bench, shimmering curtains, and peach linen pillows by Morris & Co. The highlight of the bathroom is the handmade mirror.
These are just a few examples of the stunning rooms on display at this year's Kips Bay Decorator Show House Palm Beach. Each designer has brought their unique style and vision to their respective rooms, resulting in a show house that is both beautiful and inspiring.
The event is open through March 19 and serves as the premier design event of the year in the country and benefits the Kips Bay Boys & Girls Club's and Boys & Girls Clubs of Palm. Beach County.
Did you like our tips today? Then be sure to also check out TAPIS Studio's projects page and take the opportunity to complete environments in a unique and stylish way!