Let's explore some of Ken Fulk's projects and all the singularities he brings to his projects.
Born in Virginia, Ken Fulk is a designer known for his interiors that go beyond the barrier of housing projects, even designing restaurants, hotels, jets and planning birthdays, weddings and dinners. Based in San Francisco and New York, Ken Fulk Inc. It has a team of more than 80 people, extends throughout the US, and covers the Mexican country and even Provence, a region in southeastern France.
However, Ken Fulk has expanded his impact beyond the boundaries of design. In 2018 he founded the Saint Joseph's Arts Foundation, a non-profit organization dedicated to supporting local artists in San Francisco and Provincetown.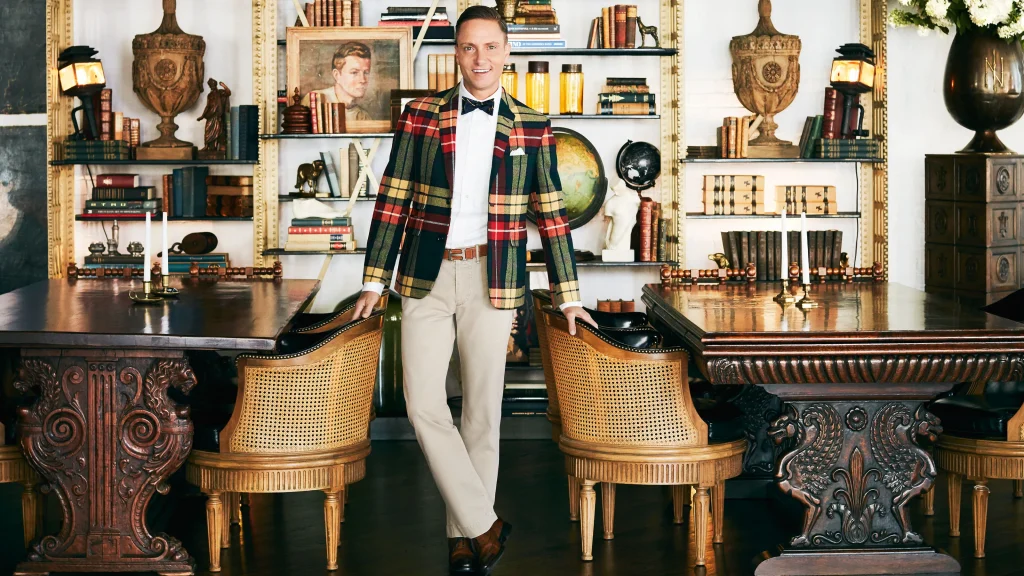 Projects
We will travel between the projects of Ken Fulk and his team, where we will enter through their housing projects and exit through more varied projects, such as a restaurant.
Hill House
A luxuriously decorated family home in Healdsburg, California, overlooking the private beach and 50 hectares of vineyards. This is the first project that we present by Ken Fulk, and as much as it may not seem, we chose this one first because it is perhaps the easiest to characterize.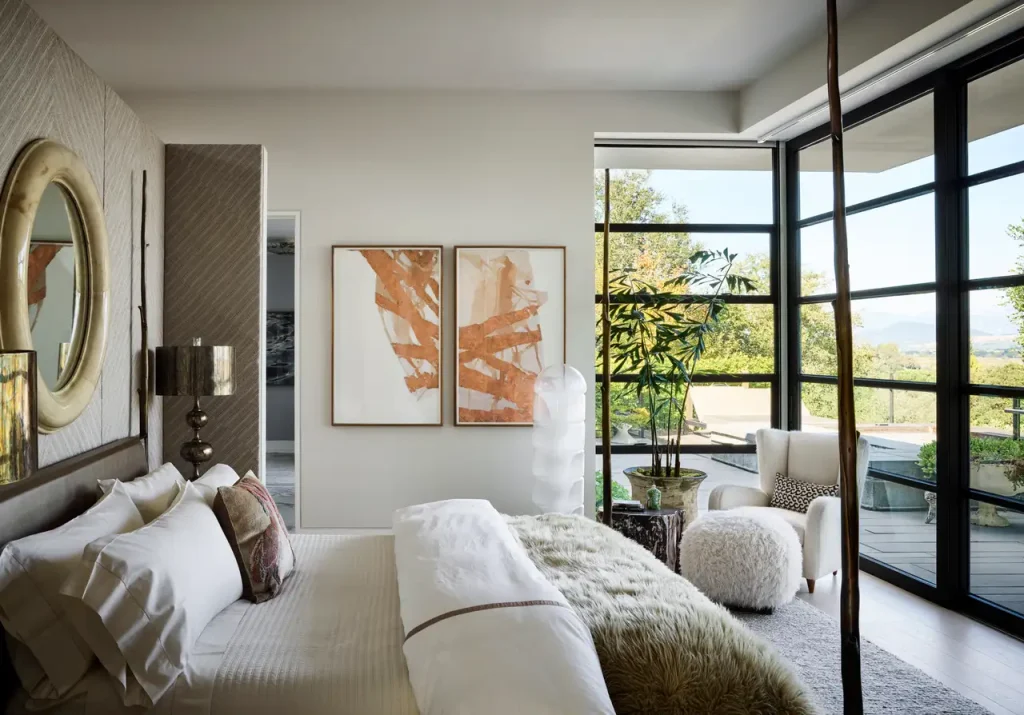 It carries a modern style and it is the play of colors that we witness first. Soft colors throughout the house are the most common, with the combination of white, beige, brown and black being very present. Some details in orange and green stand out in conjunction with the vegetation in the environment. The designer's willingness to contemplate this place with unique and expressive furniture is also noticeable, leaving aside any minimalist tendencies.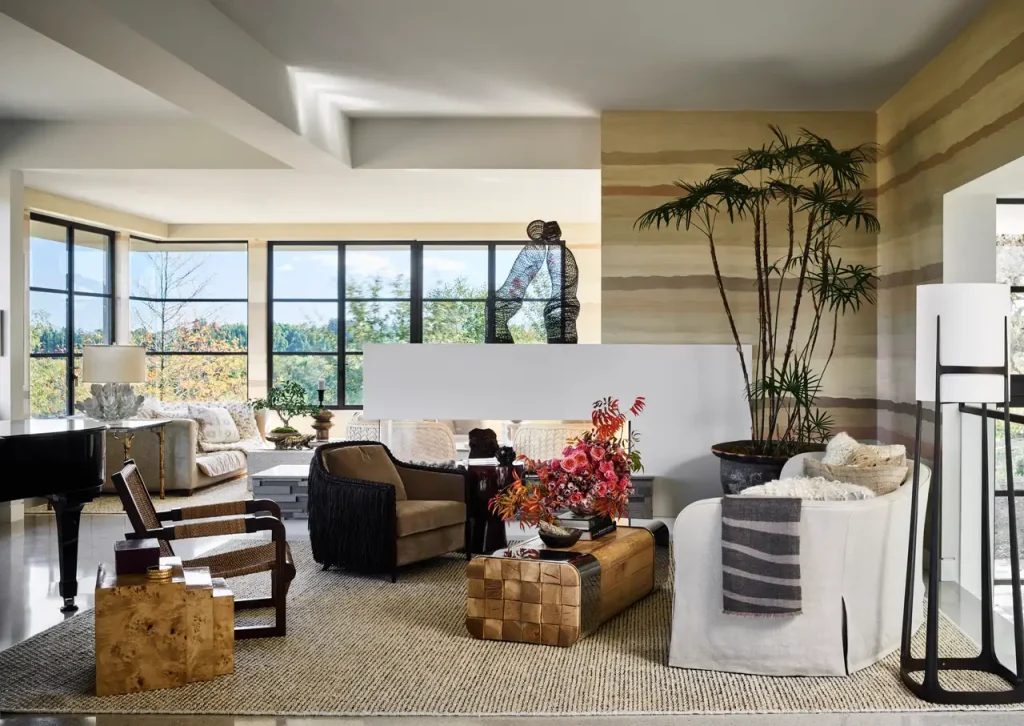 This living room is the perfect example to demonstrate Ken Fulk's intention to lead this space toward a maximalist style. From the sofa to the stunning painting, the designer was concerned with making this environment unique and cozy for those who enjoy it.
He also didn't skimp on details, proving this continuation of the maximalist trend, with a decorative item always complementing every possible space, as we can see on the center table.
The Lake House
We continue in California, this time in the city of Sonoma. This vacation home was inspired by a Victorian-era hotel and was designed to become the ultimate retreat for a family of 5. It has eight bedrooms and a fabulous lounge overlooking the lake.
In this project, we have already begun to understand more about which side of interior design Ken Fulk focuses on. We will present you with those traits that characterize the very peculiar style the designer introduces to his creations.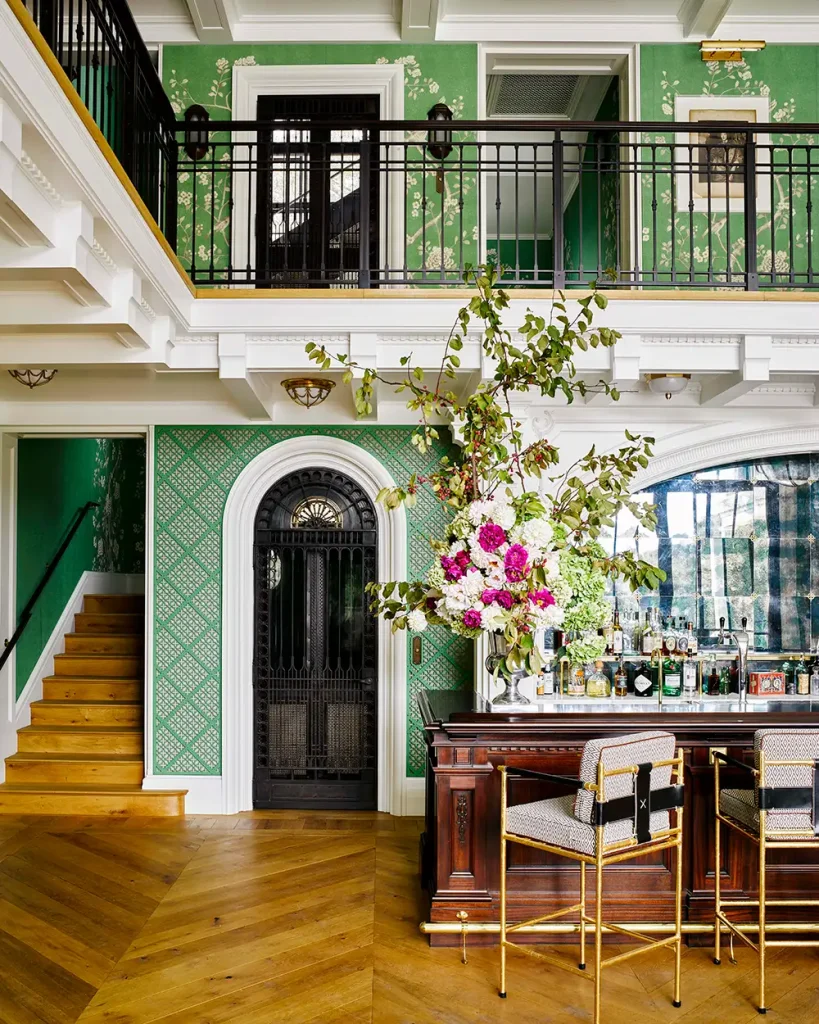 As this Lake House is so large, we noticed the concern on the part of the designer in trying to avoid the monotony of the space, which is that the bigger it is, the more challenging it becomes. To combat this, Ken Fulk chose to give each area a life of its own, that is, a different personality for each room in the house, as we can see right away by the difference in colors that Ken chose for each one. In this way, he managed to divide the house into different zones, with the purpose of each leading to a different feeling and treatment.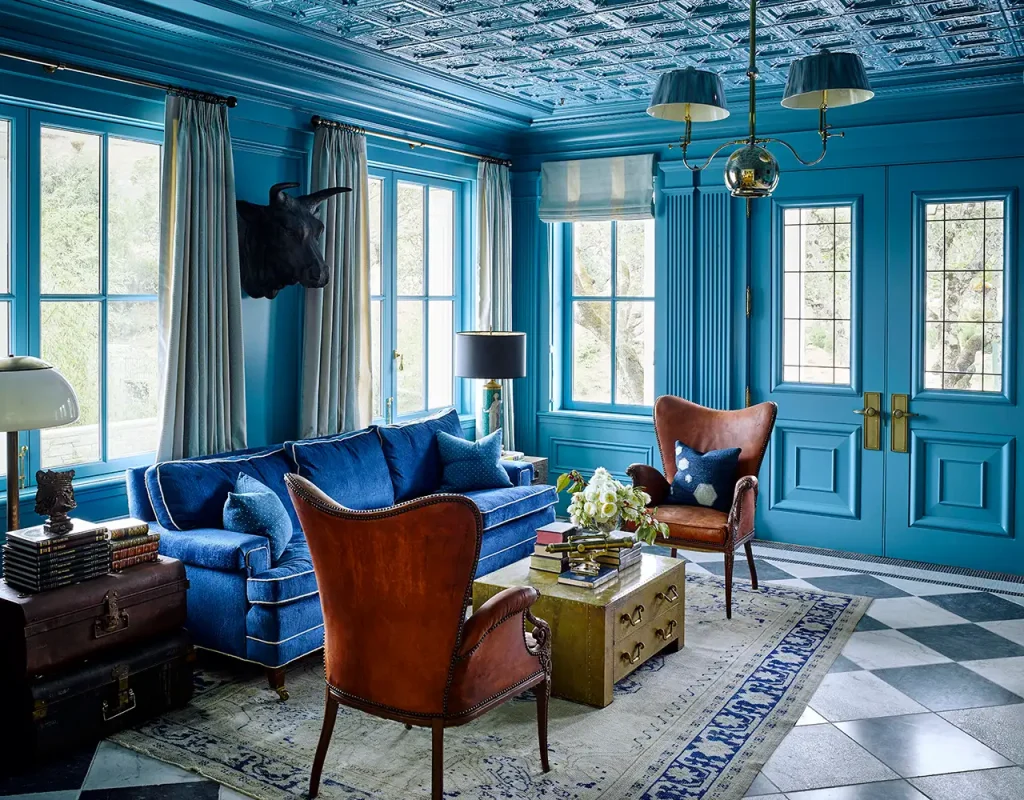 In this house, the intention to create a place of comfort and rest was very explicit, which is perfectly understandable, considering that it is a vacation home. The use of landscaping was also very well explored. The saloon is one of the protagonists of this project, with several outstanding elements, from suspension lamps to the bar chairs. This space is a true example of the maximalist style that Ken Fulk designed.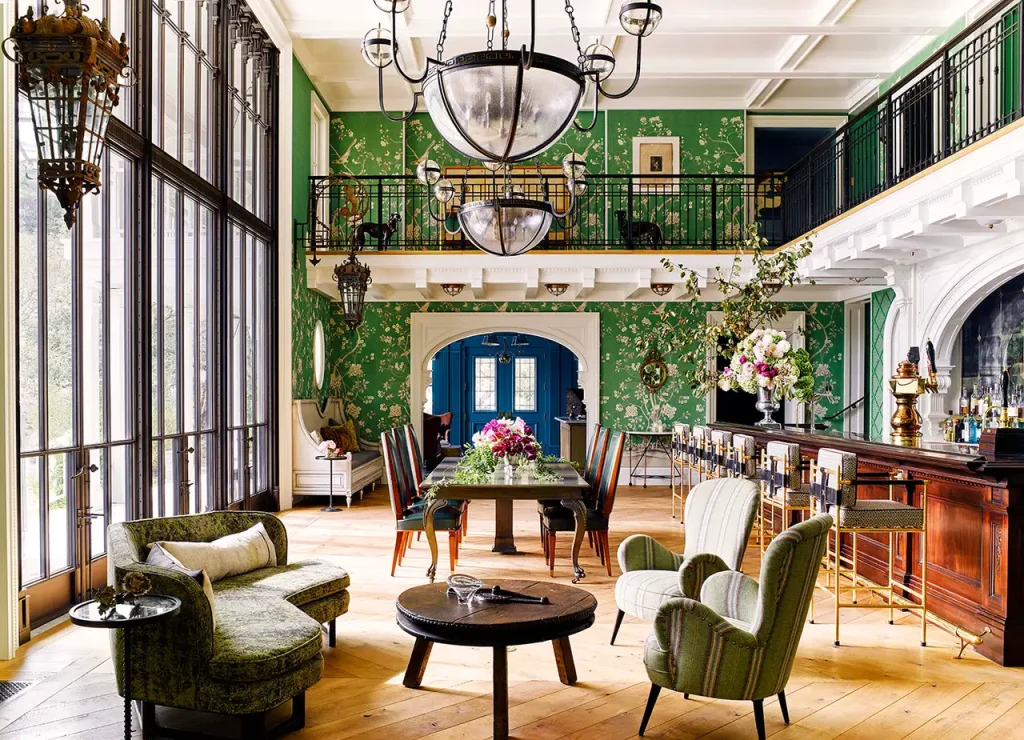 Kips Bay
We leave California and travel to Dallas, Texas, where we will find Kips Bay. This will be the last housing project we will present here, and we have saved the most peculiar for last. Peculiar is not the only adjective that will come to mind when seeing this space, maybe something like eccentric and strange will also come to mind.
In addition to the maximalist tendency we have been exploring so far, this project presents a feature that we had not seen in Ken Fulk's work before: the Art Deco style.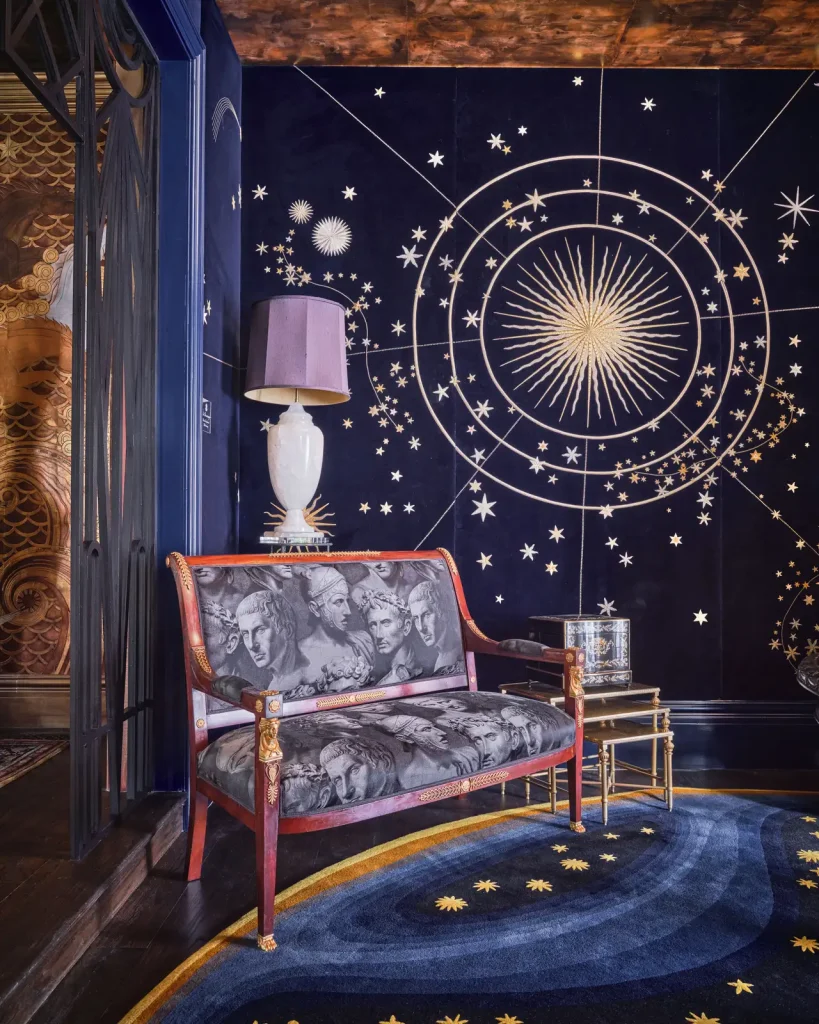 With clear allusions to astrology, this space was designed to be totally unique and tailored to the user, bearing in mind that it has so many unusual features and references. Despite the atypical area, this remains a magnificent space created by Ken Fulk, with the association of dark blue with gold very well used. Details are highlighted, and each brings something more to the room. Finally, we couldn't miss the stunning rugs that this place presents.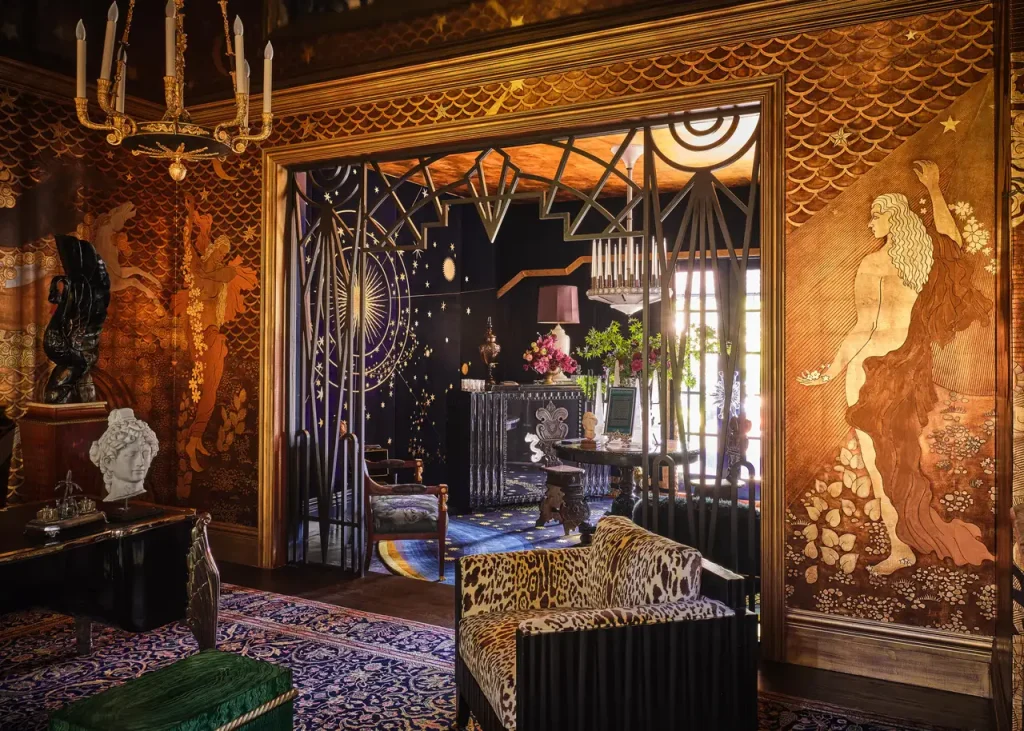 Leo's Oyster Bar
We returned to California, but this time with the final destination in San Francisco. This time we show a restaurant project, which, as we mentioned earlier, is another of the types of spaces that Ken Fulk works with. This is a seafood restaurant by the Big Night Restaurant Group.
What stands out at first glance is the stunning wallpaper chosen for this space. The tropical reference throughout the area shows us the chosen theme, which is also understood considering the type of restaurant we have here.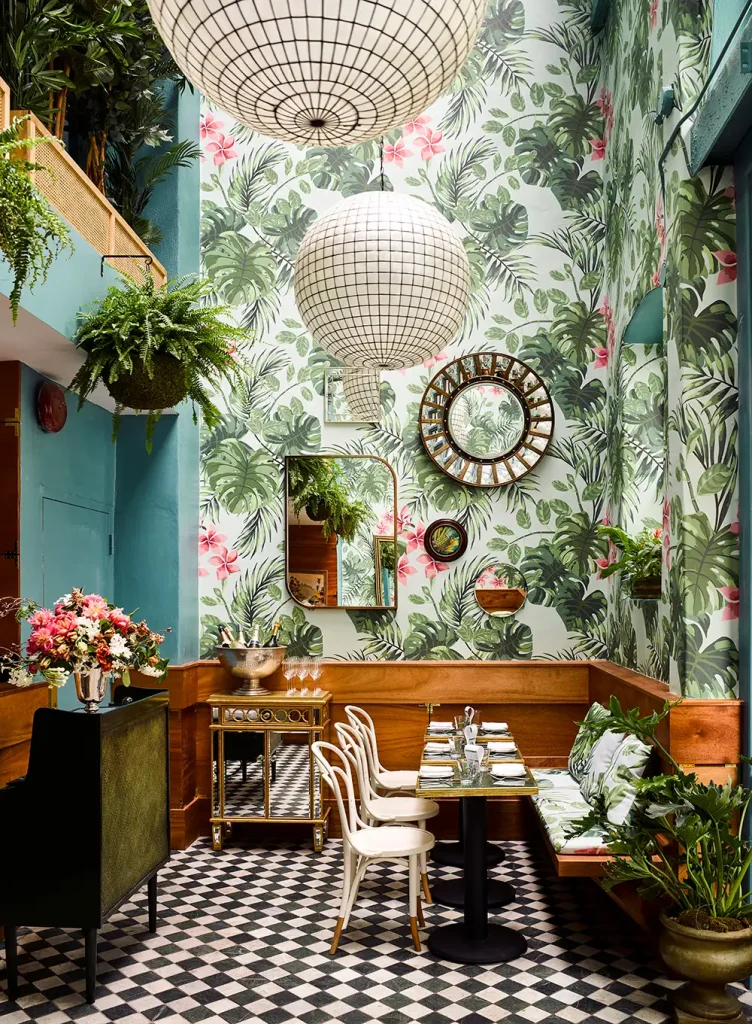 Vintage traits are visible in this space, which is increasingly trending in modern design. In this project, as in the last one, the designer didn't skimp on the details, from floor to ceiling.
It should be noted how this environment was treated homogeneously, with tropical references throughout the restaurant, such as the cushions on top of the chairs, for example. The lighting was also very well crafted in this space, and the elegant wall lamps are also a highlight.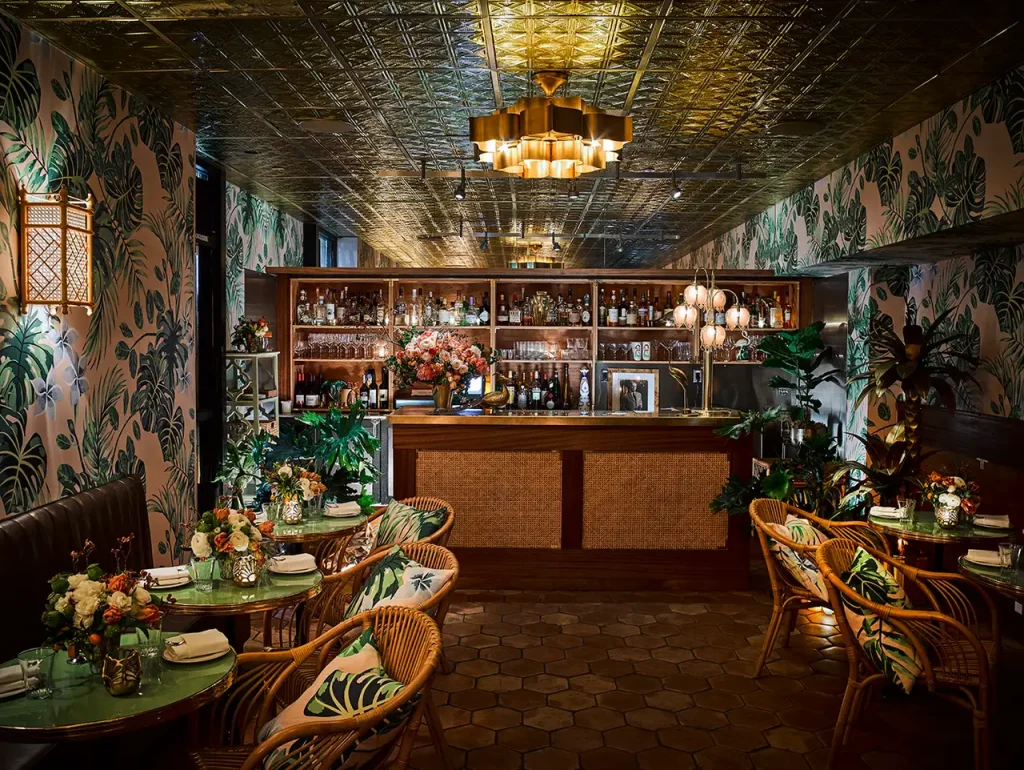 In this project, we understood how Ken Fulk works in different projects and spaces, such as restaurants. How the maximalist style is explored in this type of space is also interesting, bearing in mind that the place must be welcoming and refreshing for customers. The designer manages to avoid making the room overloaded and disturbing, quite the contrary. We can certainly see a location that will surely attract customers.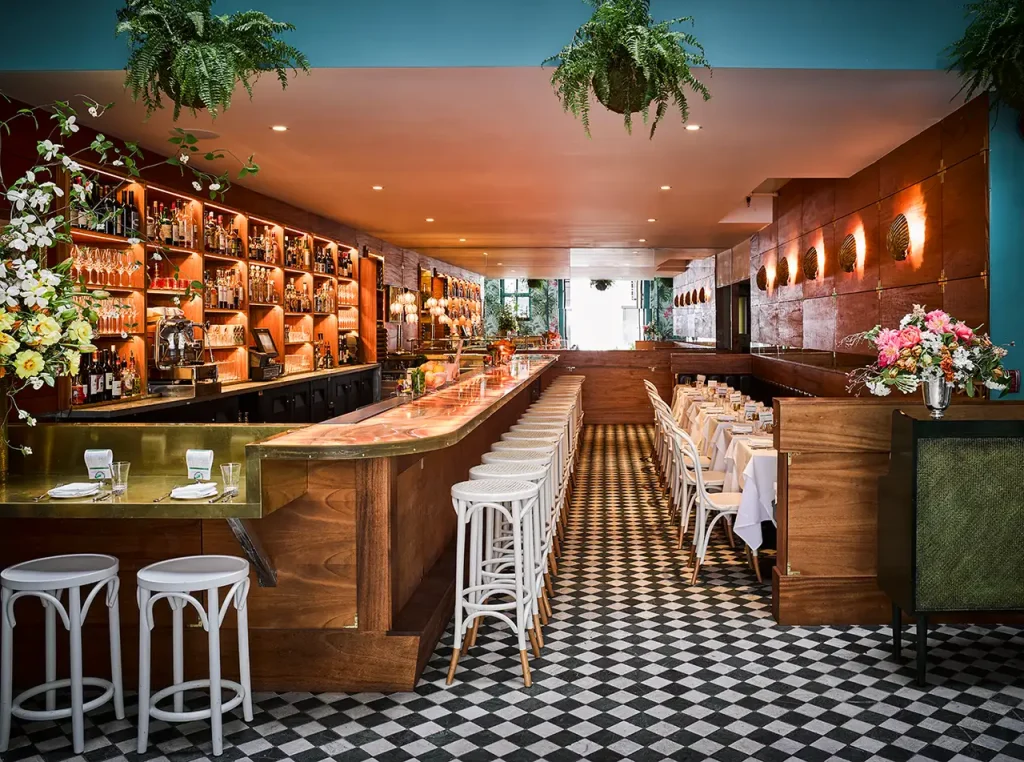 The Battery
For the last project we will present here, we will stick to San Francisco. This is a project of a San Francisco's members-only club called The Battery. This was born from the renovation of the historic Jackson Square building, with a concern to make the space modern in terms of architecture and interior design.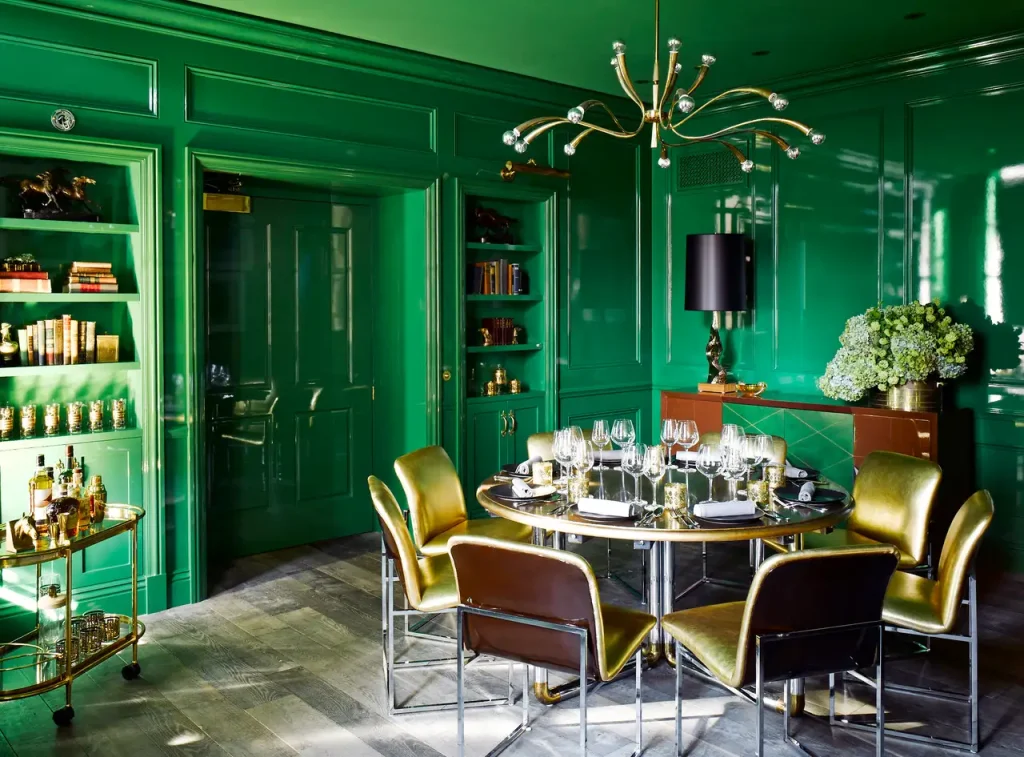 In this space, we can see Ken Fulk's concern with making this space varied and distinctive. Once again, we saw the designer's care to give each space a distinct feeling and personality, and the play of colors is very visible. More relaxing colors are present in social areas, such as restaurant, where we can identify cleaner and lighter spaces.
On the other hand, in meetings or workspaces, such as the office, we can see stronger colors, making this a more intimate and closed space with greater concentration.
In more private areas, we already have colors that are entirely out of context, as we can see in the green room, which gives this tone of exclusivity to these spaces, making them unique for those who use them.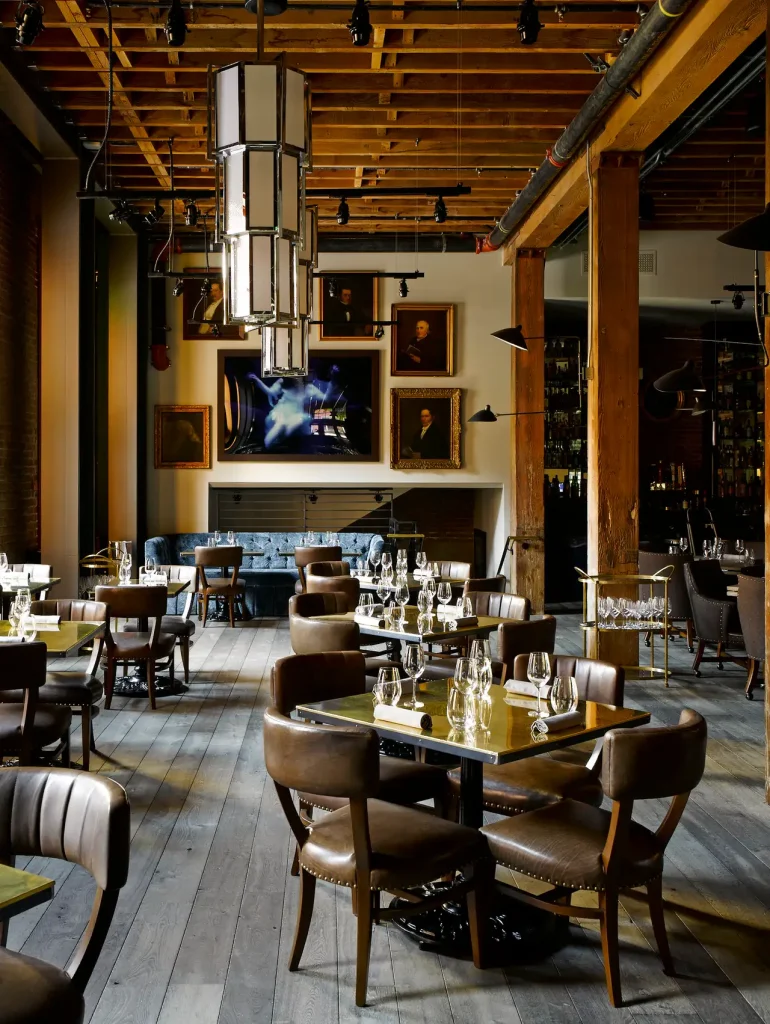 As Ken Fulk has already accustomed us, skimping on details is never an option. In this project, we can see several decorative items that enrich the space, both on the walls and furniture.
Once again, and as in all the projects explored here, the maximalist tendency is visible, and once again, Ken Fulk managed to associate maximalism with the harmony of space. One more example of how to work correctly with this style.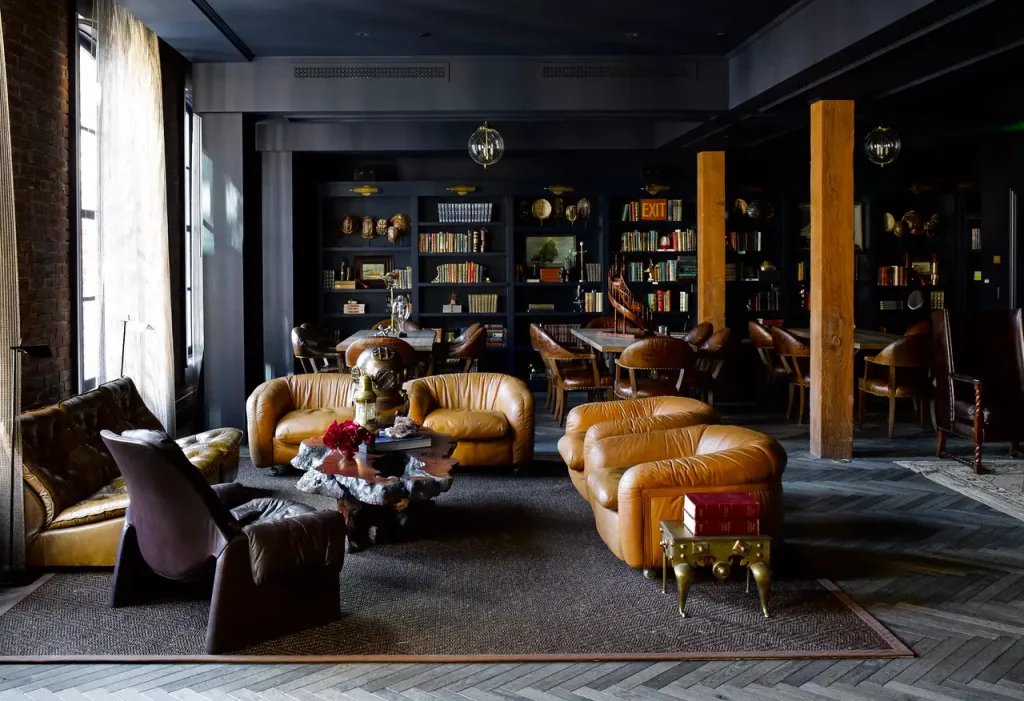 As we have seen, Ken Fulk and his team uniquely work in the maximalist style, reconciling the abundance of details with the elegance of the space. We saw several of the designer's projects, including housing and different projects, such as a restaurant and a club. In addition to the maximalist tendency, we also saw how they explore modern design, combining both. Get inspired by these projects and explore the options for modern rugs that we have to offer in TAPIS Studio.

Photography: Douglas Friedman, Stephen Karlisch