The grounds of Olympia London hosted the 44th edition of the leading design event. Here are the METAMORFIK House highlights at Decorex 2022.
Born under the umbrella of the unique furniture brand, TAPIS Studio teamed up with HOMMÉS Studio, ACH Collection, and ACH4Pets. On the grounds of Olympia London, the four sophisticated brands offering refreshing and high-end home solutions landed in London with their best designs. At Decorex 2022, TAPIS Studio presented METAMORFIK House, revealing the versatility of the design studio in a blend of real and digital realities.

What Is Decorex 2022?
Decorex 2022 is one of Europe's leading design events. This trade show gathers high-end interior design professionals to meet and do business. This year, Decorex returned to Olympia London in October for its 44th edition.
With a complete exhibition of wall coverings, furniture, lighting, decorative objects, and floor coverings, the events celebrates design and creativity like no other.
The event Decorex is based on three essential principles – quality, inspiration, and connection. Therefore, Decorex exhibitors and visitors produce and appreciate the best furniture and home accessories made with the best materials and thoughtful production processes.
Another pillar of Decorex London is valuable connections, including the connection between the physical and digital worlds.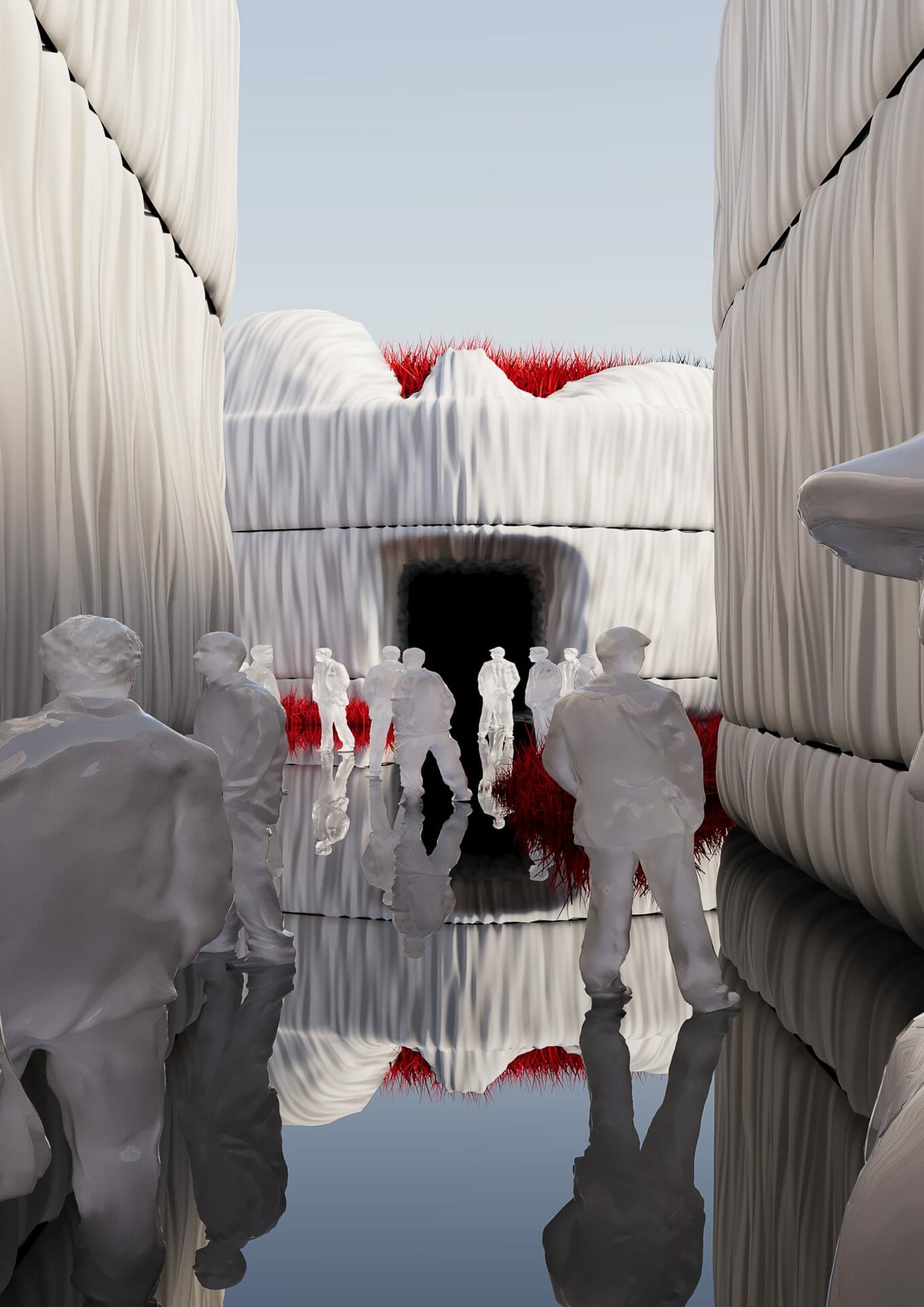 What Is METAMORFIK House?
METAMORFIK House – The Future Vision of Interiors II is a design exhibition that combines digital and physical reality presented by TAPIS Studio, HOMMÉS Studio, ACH Collection, and ACH4Pets at Decorex 2022 in London.
After the successful CHROMATIK House, Fuorisaloni's award nominee exhibition, the TAPIS Studio furthers the exploration of the relation between a touchable reality and the metaverse. At 2022 Decorex London, METAMORFIK House revealed a stunning booth with products from all four brands (TAPIS Studio, HOMMÉS Studio, ACH Collection, and ACH4Pets). The curated products included unique luxurious and modern rugs, furniture pieces, exclusive decorative objects, and high-end pet accessories. All visitors were invited to feel and manipulate the products and pay attention to their materials, textures, details, and finishings.
In addition to a physical and touchable booth at Decorex 2022 that was elegant, breezy, and bright, METAMORFIK House includes three metaverse spaces – a monochromatic modern organic home, a mid-century modern residence, and a gallery-like room displaying TAPIS Studio's iconic designs. Each of these meta rooms – NeoCraft, NeoModern, and NeoGothic – is a reinterpretation of timeless and beloved design movements, namely the Arts & Crafts, mid-century modern architecture, and the high proportions of Gothic and Art Deco.

METAMORFIK House is a comprehensive and ultra-modern way of looking into art movements and design philosophies relevant to our industry and zeitgeist.
TAPIS Studio's Booth
TAPIS Studio's stand was shared with other brands from the same design studio, namely HOMMÉS Studio, ACH Collection, and ACH4Pets.
On its first Decorex exhibition, TAPIS Studio made a statement. The booth G144 at Olympia London was filled with eye-catching shapes, vibrant colors, and maximalist objects. Nevertheless, TAPIS Studio's stand was elegant, breezy, and bright, emanating warmth and a sense of belonging.
A cozy corner was dedicated to inviting design professionals to discover the TAPIS Studio's different materials, piles, colors, and textures. A set of color samples also allowed interior designers and architects to dream about customizing a TAPIS Studio rug or designing their own floor covering.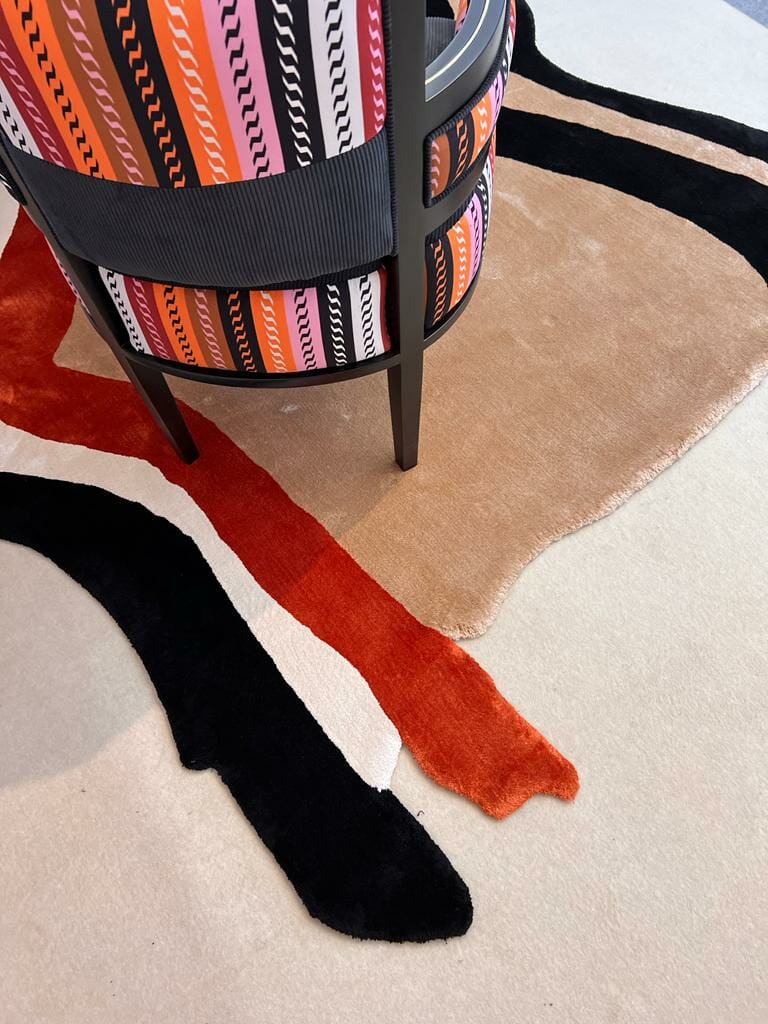 METAMORFIK House Virtual Tour
METAMORFIK House's digital reality englobes three simulated spaces – NeoCraft, a monochromatic modern organic home; NeoModern, a mid-century modern residence; and NeoGothic, a gallery-like room displaying TAPIS Studio's iconic designs.

These meta-living spaces take inspiration from design movements that TAPIS Studio still considers relevant to the industry and how we design the spaces we live in. They include the authenticity of the arts and crafts movement, the functionality of mid-century architecture, and the brightness and elevated proportions of gothic and art deco spaces.

At Decorex 2022, the visitor could take a sit and enter each virtual reality. Nevertheless, you didn't need to be a Decorex London attendee to visit and explore the digital reality of METAMORFIK House.
NeoCraft, NeoModernism, and NeoGothic. TAPIS Studio created three virtual realities to help tell the story of the Future Vision of Interiors. In this manner, NeoCraft is an airy and breezy home with monochromatic hues and an army of natural materials, such as wood and travertine, naturally inspired by the arts and crafts movement. NeoModernism is a residence inspired by Frank Lloyd Wrights's masterpiece, Fallingwater. Finally, NeoGothic celebrates the whimsical connection between humans and objects as art, creating a contemplative space where all TAPIS Studio's rugs are exhibited as immaculate artworks.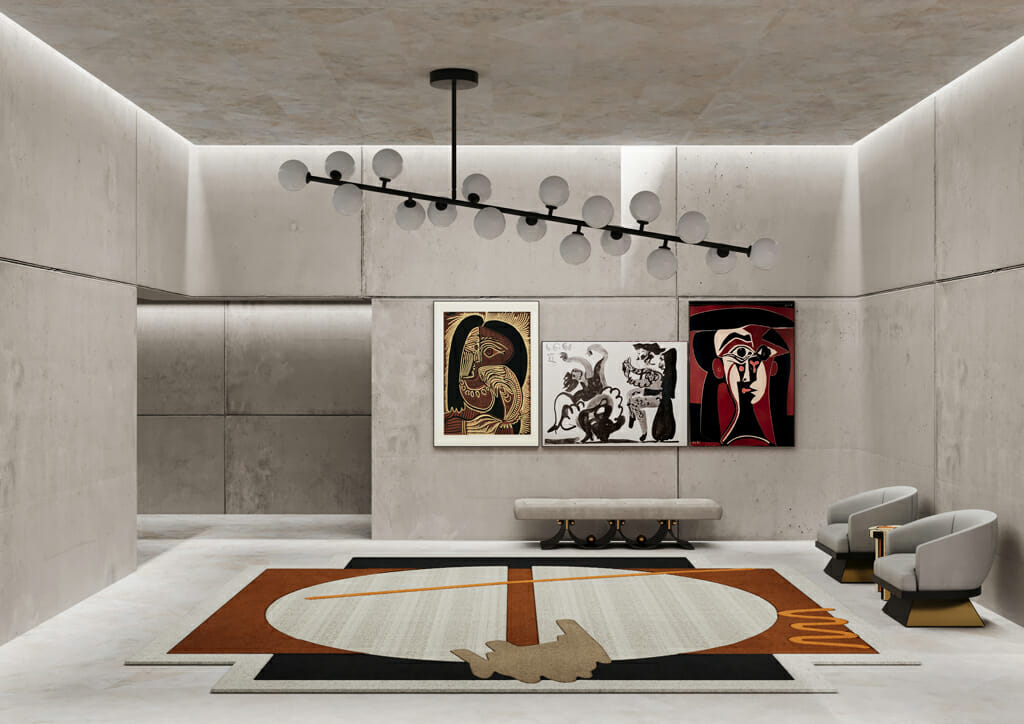 New Arrivals
TAPIS Studio's exhibition at Decorex 2022 brought not only an innovative way of looking into classical art movements but also fresh new products that inspire and dare interior design professionals.
TAPIS Studio's introduced not one but two new collections – Pastel and Menízias. TAPIS Pastel collection is a capsule collection of shaped rug with pastel, bleached, ethereal hues. TAPIS Menízias collection combines authentic artisanal rugs made with organic wool and modern rugs that reinterpret the hypnotic patterns of the original Menízias.
Below, find some of our new arrivals that reveal the lines, colors, and materials of TAPIS Studio's Pastel and Menízias rugs.
METAMORFIK House at Decorex 2022 disclosed a new home concept. Discover beautiful design novelties and all new designs from TAPIS Pastel and TAPIS Menízia collections here.